Novelist Ken Kesey was an important member of the 1960s counterculture movement. His home served as a meeting place for some famous, like-minded friends. Indeed, he fostered and befriended a community of artists that included such important Beat and counterculture figures as Allen Ginsburg and Tom Wolfe. Likewise, Kesey's own work remains an important reflection of counterculture ideas, the treatment of the mentally ill, and life in the American Northwest. His novels One Flew Over the Cuckoo's Nest (1962) and Sometimes a Great Notion (1964) are considered modern classics. Let's learn a bit more about Kesey's life and work.
Kesey's Pre-Writing Life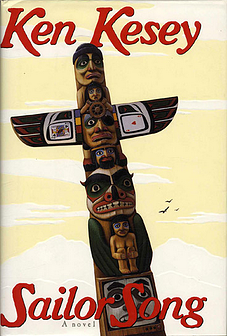 In high school and college, Kesey was a champion wrestler. Only a major shoulder injury prevented him from qualifying for the Olympics. Kesey attended his first year of college at University of Oregon on a football scholarship where he studied speech and communication. Upon losing interest in the coursework for his major, he began to gravitate toward literature and fiction writing courses. His mentor urged him to read beyond the science fiction that was his favorite genre at the time and introduced him to modernists such as Ernest Hemingway who had a great influence on his work.
Though he had not taken the prerequisite courses to pursue a master's degree in creative writing, he moved to California and pursued non-degree writing programs at Stanford, fibbing and pressuring his way into courses not traditionally opened to non-students or Stegner fellows. It was during this time he began working on the manuscript that became One Flew Over the Cuckoo's Nest.
A Party on Wheels: The Merry Pranksters
Kesey's close-knit group of friends lived communally at his home and became known as the Merry Pranksters. Together they produced art and pursued a counterculture lifestyle exemplified by the cross-country road trips they took on a psychedelic painted bus they named Further. The first trip they took was meant as a celebration of the publication of Kesey's second novel, Sometimes a Great Notion. They hosted parties all across the country which they dubbed 'Acid Tests', experimenting with hallucinogenic drugs and documenting the results. They filmed constantly during their bus trips, and much of the footage can be seen in documentaries. These trips inspired works by both Allen Ginsberg and Hunter S. Thompson.
Bringing to Life The Grateful Dead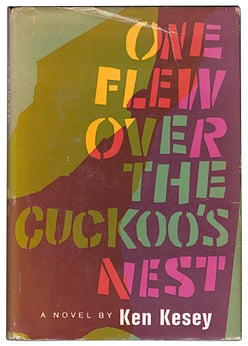 At his home, Kesey often hosted The Warlocks, eventually known as The Grateful Dead, whom he considered the house band of Merry Pranksters, and who themselves were also considered members of the group.
The group's early music was very influenced by him and his Acid Tests. Kesey had a daughter named Sunshine with Carolyn Adams. Adams went on to marry Grateful Dead front man Jerry Garcia who raised Sunshine along with the two daughters he had with Adams.
One Flew Over the Cuckoo's Nest
Kesey published his first novel One Flew Over the Cuckoo's Nest in 1962. The book was inspired by his time working in Menlo Park Veterans Hospital where he was also working as a guinea pig for hallucinogenic drugs. The book was an immediate critical hit and was soon made into a successful stage play. Eventually it was adapted into a feature film starring Jack Nicholson.
Originally Kesey was involved in the making of the film, but he soon backed out. He was disppointed in Jack Nicholson's casting and a change in narration. There was also a disagreement over the twenty-thousand dollars he received for the film rights. But overall—according to his wife, whom he met in seventh grade and was married to until his death—he was pleased that the novel was adapted into a film.