Many of the Chilean poet and diplomat Pablo Neruda's books are extremely collectable. Nearly any edition of a Neruda book can see its market value enhanced significantly if it's signed or inscribed by Neruda. Indeed, speaking of the latter, a presentation copy or association copy of a mass-produced paperback marked by Neruda's hand can fetch thousands of dollars. Yet there are also a number of first editions, without any inscription to a particular person or in some cases even a Neruda signature, that are immensely valuable due to their rarity. Given that Neruda's work has been translated into many different languages and employed at various political moments across the globe, it shouldn't be surprising to learn that there are many translated editions of the poet's work that are extremely rare and valuable. We're going to focus here on some of the rarest Spanish language editions.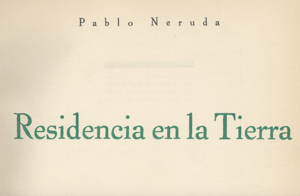 Residencia en la Tierra (Nascimento, 1933)
Pablo Neruda's Residencia en la Tierra, translated into English as Residence on Earth, has been published in numerous editions by presses in South America and across the world, reaching readers in a wide variety of language translations. There are a number of collectable and rare editions of this book even from Spanish-language publishers, but the rarest is the 1933 first edition published in Santiago, Chile by Editorial Nascimento. This first edition was limited to 100 copies, each signed by Neruda. In the time leading up to the publication of this deluxe edition by Editorial Nascimento, Neruda had been seeking out a publisher in Spain, but the poems ultimately were published first in Neruda's home country.
Editorial Nascimento was founded by Carlos George-Nascimento in Santiago in 1917, and the press was active for 70 years. Nascimento launched Neruda's career as a poet, as it did for many other Latin American poets like Gabriela Mistral, who became the first Nobel Prize-winning Latin American writer.
Neruda continued writing verses for his Residencia en la Tierra even after this Editorial Nascimento edition was published, and the Madrid-based Cruz y Raya Magazine did publish two volumes of the poems. Yet this first edition from Editorial Nascimento is among the most beautiful of all the early published Neruda works. The pages are printed in dark green ink, mirroring the green-ink pens with which Neruda was known to sign and inscribe his books. Given that the work was published in a limited run of only 100 copies, these objects are extremely rare and seldom appear for sale in shops or at auction.
España en el Corazón: Himno a las Glorias del Pueblo en la Guerra (Imprenta Soldados de la República del Ejército del Este, 1938)
As with a number of other famous works by Pablo Neruda, there are several very rare editions of España en el Corazón: Himno a las Glorias del Pueblo en la Guerra, translated into English as Spain in the Heart: Hymn to the Glories of the People at War. Yet the rarest of all is a battlefield edition published in 1938 by Manuel Altolaguirre's wartime press, Imprenta Soldados de la República del Ejército del Este, which is translated into English as Printing Services of the Soldiers of the Republic of the Eastern Army. This edition is not actually the first edition of this book, but it is certainly the rarest.
Neruda began working closely with the Spanish editor, publisher, and poet Altolaguirre when he was appointed to a diplomatic post in Madrid in 1935. Neruda edited Altolaguirre's publication Caballo Verde para la poesia, or "Green Horse," which ran for only a year before Franco's dictatorial rise resulted in the Spanish Civil War. Neruda, like many writers and poets, opposed the fascist Franco regime, and his political position is reflected in España en el Corazón.
This particular Altolaguirre edition of the book was published at the Santa Maria de Montserrat abbey of the Order of Saint Benedict, a 10th-century abbey that's located on a mountaintop northwest of Barcelona. Altolaguirre had a printing press at the abbey, but he had no paper or any materials to make it. Soldiers fighting in the Spanish Civil War foraged for materials to make paper for the press, and this "battlefield" edition of España en el Corazón contains pages made from found materials, including flags, the soldiers' own clothing, and rags made from enemy soldiers' shirts. The anti-fascist, anti-Franco Republican soldiers made the paper in an abandoned mill nearby. A total of 500 copies of this initial Altolaguirre edition were published, but only a handful survive (as far as we know). The Benedictine abbey at Montserrat owns one of the copies, there are two at the University of Barcelona, one at the Library of Catalonia, and two at the Library of Congress in Washington, D.C. Chances are, you'll never see one of these copies for sale or at auction, but you can make a research appointment at one of these libraries.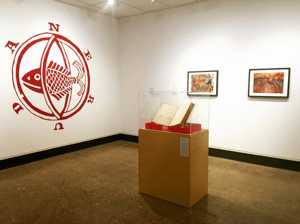 Canto General (Talleres Gráficos de la Nación, 1950)
Finally, we'd be remiss if we didn't mention the first edition of Neruda's Canto General, published in Mexico City by Talleres Gráficos de la Nación. This edition was also limited to 500 copies, with 300 of those copies reserved for subscribers such as Frida Kahlo, Pablo Picasso, and Paul Éluard. This book, like the others we've mentioned, is very large in size and had endpapers created by Mexican muralists Diego Rivera and David Alfaro Siqueiros. Each of the copies was inscribed at the time of publication in Mexico City by Neruda, as well as by Diego Rivera and David Alfaro Siqueiros. Frido Kahlo's copy of the book remains in her library, on display at the Frida Kahlo Museum, or Casa Azul, the home in Mexico City she shared with her husband Diego Rivera. Copies of the book occasionally come up for sale, but buyers should expect to pay close to $10,000 on the current market. Ediciones Océano, in Mexico City, published a miniature version of the Talleres Gráficos Canto General at the same time, and rumor has it that Che Guevara kept one of these miniatures in his pocket during his famous South American motorcycle trek in 1952.
At the time of this book's publication, Neruda was living in political exile in Mexico City. Back in Chile, another now very rare copy of this book was printed the same year in Santiago. Known colloquially as the "clandestine" edition, the book was published in secret by the Communist party with a false publisher's imprint of "Imprenta Juárez" in Mexico City. Five-thousand copies were published, yet they were produced with inexpensive paper so as to be widely distributable. As a result, few copies remain. A copy of this "clandestine" edition in good condition can fetch thousands of dollars.
If you're interested in rare Neruda books, you should explore the titles we mentioned here in addition to seeking out other rare Neruda books and ephemera in various global translations.