Peter Hardman Burnett was a man of contradiction. A bank president and an adventurer, an abolitionist and a racist, Burnett was also the first governor of California and the first man to resign that office. Despite his mixed legacy, Burnett's life was nothing if not interesting.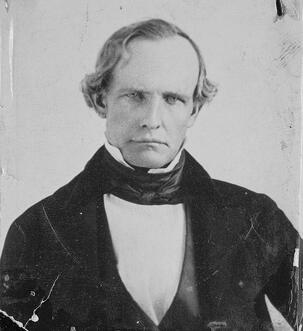 Born on November 15, 1807 in Nashville, Tennessee, Burnett spent most of his childhood in rural Missouri. His beginnings were humble. A self-educated man, he began work as a hotel clerk earning just $100 per year—around $2,000 today. He married Harriett Rogers in 1828 and began studying law.
As a lawyer, Burnett defended Joseph Smith, Jr. and several other Mormons against charges of robbery, arson, and treason. Burnett requested a venue change and the Mormons escaped during their transfer to the new location. Later, Burnett decided to try his fortunes out West and traveled the Oregon Trail as part of the "Great Migration of 1843."
Burnett's political career began after settling with his family in Oregon. He was elected to the Oregon Legislature in 1844 and in 1848, President Polk appointed Burnett as a justice of the Oregon Territorial Supreme Court. While serving on the court, Burnett proposed an exclusion law intended to keep African Americans out of the Oregon Territory. It stated that any African American who remained in the territory would be arrested and flogged every six months. The law passed and remained in effect until 1926.
Upon hearing news of the California Gold Rush, Burnett moved with his family yet again. He experienced modest success in the California gold fields before moving to San Francisco to practice law. There, he quickly established a name for himself and became a prominent participant of the 1849 California Constitutional Convention. The convention applied for statehood and elected Burnett as California's first governor. He won handily—receiving more votes than all of his opponents combined.
Burnett was sworn into office on December 20, 1849 and immediately began creating a government for the new state. In a bit of awkwardness, the United States government did not ratify California's statehood until September 9, 1850—long after Burnett and other politicians took statehood for granted.
As governor, Burnett proposed another exclusion law, stating:
"We have certainly the right to prevent any class of population from settling in our State, that we may deem injurious to our own society. Had they [African Americans] been born here, and had acquired rights in consequence, I should not recommend any measures to expel. They are not now here, except a few in comparison with the numbers that would be here; and the object is to keep them out."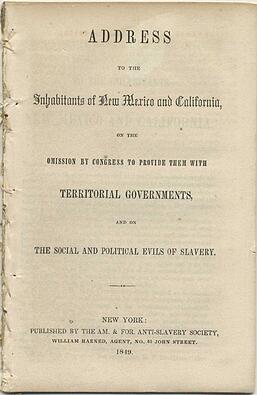 This upset the pro-slavery supporters in California and the law failed to pass the state legislature. Indeed, Burnett's popularity fell steadily after his election. He alienated both the legislature and the press and became a subject of public ridicule. Citing personal reasons, Burnett resigned as governor on January 9, 1851.
Despite his brief governorship, Burnett's career was far from finished. He went on to serve on the California Supreme Court and became president of the Pacific Bank of San Francisco. Burnett also wrote several books including, The Path Which Led a Protestant Lawyer to the Catholic Church and his autobiography, Recollections of an Old Pioneer.
Additionally, Burnett is believed to be author of a rare anti-slavery pamphlet entitled, Address to the Inhabitants of New Mexico and California on the Omission by Congress to Provide Them with Territorial Governments, and on the Social and Political Evils of Slavery. In this work, Burnett argues that the reigning slaveholders in the United States Senate have deprived inhabitants of New Mexico and California of self-government. He goes on to demonstrate the terrible influence of slavery on enterprise, education, settlement, commerce, religion, morals, and culture.
Burnett died on May 17, 1895 at the age of 87.