In 1986, Wole Soyinka became the first African to win the Nobel Prize in Literature. Soyinka's legacy is bound up in the numerous plays, novels, short stories, essays, memoirs, movies, and translations which he has authored. And throughout his life, he has served as a spokesman against apartheid and government corruption. He has won numerous other awards for his work, including the Anisfield-Wolf Book Award, the Academy of Achievement Golden Plate Award, and the Agip Prize for Literature, and he has taught at many prestigious universities including Emory University, Harvard, and Obafemi Awolowo University.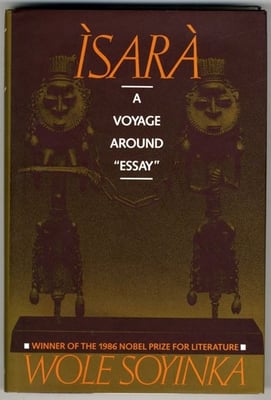 Akinwande Oluwole Babatunde Soyinka was born in 1934 in Abeokuta, Nigeria, to parents Samuel and Grace Soyinka. His father, called "Essay" in Soyinka's works, was an influencial Anglican minister while his mother, who he named the "Wild Christian" in his works, was an activist and worked in shops. His education began with the Christian lessons of his parents as well as the more traditional Yoruba spiritual customs taught to him by his grandfather. He pursued higher education at Government College, University College, and University of Leeds, earning a bachelor's degree in English literature. Soyinka planned to earn his master's degree from University of Leeds, focusing on projects combining his Yoruba culture with traditional British theater traditions. He wrote two plays for this project. The second, The Lion and The Jewel, received such critical acclaim that he decided to leave the university to work as a play reader for the Royal Court Theater. He later returned to school in Nigeria to study African theater during which time he continued to produce poems and plays, one of which appeared on Nigerian television.
Shortly after, he became the Chief of the Cathedral of Drama at the University of Ibadan. Nigeria had only recently gained independence from Britain and political corruption was at a high. Soyinka's plays and poems became increasingly political, and he began giving speeches protesting government corruption. He was arrested and imprisoned for almost two years during the civil war but managed during this time to write numerous poems. He was finally released in 1969 and after a brief period in France, returned to his position at the university where he founded the magazine Black Orpheus. He left his position and Nigeria in 1971, wary of the political climate of the country. During this time, he published books of poetry and essays, his plays were collected and published, and newer plays were staged.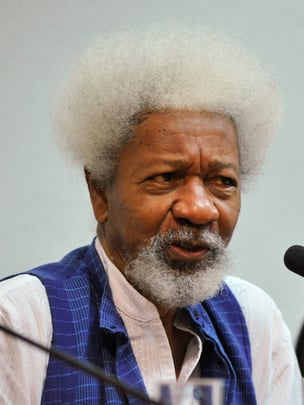 In 1986, he was awarded the Nobel Prize in Literature, becoming the first African laureate. He dedicated his acceptance speech to Nelson Mandela and used the platform to criticize apartheid. Later that same year, Soyinka was awarded the Agip Prize and in 1988 published his book Mandela's Earth, and Other Poems as well as Art, Dialogue, and Outrage: Essays on Literature and Culture. He also accepted a position at Cornell University.
In his lifetime, Soyinka has published two novels, three collections of short stories, made three movies, translated two novels, five memoirs, seven poetry collections, thirteen essay collections, and produced nearly 30 plays. He holds honorary doctorates from numerous universities and has been invited to teach and schools around the world. He continues to write prolifically in spite of a bout with prostate cancer in 2014.
Image source.