American legends are especially rich surrounding the Founding Fathers. From George Washington and the cherry tree to Benjamin Franklin flying a kite, the stories are compelling and diverse. While it's tempting to summarize these men (and women, too!) in a few sentences or anecdotes, inevitably they are much more complex. For example, far from being a stoic, refined leader, George Washington at the crossing of the Delaware told an obese colonel, "Shift that fat ass, Harry. But slowly, or you'll swamp the damn boat!"
Why not take a few moments to learn a bit more about the Founding Fathers? Take our brief quiz and discover which Founding Father (or Founding Lady) you would be.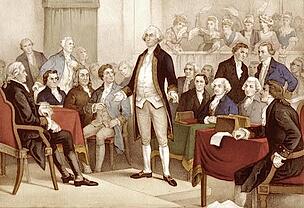 Interested in learning more about the Founding Fathers or American history? Browse the following rare book categories:
We hope you enjoyed our quiz. What was your result? Can you guess the other four outcomes? Share your reactions in the comment section below.