Polish-born author Henryk Sienkiewicz made a name for himself in his homeland as a journalist and novelist. His influence was great, and his writing was highly esteemed, and in 1905, he was awarded the Nobel Prize in Literature. Sienkiewicz was the major literary figure in turn-of-the-century Poland. Still, having peaked in popularity and winning the Prize over a century ago, one may assume that much of Sienkiewicz's work has faded into history, but the contrary remains true. Thanks to numerous quality translations, movie adaptations, and Sienkiewicz's own ability to write compelling pieces, a number of his works are still quite popular. For those interested in reading or collecting Sienkiewicz, here's a look at a few of his most notable publications.
Quo Vadis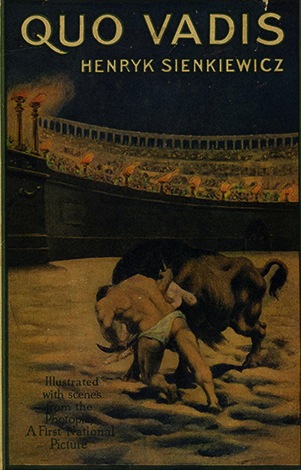 First published in book form in 1896, Quo Vadis is Henryk Sienkiewicz's most widely-known work. It's an epic tale, and it takes place during Nero's Roman rule, around 64 A.D. Sienkiewicz's significant historical studies are evident in the novel; he even goes so far as to include historical figures—including, but not limited to Sts. Peter and Paul—who interact with his fictional characters and play key roles in the story.
The tale follows Marcus Vinicius, a member of the Roman ruling class, and his love, Ligia, a Christian convert. The book takes a decidedly pro-religious tone, perhaps leading to its warm reception in the Christian west.
Quo Vadis was translated into countless languages and numerous film adaptations have been made. In 1897, Jeremiah Curtin translated Quo Vadis from Polish to English and 250 copies of the translation were published in Boston by Little Brown and Company. This edition includes illustrations by the legendary Howard Pyle. Whether you're looking to obtain fine collectibles or just hoping to acquire a quality reading copies of Sienkiewicz's works, Quo Vadis is a necessary addition to your shelves.
The Trilogy
If Quo Vadis is deemed Sienkiewicz's most widely-known international work, then The Trilogy holds that title domestically in his native Poland. The three books of the trilogy are: Ogniem i Mieczem [With Fire and Sword], Potop [The Deluge], and Pan Wolodyjowski [Fire in the Steppe or Sir Michael]. The books were published in Poland in 1884, 1886, and 1888, respectively. They were soon after translated into English and other European languages.
Like Quo Vadis, they are all historical novels wherein Sienkiewicz uses a historical framework of real events around which he fashions the fictional story of his characters. Sienkiewicz expertly used an historical context to draw attention to issues in the Poland of his time while also inspiring patriotism among Poland's people. If you're interested in Polish history and epic tales, then these titles are for you.
W pustyni i w puszczy (In Desert and Wilderness)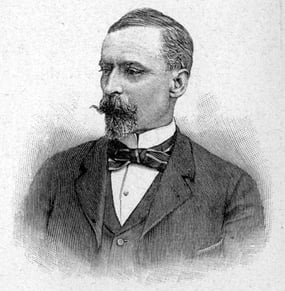 W pustyni I w puszczy, which translates to In Desert and Wilderness, was Sienkiewicz's first and only attempt at writing young adult fiction. The book was published in 1912, and it received high praise.
Keeping with his usual historical fiction style, Sienkiewicz weaves an exciting story about the kidnapping of Stas Tarkowski and Nel Rawlison, two kids ages 14 and 8, living with their families in Egypt while their fathers worked to construct the Suez Canal. The book recounts Stas and Nel's harrowing tale of trials at the hands of their kidnappers and their eventual triumph and survival. The story is filled with inspiring bits about strong friendship and self-sacrifice as well as instances of befriending and taming wild animals, taking over villages, and other moments that make for a thrilling read. The story was adapted for film in 1973 and 2001, and it was likewise made into a mini-series. Although W pustyni I w puszczy is a different sort of book than Quo Vadis and The Trilogy, it's still signature Sienkiewicz.
Latarnik (The Lighthouse Keeper)

Latarnik, published in 1881 is a short story by Sienkiewicz. The main character is a Polish wanderer who finds himself serving as the lighthouse keeper in Aspinwall. He's been all over the world, but believes he is finally at peace with the quiet and the solitude of his current position. As the story progresses, something triggers memories of his past, and what unfolds you'll have to read for yourself to find out.
The imagery and verbiage used by Sienkiewicz in this piece make it a vivid, almost haunting read:
"He did not understand anything beyond his environment; he felt only unconsciously. At last it seems to him that the heavens, the water, his rock, the tower, the golden sand-banks, and the swollen sails, the sea-mews, the ebb and flow of the tide,--all form a mighty unity, one enormous mysterious soul; that he is sinking in that mystery, and feels that soul which lives and lulls itself. He sinks and is rocked, forgets himself; and in that narrowing of his own individual existence, in that half- waking, half-sleeping, he has discovered a rest so great that it nearly resembles half-death."
As a result, we find ourselves almost sinking and rocking into reverie in the same way as the protagonist.
Latarnik is only three chapters long. If you're looking to get a taste for Sienkiewicz before taking on his epic tales, this is a good place to begin.
The Teutonic Knights
The Teutonic Knights is also known as The Knights of the Cross and was both serialized and published in 1900. In Paul W. Knoll's review of the book, he cites that Sienkiewicz himself believed The Teutonic Knights to be his best effort in the form of epic novel. The story is decidedly pro-Poland and again served to inspire national patriotism at a time when the country of Poland had been severed and split between its Russian, Austrian, and German counterparts.
Set in the late 14th and early 15th century, the story details the struggle of two Polish knights, Macko and Zbyszko, who fight back against the oppression of the Teutonic Knights. The book has elements of romance, epic battles, and culminates in a feeling of hope for Poland as she rights herself and begins the journey toward independence.