Few modern poets have been so beloved as Edward Estlin Cummings (ee cummings), whose linguistic innovation and disregard for grammatical conventions redefined our understanding of language. Yet Cummings was much more than a poet, writing novels, essays, and plays.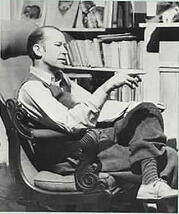 Born on October 14, 1894 to a well-known Boston family, Cummings was encouraged as an artist from a young age. Beginning at the age of eight, Cummings wrote a poem every day. When he was a young boy, he wrote the following to his father, reflecting a playfulness and disinclination for traditional grammar and syntax that continued throughout his career:
FATHER DEAR. BE, YOUR FATHER-GOOD AND GOOD,
HE IS GOOD NOW, IT IS NOT GOOD TO SEE IT RAIN,
FATHER DEAR IS, IT, DEAR, NO FATHER DEAR,
LOVE, YOU DEAR,
ESTLIN.
In 1917, after graduating from Harvard and working briefly at a mail-order publishing house, Cummings joined the Norton-Harjes Ambulance Service in France. He became close friends with fellow American, William Slater Brown, and the two wrote provocative letters home to irritate the over-zealous French censors. A mere five months into their assignment, French authorities arrested the two on suspicion of treason and espionage. Only through the impassioned efforts of his father was Cummings released. Cummings published a fictionalized and lighthearted account of his French internment in 1922, entitled The Enormous Room. He wrote of his arrest, "I was never so excited and proud. I was, to be sure, a criminal! Well, well, thank God that settled one question for good and all." Reviews of the novel were highly favorable. John Peale Bishop of the Southern Review acclaimed, "The Enormous Room has the effect of making all but a very few comparable books that came out of the War look shoddy and worn."
Former classmate John Dos Passos helped Cummings publish his first collection of poems, Tulips and Chimneys, in 1923. Reviews were mixed, but most critics acknowledged that Cummings was a budding talent. Cummings published several other poetry collections during the 1920's. By the end of the decade, Cummings had established himself as an important and famous avant-garde poet. His characteristic style—erratic capitalization and punctuation, altered spacing between words, novel compound words, and peculiar imagery—remained largely consistent for the rest of his career. In the book E. E. Cummings: The Growth of a Writer, Norman Friedman stated that Cummings' techniques "are best understood as various ways of stripping the film of familiarity from language in order to strip the film of familiarity from the world. Transform the word, he seems to have felt, and you are on the way to transforming the world."
Cummings published over 2,900 poems during his career. He died of a stroke in 1962 at the age of 67.At the time of his death, Edward Estlin Cummings was one of the most widely read poets in the United States, second only to Robert Frost. However, his critical standing never matched his fame. Although he received a number of honors, including an Academy of American Poets Fellowship, the Bollingen Prize in Poetry, two Guggenheim Fellowships, and the Charles Eliot Norton Professorship at Harvard, many critics pointed to his lack of literary progression as a major weakness. George Stade in the New York Times Book Review asserted, "Cummings was a case of arrested development. He was a brilliant 20-year-old, but he remained merely precocious to the end of his life." Still, Cummings remains one of the eminent American poets of the twentieth century. He was, wrote literary critic Malcolm Cowley, "one of the masters."