On December 8, 1894, James Thurber was born in Columbus, Ohio to Charles and Mary Thurber. His father was a clerk and minor politician with bigger dreams of being a lawyer or actor. Thurber was the middle child and while playing a game of "William Tell" with his brothers, he was shot in the eye with an arrow and from the accident, lost sight in one of his eyes. Although sight remained in the uninjured eye, he had various vision problems throughout his life. His wound left him unable to participate in normal activities for children his age, which left him to pursue indoor activities and enhance his imagination.
Early Life and Schooling
Thurber attended elementary school in Columbus, Ohio and proceeded to attend junior and senior high in the same area. From 1913-1918, Thurber attended Ohio State University, where he was a member of Phi Kappa Psi, wrote for the college paper Lantern, and was the editor-in-chief of the school humor and literary magazine, Sundial. He completed all of his studies, but was unable to receive a degree due to his incapability to complete a mandatory ROTC course.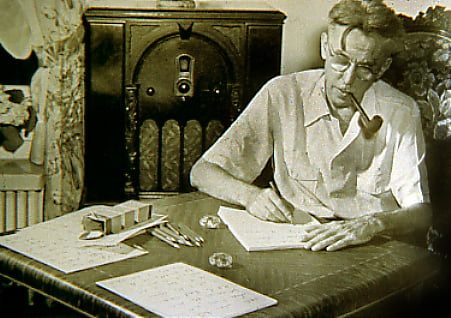 Early Career and Marriage
In 1918, Thurber began working for the State Department in Washington, D.C. He then advanced to work in the American Embassy in Paris, France. He worked for The Columbus Dispatch from 1921-1924, where he wrote about books, films, and plays. Thurber married his first wife in 1922 and in 1924, he left the Dispatch to try his hand at freelance writing. However in 1925, Thurber returned to Paris to write for The Chicago Tribune. A little over a year later, James and his wife returned to the United States and moved to Greenwich Village, New York City where he begins to write for The New York Evening Post.
He met literary connections E.B. White and Harold Ross in 1927, providing him with an opportunity to write for The New Yorker. Various forms of prose and short stories were published through The New Yorker, but his drawings were not published until several years later when White found his sketches crumpled up and thrown away in a trash can. His drawings were simple and surreal, providing The New Yorker with numerous classic illustrations and six covers.
Thurber's Writing Style and Inspiration
Thurber's short stories are largely fictional yet humorous memoirs of his life; however, during his divorce from his first wife, he wrote several stories describing marital issues. His most famous short stories include "The Night the Bed Fell" and "The Dog That Bit People." Thurber also wrote over 75 fables, following traditional fable formatting with satirical morals and punch lines geared towards advising the reader.
Thurber's cartoons were drawn normally until his failing eyesight required him to draw his cartoons bigger. He drew on large white sheets of paper with a black crayon or white chalk on black sheets of paper. Thurber was as noted for his drawings as for his writings.
He had a love for dogs and dedicated his first book to his two of his terrier friends.
Numerous Accolades and a Lasting Legacy
Thurber wrote over forty books and won the Tony Award in 1960 for his play, A Thurber Carnival. He also won the Caldecott Medal for Many Moons (1943), illustrated by Louis Slobodkin.
Thurber has more recently reentered the spotlight with the release of "The Secret Life of Walter Mitty," directed by Ben Stiller. The movie adapted Thurber's eponymous 1939 short story, considered one of his best works and one of the most frequently anthologized stories in American literature.