Throughout the canon of twentieth century American literature, there is no author whose greatness is as hotly contested as that of John Updike. While his skill as a prose stylist is almost universally acknowledged, a dozen critics will give a dozen different viewpoints on whether beautiful prose is enough for a literary work and whether said prose is really all Updike gave his readers. Regardless of whether Updike is, as Harold Bloom asserts, "a minor novelist with a major style," or, as Philip Roth contends, the 20th Century's Nathanial Hawthorne, the prolific writer's impact on American letters is wide-reaching and palpable. Here are five interesting facts about one of the last century's most vital writers.
1.) He couldn't write sex scenes.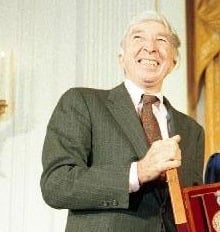 Despite his often-lauded ear for language and eye for realist detail, John Updike was apparently out of his element describing boudoir scenes. The erstwhile chronicler of suburban adultery was awarded a 'Bad Sex in Fiction' Lifetime Achievement Award by Britain's Literary Review for five decades of fumbling depictions.
2.) He was a self-styled 'Knight of Faith.'
Brought up in a Pennsylvania Protestant tradition, Updike, like a host of his contemporaries, experienced a crisis of faith early in his writing career. Unlike the myriad of atheist and agnostic writers with whom he stands shoulder-to-shoulder in the American canon, however, Updike came out the other end as a lifelong believer. While his faith was imperiled, he turned to Danish philosopher Soren Kierkegaard and theologian Karl Barth, both of whose ideas make appearances in Updike's work.
3.) He's one of only three novelists to win two Pulitzers.
The other two? Booth Tarkington and William Faulkner; not such bad company to enter for an aspiring legend of American letters. Nearly as impressive is the fact that he remains one of precious few authors to have swept the three major American literary prizes in one year, winning the Pulitzer Prize, the National Book Award, and the National Book Critics Circle Award for his 1980 novel Rabbit is Rich.
4.) His influence extends beyond Literature and into Rap Music.
Or, at least, Eminem has read the fir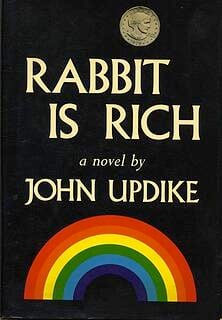 st installment in Updike's 'Rabbit' tetrology, Rabbit, Run (1960). The noted rapper was, apparently, so moved as to nickname the protagonist in his 2002 film 8 Mile 'Rabbit,' laying claim to a revitalization of the white-American-everyman archetype that Updike so forcefully established five decades ago. The film's soundtrack, too, referenced Updike's contribution to the canon with a track entitled 'Rabbit Run,' for those who might have missed the first reference.
5.) Even his trash was prolific.
Or it was, at the very least, revealing. Late in Updike's life, after he had moved to Beverly Falls, Massachusetts in the 1980s, a middle aged man named Paul Moran began to wonder what John Updike was in the habit of throwing away. Throwing tact, and most likely hygiene, to the wind, Moran began to rifle through the author's refuse. This activity became a habit, and Moran would eventually amass a collection of more than 100 discarded items from Updike's trash, ranging from pictures and postcards to forgotten drafts of stories and untarnished honorary degrees from the likes of Emerson and Dartmouth. While the writer's public persona was built on a level of reserve and reclusiveness, the contents of his trash apparently paint a much more detailed picture of the man's home life, unearthing a version of Updike that is much deeper than the contents of his meticulous public persona.