Plenty of famous authors have written masterpieces from behind bars: Miguel de Cervantes began Don Quixote while doing time for tax irregularities in Algiers, while Fyodor Dostoyevsky narrowly missed his date with a firing squad, allowing him to write Notes from the Underground.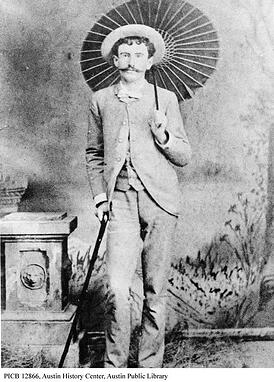 William Sydney Porter, better known by his favorite pseudonym, O Henry, was likely the most prolific author-in-residence at a prison. The master of short fiction served three years at the Ohio State Penitentiary for embezzling money from the First National Bank of Austin.
Author Turned Model Inmate
Sentenced to five years in prison, O Henry proved a model inmate. He was permitted to walk freely on the prison grounds and among the adjacent administrative buildings, essentially moving about as a free man. During his incarceration, O Henry did not earn a single demerit on his prison record, and his sentence was reduced by a full two years thanks to his good behavior.
The prison doctor observed that he'd never seen another prisoner "so deeply humiliated by imprisonment." Indeed, O Henry did everything within his power to hide his criminal past from his own family and from the reading public. He told his own daughter that he was simply out of town writing stories. And after his release, O Henry took his family to New York for a fresh start.
Given O Henry's immense shame regarding his criminal past, it's no wonder that he never sought a presidential pardon on his own behalf--even though he'd likely have gotten it. Theodore Roosevelt, president during the last years of O Henry's life, generously awarded pardons. He even pardoned O Henry's friend Al Jennings, a convicted train robber who often bragged about his crimes. Roosevelt also greatly admired O Henry, noting that during his tenure as New York police commissioner, O Henry's stories had moved him to advocacy for the city's overworked, underpaid shop girls.
A New Approach to Winning a Presidential Pardon
After O Henry passed away, others sought a pardon on his behalf. Former North Carolina Senator Jesse Helms wrote a letter, as did the O Henry Museum in Austin. But both of these entreaties were informal. In 2012, Professor PS Ruckman and journalist Scott Henson decided to take a different approach.
It all started in November 2011, when President Barack Obama "pardoned" two turkeys to spare them from becoming Thanksgiving dinner. In his speech, President Obama quoted O Henry's "Two Thanksgiving Day Gentlemen," calling Thanksgiving the "one day that is ours...the one day that is purely American." Ruckman decided that Obama might be willing to grant O Henry a pardon, given that he'd evoked the famous author when pardoning a pair of lowly fowl.
Unlike his predecessors, Ruckman decided to file a formal appeal for a pardon. He teamed up with Henson and thoroughly researched O Henry's case. Previous pardons had been denied because O Henry was dead; posthumous pardons are exceedingly rare. But Ruckman and Henson hoped that O Henry's status as a beloved author would prove sufficient.
While previous pardon requests had been made on the basis of wrongful conviction, Ruckman and Henson focused narrowly on what they considered overwhelming evidence of O Henry's complete rehabilitation. They noted that O Henry was a first-time offender who received a significant sentence reduction for good behavior and earned no demerits during his incarceration. They also noted that O Henry never ran afoul of the law again, and that he made a name for himself as a favorite short story writer of all time (only Rudyard Kipling sold more hardback copies of his short stories than O Henry).
Yet US Pardon Attorney Donald Rodgers remained unmoved. He summarily rejected the pardon request, saying that O Henry's "literary works in and of themselves do not establish rehabilitation." Rodgers also said that corroborating Ruckman and Henson's claims about O Henry's spotless prison record would be too onerous for the court. Ruckman has vowed that he will petition the US Pardon Attorney every year. He may have to wait for a new president to take office; President Obama has been notoriously reluctant to grant pardons. Meanwhile, Rodgers and his office are under investigation for the mismanagement of pardon applications.
Would You Pardon O Henry?
But what if Rodgers and his predecessors were right in denying O Henry's presidential pardon? Evidence strongly suggests that O Henry doesn't deserve a tarnished legacy.
O Henry himself complained about the lax procedures at First National Bank of Austin. He said that people would walk into the bank, take money from the till, and leave without so much as leaving an IOU. O Henry's co-workers would later testify that the bank's security practices were "so lax that the potential for error was very high."
O Henry was convicted of three counts of embezzlement, but one of these actually occurred after O Henry left the bank. Other bank employees and officials were also known to have taken money from the bank. O Henry simply made the best scapegoat because he'd been the cashier.
No depositor at the bank actually lost any money, and there was no evidence that O Henry used any misappropriated funds for personal expenses. It's possible that he "borrowed" money from the bank to start the Austin magazine Rolling Stone. If he did, experts speculate that he repaid it with a loan from his wealthy father-in-law.
The first grand jury refused to indict O Henry due to insufficient evidence. Both the chief prosecutor and the bank examiner admitted that there was no evidence to suggest that any of the missing funds went to O Henry's personal use. But intent on making an example of someone, the federal bank examiner called a second grand jury.
On the other hand, O Henry's detractors also point to a few other factors that indicate guilt:
It seems likely that O Henry availed himself of the bank's lax bookkeeping to fund his Rolling Stone magazine. Though the Austin edition consistently lost money, O Henry decided to expand the paper, launching a San Antonio edition. It's not clear where he got the funds to run these publications.
Following his indictment, O Henry jumped bail and fled to Honduras, where he spent six months (and coined the term "banana republic). The author returned to Texas only when he learned that his wife, Athol, was dying of tuberculosis. O Henry turned himself in and was released on his own reconnaissance to care for his wife.
O Henry didn't testify on his own behalf, probably because he would have incriminated himself. The court isn't supposed to interpret this lack of self-defense as a sign of guilt...but often does. However, at the time O Henry wasn't even communicating with his own lawyer.
The short fiction author never once publicly denied the charges or claimed that he'd been wrongly convicted. Though it's possible that O Henry simply wanted to avoid a scandal, it's also possible that he was actually guilty of embezzling.
If the decision were yours, would you pardon O Henry? Leave your thoughts below in the comments!