If dressing up in costume seems immature or silly to you, well, you may be right. But to cast off foolish fun as unwise would be to ignore that many great minds, from Mark Twain to Virginia Woolf to F. Scott Fitzgerald, have adorned themselves in costume. In doing so, they placed themselves in part of a long tradition, from primitive masquerades to Greek theater to the Globe, in which storytelling is inextricable from costumes and play.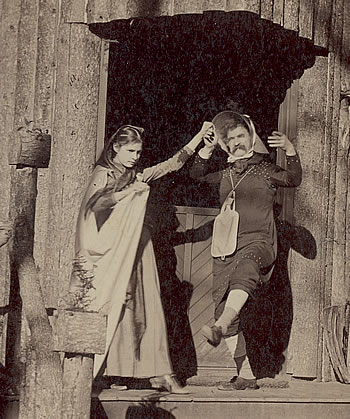 We've collected six of our favorite authors in costume, just in time for Halloween, and ready in perpetuity for any time you simply want to be cheered up.
Mark Twain as Leander
Mark Twain was no stranger to the stage. Later in his career, he went on an international comedy tour and knew how to ham it up when necessary. Here, he is pictured with his beloved daughter, Susy Clemens, at an artist's retreat in the Catskills in 1890. The pair are imitating the romantic Greek lovers Hero and Leander, with Twain adopting the interpretive accessories of a bonnet and hot-water bag around his neck. Image courtesy of the Bancroft Library exhibit.
Virginia Woolf as Abyssinian Prince
In 1910, a restless poet and prankster named Horace de Vere Cole took some friends along for what would be his most famous ruse. He dressed up a pack of bohemian friends as Abyssinian royals and succeeded in pilfering a tour on the Dreadnought, courtesy of the Royal Navy. Among his accomplices was a 28-year-old named Virginia Stephen, later Woolf, who can be seen to the far left, seated and with a beard. Though this costume, with imitative clothing and painted face, is not anywhere politically correct today, it is a striking example of where world-class mischief and literature met one night.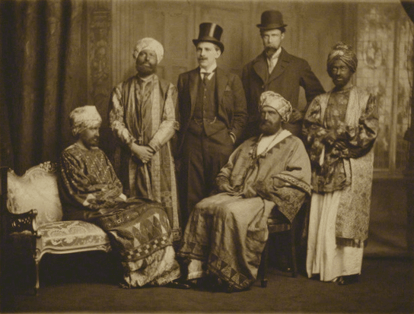 F. Scott Fitzgerald as a Showgirl
There is a comedy troupe at the University of Pennsylvania called the Mask and Wig. Founded in 1889, it still upholds the dubious standard of admitting only males. Such cheeky, all-male performances are something of an Ivy League tradition, one which even the likes of F. Scott Fitzgerald was a part. He is pictured in drag in a musical he wrote called The Evil Eye, a production by the Princeton Triangle Club. There is no word yet on his performance, but the New York Times called him "the most beautiful" female facsimile in the play.
*Above images courtesy of vintage.es
Norman Mailer as Stanford White
Ragtime is a brilliant historical novel and one of E.L. Doctorow's finest books. It also provided the occasion for this unlikely literary intersection: when Ragtime was adapted for a 1981 film, architect Stanford White was played by Norman Mailer. Bearing a big grey mustache, Mailer added a literary cameo to an ensemble cast featuring James Cagney, Samuel L. Jackson, and Fran Drescher. Here he sits opposite Elizabeth McGovern, who earned an Oscar nomination for her portrayal of Evelyn Nesbit. Look at photos here.
Maya Angelou as Miss Calypso
Thanks to the music of Harry Belafonte, calypso was all the rage in the late '50s, and a young woman named Maya Angelou jumped on the bandwagon. These photos come from her 1957 album, Miss Calypso, over a decade before the publication of her famous autobiography, I Know Why the Caged Bird Sings. Angelou would later diminish her singing career as a writer, and scholars and critics generally agree the album was a product of Angelou's fame-chasing and fashion-following above all else. As Billie Holiday presciently told Angelou, "You're going to be famous. But it won't be for singing."
Yukio Mishima as Saint Sebastian
In his Confessions of a Mask, Yukio Mishima creates a, well, memorable scene about the discovery of the image of Saint Sebastian in the pages of a book. Mishima, brilliant writer and fitness fanatic, would revisit the famed gay icon in a photoshoot years later, revealing not only his sensual obsessions, but creating a harbinger of a life whose ultimate fixations turned out to be blood, sacrifice, and martyrdom. You can see for yourself here.