It is no exaggeration to say that Stephen King is likely one of the most well-known writers working and publishing today. Few other contemporary writers (save possibly fellow speculating fiction master J.K. Rowling) have written books and created creatures and worlds that have captivated such a large worldwide audience. Words and phrases from his novels have seeped into the pop culture, inspiring film, television, and even graphic novel adaptations.
Since publishing his first novel, Carrie, in 1974 (though he had already been publishing short stories in magazines for many years), King has managed to hook millions of readers with his numerous bestsellers. He's won accolades not just for the horror novels which he is most often associated, but also for his short stories, nonfiction, suspense novels, and fantasy novels. His work has earned him such awards as the National Medal of Arts, the Bram Stoker Award, a Medal for Distinguished Contribution to American Letters, among others. While most people can probably name a few books by Stephen King, here are some other interesting facts about the horror master.
1. Writing Is the Family Business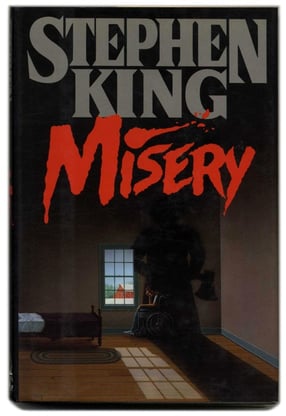 Stephen King has been publishing both novels and short stories prolifically throughout his decades-long career, but he is not alone in his literary pursuits. He met his wife, author Tabitha King, in a creative writing workshop where one of the things that drew him to her was her remarkable poetry. Her novels include Small World, Pearl, and The Book of Reuben.
Their eldest son writes under the pen name Joe Hill, keeping his parentage a secret in order to succeed on his own merit. His first novel Heart-Shaped Box was a New York Times Best Seller. His novel Horns was adapted into a film starring Daniel Radcliffe. Hill, like his father, is a recipient of the Bram Stoker Award. King's second-born son Owen has published books including We're All in This Together, a collection of short stories, and Double Feature, his debut novel.
2. He's a Writer Who Writes About Writers
One of the attractive aspects of King's work is that his characters are always real, multifaceted people. They have strengths and flaws, and readers get to see them overcome those flaws, or not, in the course of his fiction.
One common

recurrence

in his fiction is characters who are also writers. The most famous example is the writer at the center of his novel
Misery,
who like King himself felt trapped in his fan's expectations that he not stray from one particular genre, and who prophetically was struck by a car in the novel years before King's own terrible and much-publicized accident. Another example of a famous King character who is also a writer is Jack Torrance, the tortured writer in The Shining, played by Jack Nicholson in the Stanley Kubrick film version, of which King was reportedly not a fan.
Bag of Bones
and
It
also include characters who make their living writing. His novel
Lisey's Story
centers around a writer's widow as she comes to terms with his life and death and was inspired by viewing his own office boxed up and prepared for a remodel, leading him to imagine his wife Tabitha's life without him and the fallout from his career.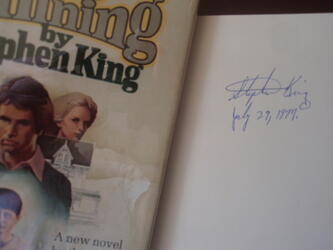 3. Connections Abound in His Novels.
Though it may slip by the casual King reader, consuming a greater number of King's novels eventually leads to the realization that they're all connected. The town of Derry being terrorized by Pennywise the Clown in It reappears in Insomnia in which Mike, one of the children, still works as a librarian.
Castle Rock is the setting for Cujo, Lisey's Story, Needful Things, and still others. Father Callahan of Salem's Lot appears in The Dark Tower series. A shady organization known as The Shop is mentioned in The Langoliers, The Tommyknockers, Firestarter, and The Mist, and it is potentially behind numerous disasters and accidents or it is perhaps cleaning them up.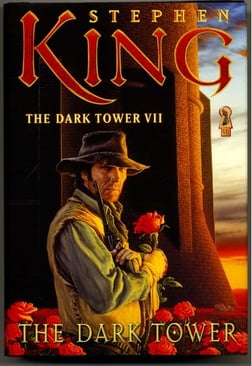 Longtime Stephen King fans can connect the dots through dozens of novels, piecing together references and dropped names to see how everything relates back to the journey of the gunslinger, Roland Deschain. Deschain is the protagonist of The Dark Tower books, the series of eight books King considers his masterpiece and which was itself inspired by Robert Browning's poem "The Childe Roland to the Dark Tower Came."
4. Adaptations Added to His Fame
Stephen King has the distinction of being famous not just for his novels but for the adaptations of his novels. So, he's beloved by horror genre or popular fiction fans and among movie-goers and consumers of pop culture in general.
Stanley Kubrik's The Shining is considered to be one of the best horror movies all time, while The Shawshank Redemption, based on King's short story Rita Hayworth and Shawshank Redemption, is commonly referred to as one of the best films ever made. King's novella The Body was adapted into the now classic film Stand By Me.
The television miniseries It starring Tim Curry has terrified children for years and a new film adaptation of the novel is due in 2017. His novella The Colorado Kid was adapted into the Syfy Network series Haven while The Dark Tower series has been adapted into comic books by Marvel. A film adaptation of The Dark Tower starring Idris Elba and Matthew McConaughey is forthcoming in 2017. This, of course, only scratches the surface of the films and television programs inspired by King's impressive body of work.