What defines a novel or a short story? In the age of e-books, novels and short stories clearly don't need to be physical objects with pages that you hold in your hands. But must these works take certain forms? Certainly, many writers from the early twentieth century and onward have pushed the boundaries of the literary form, from Jean Toomer's Cane (1923), which was initially published as short-story pieces and poems in various journals, to a work like Italo Calvino's If On a Winter's Night a Traveler (1979) or Mark Z. Danielewski's House of Leaves (2000). Of course, if we're being honest, books like Laurence Sterne's The Life and Opinions of Tristram Shandy, Gentleman (1759) pushed similar formal boundaries decades earlier. Yet those texts share at least one thing in common: if you want to buy a hard copy, you can still do so. What about novels that require social media platforms in order to exist? We're thinking specifically about Teju Cole's "Hafiz" (2014), a work published in its entirety on Twitter, one tweet at a time.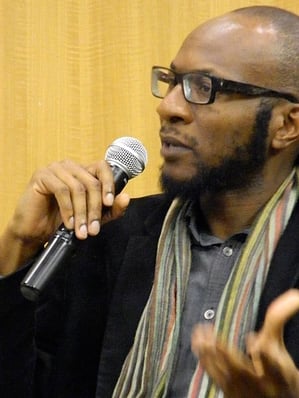 Twitter, you're asking aloud? Yes, Twitter. By the time Cole published "Hafiz" on Twitter, many readers already knew—and admired, loved, were entranced by—his writing in his first novel, Open City (2011). Before returning to the social media platform, he had taken what he described as a "much needed break from the hectic environment that Twitter sometimes can be." Yet Cole returned to Twitter and gave readers a new form through which to engage with his fiction.
Indeed, in tweets of 130 characters or fewer, Cole published "Hafiz." In an interview with National Public Radio (NPR), Cole explained: "I had written this story, and I was thinking to myself how I would publish it, and there are any number of places I could publish a short story . . . . But I think I have a natural inclination to try new things when it comes to storytelling." Yet what is so unlikely about Cole's Twitter fiction is that it's not exactly told by him. Instead, the short fiction emerged through retweeting—the author explained to NPR how he created the work through others' voices:
"As far as I was aware, nobody had actually used the retweet to create a narrative. And so I took advantage of the hospitality of my friends and followers online by asking them to tweet out certain things, which to people who are reading them on their feeds would just be sort of random sentences. But when I retweeted all of these things, in sequence, they all joined together to make a coherent story. It was just an idea, very much dependent on the generosity and kindness of the people I asked to participate, and I think it worked out quite interestingly."
More Tweets, More Narrative?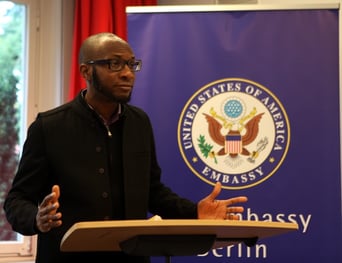 Of course we should note that Cole isn't the only writer to take to Twitter to produce a short story or a novel or another work of fiction. Right around the same time that "Hafiz" came to Twitter readers, David Mitchell's short story "The Right Sort" was also published on Twitter in over 280 tweets. Other writers now, too, have taken to Twitter as a site for literary publication.
At the same time, we're fascinated by the fact that Teju Cole appears to have abandoned Twitter in recent years. Indeed, his account hasn't posted any tweets since July 2014. Despite Cole's Twitter hiatus, we recommend checking out "Hafiz." We do have some final questions for you to ponder in the meantime, though: how can a book collector collect works on Twitter? What do we lose when we don't have a tangible copy of a book? What do you think about a "Twitter novel"?