Beloved for his humor and storytelling prowess, Mark Twain is one of America's most famous literary figures. Ernest Hemingway summed it up best when he declared, "All modern American literature comes from one book by Mark Twain called 'Huckleberry Finn.' All American writing comes from that. There was nothing before. There has been nothing as good since."
Listed below are ten facts about Mark Twain, including some of the lesser known facets of his fascinating life and legacy.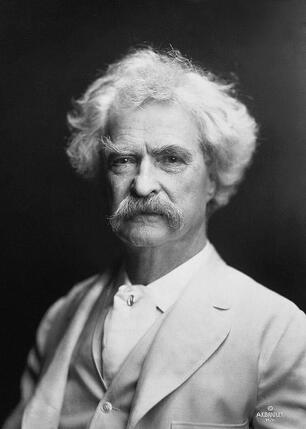 1. Born Samuel Langhorne Clemens, the author adopted the pseudonym "Mark Twain," a tribute to his days traversing the Mississippi River. The term "Mark Twain" is a river pilot adage. It signifies the second mark when measuring water depth, or the equivalent of twelve feet - a level at which steamboats are safe to sail. "Mark Twain," means "good to go."
2. Mark Twain's time as a river boat pilot was cut off at the start of the Civil War, when river trade came to a halt. At that point, Twain and a dozen cohorts formed a confederate militia, referred to as the "Marion Rangers." The group disbanded after only two weeks.
3. Before adopting the name "Mark Twain," Clemens wrote using the pen name "Thomas Jefferson Snodgrass." Under this name, Twain penned several travel-based letters to the Keokuk Post - an Iowa newspaper. Twain's letters as Snodgrass - published in the mid 19th century - provide us with a first look at his vernacular storytelling.
4. Mark Twain has no living decedents. One of his four children passed away in infancy. Two others died in their twenties. Twain's daughter, Clara, had one daughter - Nina Gabrilowitsch - who died without having children of her own.
5. Adventures of Huckleberry Finn, Twain's most renown work, is listed as the fifth most challenged book on the American Library Association's Banned Books List for the years 1990-1999. Because the book was considered a "masterpiece" by so many literary greats, it was a shoo-in for classroom curriculum. As a result, it landed under direct scrutiny for its treatment of race and what some consider a questionable moral standard.
6. While primarily recognized for his contributions to the American literature canon, Mark Twain was also an inventor. He invented several apparatuses including self-adhesive scrapbook pages, which allowed less crafty folk to try their hands at the art, and an elastic-clasp, not unlike that found on the modern-day brassiere.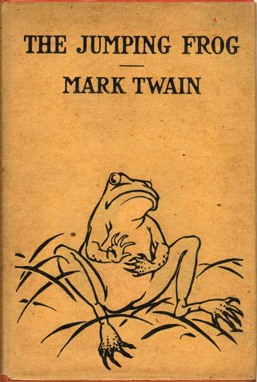 7. Mark Twain's humor can be seen in his use of back translation on one of his own short stories, "The Celebrated Jumping Frog of Calaveras County." After finding a French translation, he re-translated the story, leaving all of the grammar, syntax and word choice as it was in the translation, and then republished the work to include the original, the translation, and the re-translation. He titled the compilation "The Jumping Frog: in English, then in French, and then Clawed Back into a Civilized Language Once More by Patient, Unremunerated Toil."
8. One can visit Mark Twain's childhood home in Hannibal, MO. It has been memorialized as a museum. Twain's favorite destinations in New York have also been turned into a walking tour. And, each May, Calaveras County in California holds a fair and a jumping frog jubilee. Frogs actual compete to see who can jump the farthest. Every winner is memorialized with a sidewalk plate in downtown Angels Camp on the "Hop of Fame."
9. Mark Twain's autobiography titled The Autobiography of Mark Twain was published 100 years after his death, per his request. The author dictated his life events, in no particular order, and for the first time in 2010, the full version was released. In 2013, the second volume was published. Read more about Twain's autobiography and the reason for the delayed publication here
10. Mark Twain's legacy has inspired the award titled the Mark Twain Prize for American Humor. Established in 1998 to honor individuals who embody the same spirit as Twain, past winners include Richard Pryor (in the award's inaugural year) as well as Bill Cosby, Tina Fey, Steve Martin, and Jay Leno.