Good children's books focus on real, difficult topics. Love, loss, death, separation, forgiveness. The kind of issues we as adults still find ourselves struggling with long after we stop turning to books for children's to teach us the nature of such things. The best children's books address these issues while still offering up beauty and hope in their stories. One of the masters of walking this line is Kate DiCamillo. Born in Philadelphia, DiCamillo's family relocated to Florida in hopes that the climate would be better for her chronic pneumonia. Being forced to spend much of her time indoors as a result of her chronic illness caused her to develop a love of reading and writing at an early age. She studied English at the University of Florida and went on to work in a book warehouse. She published her first book, Because of Winn-Dixie in 2000, which was named a Newbery Honor book and adapted into a film. Since then she has went on to publish numerous novels for children as well as chapter books and picture books for younger readers. Throughout her career, she has been given awarded some of the highest honors in children's literature. Her novel The Tiger Rising was a National Book Award finalist. The Tale of Despereaux won the Newbery Medal in 2004 and has also been made into a film. She won a second Newbery Medal for Flora & Ulysses. Her novel, The Magician's Elephant is soon to be adapted by Netflix. Celebrate this amazing children's author by taking a look at some of the quotes that best exemplify her work:
There ain't no way you can hold onto something that wants to go, you understand? You can only love what you got while you got it. - Because of Winn-Dixie
You can't always judge people by the things they done. You got to judge them by what they are doing now. -Because of Winn-Dixie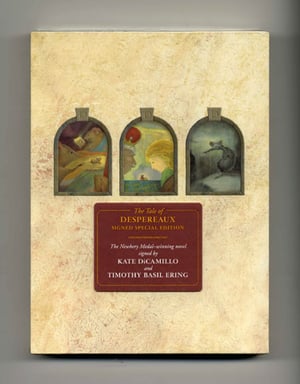 Love is ridiculous. But love is also wonderful. And powerful. And Despereaux's love for the Princess Pea would prove, in time, to be all of these things: powerful, wonderful, and ridiculous. - The Tale of Despereaux
Forgiveness, reader, is, I think, something very much like hope and love - a powerful, wonderful thing.
And a ridiculous thing, too. -The Tale of Despereaux
Once there was a china rabbit who was loved by a little girl. The rabbit went on an ocean journey and fell overboard and was rescued by a fisherman. He was buried under garbage and unburied by a dog. He traveled for a long time with the hoboes and worked for a short time as a scarecrow. Once, there was a rabbit who loved a little girl and watched her die. The rabbit danced on the streets of Memphis. His head was broken open in a diner and was put together again by a doll mender. And the rabbit swore that he would not make the mistake of loving again. Once there was a rabbit who danced in a garden in springtime with the daughter of the woman who had loved him at the beginning of his journey. The girl swung the rabbit as she danced in circles. Sometimes, they went so fast, the two of them, that it seemed as if they were flying. Sometimes, it seemed as if they both had wings. Once, oh marvelous once, there was a rabbit who found his way home. -The Miraculous Journey of Edward Tulane
When the other Dr. Meescham was alive and I could not sleep, do you know what he would do for me?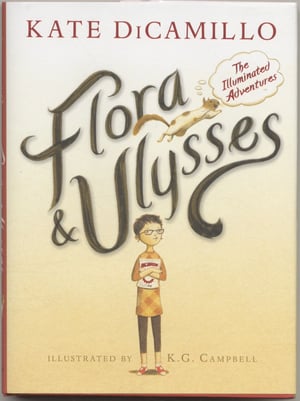 This man would put on his slippers and he would go out into the kitchen and he would fix for me sardines and crackers. You know sardines? Little fishes in a can. He would put these little fishes onto crackers for me, and then I would hear him coming back down the hallway, carrying the sardines and humming, returning to me. Such tenderness. To have someone get out of bed and bring you little fishes and sit with you as you eat them in the dark of the night. To hum to you. This is love. - Flora & Ulysses
And Rob realized then why he liked Sistine so much. He liked her because when she saw something beautiful, the sound of her voice changed. All the words she uttered had an oof sound to them, as if she was getting punched in the stomach. The sound was in her voice when she talked about the Sistine Chapel and when she looked at the things he carved in wood. It was there when she said the poem about the tiger burning bright, and it was there when she talked about Willie May being a prophetess. Her words sounded the way all those things made him feel, as if the world, the real world, had been punched through, so that he could see something wonderful and dazzling on the other side of it. - The Tiger Rising