Alan Alexander Milne, better known by his pen name A.A. Milne, was an English playwright, poet, and children's book author. Throughout his career, he wrote numerous plans and humor articles and even worked creating scripts for some of Britain's first films in the early days of the industry. He also served as editor for various magazines, including the humor magazine Punch. However, Milne is best known for his contribution to the world of children's literature as the creator of one of the most beloved children's characters of all time: Winnie-the-Pooh.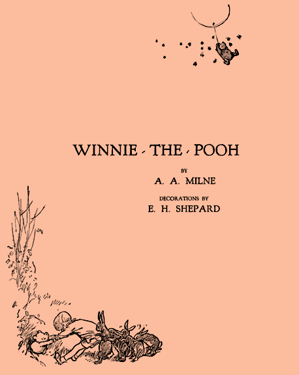 Milne was inspired to write the stories of Pooh and his friends in the Hundred Acre Wood by his son, Christopher Robin Milne. Basing the animals in the forest, Pooh, Piglet, Eeyore, Tigger, Kanga, and Roo, off Christopher's toys, he created a cast of beautiful characters that have captivated children and adults alike for decades. Milne released short tales of Pooh and friends in magazines with the first book, Winnie-the Pooh, released in 1926 with illustrations by E.H. Shephard. Milne released four books featuring Pooh and his friends, which inspired numerous beloved Disney films that continue to help popularize the tales today. The success of the Pooh stories was bittersweet for Milne. While he could support himself and his family and fund whatever projects he wanted for the rest of his life, he became primarily known for his children's works, which didn't sit well with him. In addition, Christopher Robin resented the fame the books brought into his life, contributing to his estrangement from his parents in adulthood.
Nevertheless, Winnie-the-Pooh, The House on Pooh Corner, and the two books of poems that feature Pooh, When We Were Very Young and Now We Are Six, continue to be loved by children of all ages and serve as a touchstone throughout childhood of countless people.
Let's take a look at some notable quotes from this nostalgic and beloved series:
"You can't stay in your corner of the Forest waiting for others to come to you. You have to go to them sometimes."
― Winnie-the-Pooh
"If the person you are talking to doesn't appear to be listening, be patient. It may simply be that he has a small piece of fluff in his ear."
― Winnie-the-Pooh
"Piglet noticed that even though he had a Very Small Heart, it could hold a rather large amount of Gratitude."
― Winnie-the-Pooh
"Wherever they go, and whatever happens to them on the way, in that enchanted place on the top of the forest, a little boy and his Bear will always be playing."
― The House at Pooh Corner
"And by and by Christopher Robin came to the end of things, and he was silent, and he sat there, looking out over the world, just wishing it wouldn't stop."
― The House at Pooh Corner
"But, of course, it isn't really Good-bye, because the Forest will always be there... and anybody who is Friendly with Bears can find it."
― The House at Pooh Corner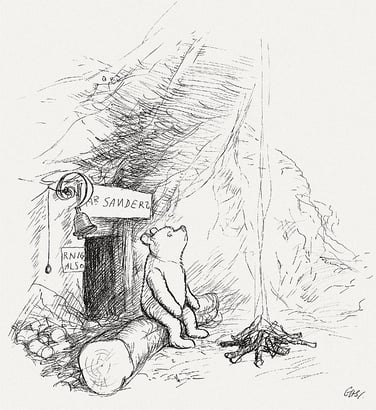 "It is more fun to talk with someone who doesn't use long, difficult words but rather short, easy words like "What about lunch?"
― Winnie-the-Pooh
"I'm not lost for I know where I am. But however, where I am may be lost."
― Winnie-the-Pooh
"I don't feel very much like Pooh today," said Pooh.
― Winnie-the-Pooh
"When you see someone putting on his Big Boots, you can be pretty sure that an Adventure is going to happen."
― Winnie-the-Pooh