British writer Virginia Woolf is undoubtedly one of the most important literary figures in both English literature and feminist literature. Her novels, essays, criticism, and work toward education reform have made her a frequent subject of study and firmly declared her relevant, even today when we are nearing sixty years since her death. Her work makes her a pillar of both feminism and modernism. Today, on the anniversary of her birth, let's take a closer look at her life and the ways in which she has stayed on the forefront of popular culture and zeitgeist.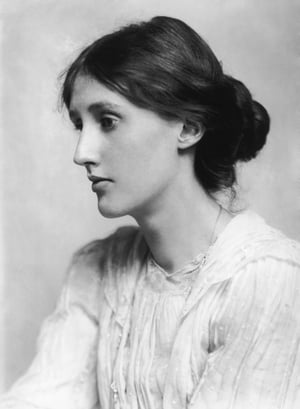 Woolf was born in London on January 25, 1886 to writer and critic Leslie Stephen and renowned pre-Raphaelite artist model Julia Prinsep Jackson. While her brothers received a university education, Woolf and hers sisters were educated in the home, receiving tutoring in the fields of English literature, specifically from the Victorian era.
Woolf began pursuing writing professionally at the young age of fourteen, encouraged by her father. His passing just five years later ushered in a very difficult time for Woolf, who struggled with mental health issues and presumably bipolar disorder her entire life. The family moved to Kensington after his death, where Woolf founded the Bloomsbury Group, an artistic and literary society that still exists today.
Woolf married Leonard Woolf in 1912, published her first novel, The Voyage Out in 1915, and co-founded Hogarth press with her husband in 1917. Throughout her career, Woolf published both her own works and the works of others at the press. Some notable titles by other writers include The Devils by Dostoevsky; Karn by Ruth Manning-Sanders; Twilight in Delhi by Amed Ali; and Loving by Henry Green. Of Woolf's own work, Hogarth published Jacob's Room, Orlando, and The Waves, as well as her most famous novel, Mrs. Dalloway.
Also during this time Woolf met and befriended writer Vita Sackville-West. While their relationship was romantic for several years, they maintained a friendship until Woolf's death. In 1941, Woolfe succumbed to her depression, filled her pockets with stones, and walked into the River Ouse.
Though it's been nearly sixty years since Woolf's death, she has maintained a presence in pop culture, influencing numerous writers throughout the decades, inspiring works about her life, and featuring in numerous artistic works by others. Here are some highlights of the ways Woolf has continued to inspire.
The Hours by Michael Cunningham

In 1998 Michael Cunningham published his novel, The Hours which in 1999 won the Pulitzer Prize in Fiction. Cunningham, who was already at the that time relatively well known for his successful novel A Home at the End of the World, released this book to massive buzz and almost immediate success. The novel focuses on Woolf as she writes Mrs. Dalloway and also incorporates the lives of two other women who are reading her novel and are impacted by it. The 2002 film adaptation starred Nicole Kidman, Meryl Streep, and Julianne Moore. The movie received favorable reviews, and Kidman earned an Academy Award for Best Actress for her portrayal of Woolf.
Who's Afraid of Virginia Woolf by Edward Albee
Edward Albee's play Who's Afraid of Virginia Woolf was first staged in 1962. It focuses on married couple George and Martha, whose happiness in their marriage is just an illusion. The play focuses on the difference between reality and illusion and intersperses their conversation with the couple singing this song to the tune of "Who's Afraid of the Big Bad Wolf?" from Disney's Three Little Pigs. The play was a massive success and earned Albee a Tony Award for Best Play. It continues to be staged today and was adapted into a film starring Elizabeth Burton and Richard Burton. The play itself has served as an inspiration for numerous sequels and parodies, in addition to taking on Woolf as one if its own inspirations.
Life in Squares
In 2015, the BBC aired a three-part series focusing on Woolf's life. The series concentrates on Woolf's time with the Bloomsbury group, as well as on her sister, painter Vanessa Bell. While following the artistic lives of the famous members of the group, it also delves into the members' sexuality, specifically Bell's relationship with gay writer Duncan Grant , Woolf's relationship with Sackville-West was not depicted as the series takes place before the two met. Lydia Leonard portrayed Virginia Woolf.
Room Magazine
Formerly Room of One's Own, Room Magazine is a quarterly Canadian feminist literary magazine founded in 1975. Its mission is to give women and genderqueer writers, both new and established, a room of their own. Since its founding, the magazine has featured an estimated 3,000 writers, including such notable Canadian writers as Cynthia Flood, Marian Engel, and Elizabeth Hay.