"What we have to do is to bring poetry into the world in which the audience lives and to which it returns when it leaves the theatre." — T.S. Eliot
Nobel Prize-winning poet T.S. Eliot has an influence that is likely too large and too all-encompassing to be measured. It includes nearly every poet who has come after him and some who came before, from Ezra Pound (whose own later work would come to draw influence from that of his protégé) to Billy Collins. What fewer people realize, however, is that Eliot's influence extended beyond verse and into drama. Indeed, he proved to be one of the last century's most vocal proponents of the revival of the poetic drama, a genre largely ignored since Elizabethan playwrights like Shakespeare and Ben Jonson.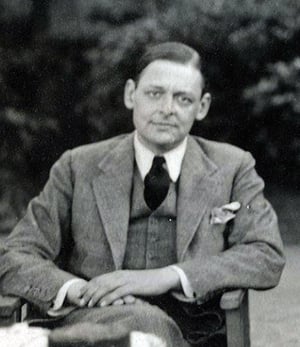 In his seminal work of literary history, Mimesis (1953), German thinker Erich Auerbach posits that all literature aspires to be a mimetic representation of reality. While this seems intuitive when one thinks of Homer or Charles Dickens, the meat of his argument comes when he reaches the question of high modernism. Though works like James Joyce's Ulysses (1922) and William Faulkner's The Sound and the Fury (1929) may seem less realistic in a casual sense than works of social realism and naturalism by the likes of Henrik Ibsen and Edith Wharton, Auerbach posits that they succeed in asserting that internal, mental reality is just as 'real' as the external reality of disaffected Norwegian housewives and pill-addicted socialites. Just the same, prose does not have a stronger claim on reality than drama or vice versa.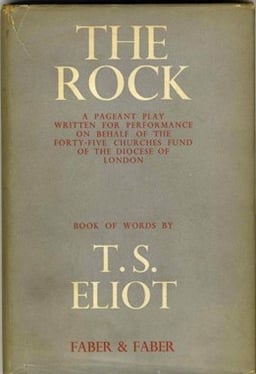 This is where Eliot comes in. Having been a master practitioner of poetic writing and a student of literature for decades, he eventually turned toward drama. Where much of the 19th and earlier 20th Century's drama had been of the naturalist stripe, written in prose rather than verse, Eliot sought to show that drama rendered in verse and focused tightly on the mental lives of its characters (rather than their social circumstances) could delight Anglophone audiences.
With this goal in mind, he wrote Sweeney Agonistes in 1932, which he would eventually follow up with more plays, from The Rock (1934) to The Cocktail Party (1948). As the folks over at NeoEnglish.com note, Eliot thought, as Auerbach did, that prose had no stronger claim on the real cadences of everyday speech than did poetry. In search of the equivalent of Shakespeare's iambic pentameter, Eliot developed his own metrical rules for versifying dialogue, in the hopes that playgoers would begin to hear that which was poetic in their own day-to-day speech outside the theatre.
While Eliot's drama did not spark the same sort of revolution that his poetry did, it was not without impact. The verse drama in English did not return to its Elizabethan vibrancy, but it did gain some dedicated practitioners, most successful among them being Christopher Fry, author of The Lady's Not for Burning (1949). Of course, the form's continued obscurity certainly doesn't detract from Eliot's broader influence. Rather, the high-modernist ideals of Eliot's work can be traced beyond the realm of verse drama and into the mainstream of English theatre. From the absurdism of Tom Stoppard's plays to the post-structuralist gender-bending of someone like Caryl Churchill, readers and playgoers can see Eliot's ideas alive and well in the refutation of realism and naturalism. Our best playwrights, despite writing in prose, seem to think, as Eliot did, that life is not always what it appears to be on the surface.