Amy Tan is arguably one of the most famous Chinese American writers today. Her novels, short stories, and essays are filled with intimate details about growing up as a first generation American and about what it is like to be both separate and a part of Chinese culture. Her unique yet honest and heartfelt examination of the American experience has led to the majority of her books topping best seller lists. She is often lauded and loved, and her work has been anthologized and studied in numerous text books and classrooms in the decades since her first novel was published. Join us as we take a closer look at some of the books that make Tan worth collecting.
Saving Fish from Drowning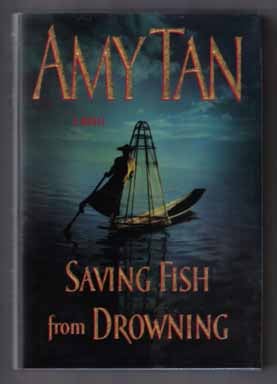 Tan's 2005 novel Saving Fish from Drowning, is a departure from her earlier body of work in that its focus is neither on the Chinese immigrant and first generation experience, nor is it about a mother/daughter relationship. Instead, the novel is narrated by a deceased tour guide following her American tourist group as they are unknowingly kidnapped by a tribe of Karen people in China who believe that one of the tourists is their savior according to a prophesy. Often funny, this morality tale is so different from the rest of Tan's work that it deserves to be included in any Tan collection based on its status as a complete outlier. Though some critics did not respond well to this shift in plot and theme, the book was named an honorable mention in the Asian/Pacific Award for Literature.
The Joy Luck Club
In 1989, Tan burst onto the literary scene with her novel in vignettes, The Joy Luck Club, which focused on the lives of four first-generation Chinese American women and the complicated relationships they had with their immigrant mothers who were all members of a majong group which gave the novel its name. The book was an immediate success, making the then unknown Tan into a household name. While the book did receive some initial criticisms accusing it of perpetuating negative Asian stereotypes, it has since come to be considered a classing and an excellent example of fiction detailing the immigrant and first generation American experience. The novel was adapted into a film in 1993. This novel's modern classic status plus being Tan's first published novel make it a must-have for anyone seeking to collect Tan.
The Kitchen God's Wife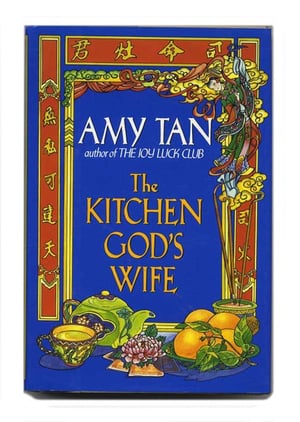 Tan's second novel, The Kitchen God's Wife, was published in 1991 and touches on many of the same themes found in her first novel. Again, there is a first generation American woman and her Chinese immigrant mother. There is a lack of understanding between mother and daughter and a complete ignorance on the daughter's part of the mother's personal history. There is a theme of struggle against the patriarchal society of China. The book takes its name from a folk tale of a lazy man who takes credit for his wife's work and ascends to godhood as his reward. The close examination of Chinese culture and the inspiration Tan took from her own life when crafting Pearl, her main character, make this novel a must-have.
The Hundred Secret Senses
Tan's 1996 novel, The Hundred Secret Senses, won the Orange Prize for fiction and, like her previous two novels, achieved best-seller status. Like much of Tan's work, this novel takes inspiration from the life of Tan's mother. It differs from her earlier works, however, in that it focuses on the experience of Chinese immigrant Kwan and her American born sister, Olivia. The way the two sisters struggle to understand their very different lives and upbringings while still focusing in on many of Tan's trademark themes is one of the many fine aspects of this novel. There is also a supernatural aspect surrounding ghosts in which one sister is a nonbeliever while the other assures she can see ghosts which may appeal to many readers.
Sagwa, The Chinese Siamese Cat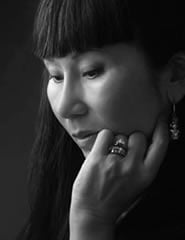 While Tan is not primarily thought of as a children's book author, she has in fact written two books for young readers: The Moon Lady and Sagwa, The Chinese Siamese Cat. Published in 1994, Sagwa features a young cream-colored kitten who lives in a magistrates house with her family. One day she falls into an inkwell, splashing her fur with ink and managing to accidentally alter important documents which ended up changing the magistrate's laws. The book serves as a sort of folk tale explanation for how seal point Siamese cats got their markings. The book was adapted into a PBS television series of the same name in 2001. The beautiful artwork and charming story makes it an excellent book for both collectors of Tan's work and children's books.
Where the Past Begins: A Writer's Memoir
While a writing memoir may not necessarily be to everyone's taste, Tan's 2017 book Where the Past Begins: A Writer's Memoir merits a place on the shelves of collectors of her work. Having ranked as a best selling author and arguably one of the most important writers of the era, Tan's memoir offers a closer look at her process and what draws her to the page in the first place. It brings nuance to her work and also serves as a behind the scenes to what her daily writing life and struggles have been throughout her career. As a writer who is often inspired by her own family experience, this memoir details the way memory and life can influence fiction.