Today marks the anniversary of the Allied invasion of Normandy on June 6, 1944. The day is commonly referred to as D-Day, and nearly everyone knows that. But, do we remember its significance? Or are we quick to dismiss it as another marker of a long-past historic battle? Have the intermittent years of war since numbed us to the cost of it all?
As the years tick on, we have fewer and fewer first-hand witnesses of these events in our midst. The unimaginably brave men who stormed the beaches and survived that gruesome day (and the ensuing Battle of Normandy, which lasted until August, 1944) are now dying of old age. And when the last of them dies, how will we honor them? How will we remember what they fought for? We believe that it is crucial to keep the events of D-Day, and all that followed, fresh in our memory, so that we can teach it to our children and our children's children—those who may never get to hear an eye-witness account in person. How can we do that? Certainly the literature surrounding D-Day and all of World War II can be of help.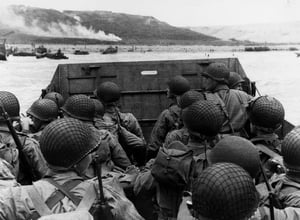 If you are looking for books that detail the trials and triumphs of D-Day to read or add to your collection, we recommend beginning with D-Day, June 6, 1944: The Climactic Battle of World War II by Stephen E. Ambrose. In D-Day, Ambrose, a well-known and respected historian, provides what publisher Simon and Schuster calls the "definitive history of World War II's most pivotal battle, a day that changed the course of history." A review written by Raleigh Trevelyan for the New York Times illuminates what makes this book so compelling:
"D-Day, June 6, 1944" is mostly about people, but goes even further in evoking the horror, the endurance, the daring and, indeed, the human failings at Omaha Beach and other places along the Calvados coastline. As director of the Eisenhower Center in New Orleans, Mr. Ambrose has been able to use the 1,200 oral histories of veterans deposited there, and these are of special importance. He has also included firsthand stories from British, Canadian, German and French sources, some from the topmost commanders.
Reading D-Day will surely keep the memory of D-Day alive, and it deserves a place on the shelf of any collector of World War literature.
Interested in more literature about the war? We've rounded up several titles in the following posts.
D-Day: What to Read in Remembrance of World War II
On a warm, overcast night turned early morning—after weeks of air raids on German bridges, railways, and other strategic points—Allied troops landed on the beaches of Normandy. Indeed it took weeks of deception, planning, and careful misdirection to allow Allies to attack an under-prepared German army and regain lost ground. The Invasion of Normandy—almost canceled due to cloudy weather obscuring the full moon glow crucial to the mission's success—was a turning point in World War II, allowing the Allies to push through France and edge the German army out of the country. This year, spend June 6 reading up on events that proceeded and followed this battle or about the people who were forever impacted by the war that enveloped the entire world. Read more >>
Must-Have Books for World War II Book Collectors
The events of World War II shaped the world we live in today, from economic and political alliances, to scientific advancements. Now a major field of scholarship as well as a frequent inspiration for both fiction and film, World War II has captivated our minds and imaginations. The heroism, sacrifice, and suffering of both soldiers and civilians all around the world make the war not only an important part of the history of the world, but a fascinating topic for book collectors to seek out. The following books represent just a small portion of the quality literature available today for collectors to acquire.
We have represented both fiction and nonfiction in the following list. Whether you are new to collecting World War II literature or looking for something new to add to your shelves, these books are each notable in some way, and each of these books offers something special for both collectors and casual readers alike. Read more >>