Jerzy Kosinski was born in Poland not long after Hitler's rise to power. After years spent denying his Jewish faith, Kosinski immigrated to the United States (by forging documents of Communist support vowing he'd return to his homeland). He was quickly successful in the U.S. He graduated from Columbia University, received a Guggenheim Fellowship, and taught at universities like Yale and Princeton. His books appeared on the New York Times Best Seller list, and he won several awards. For all intents and purposes, he was on the fast track to fame and fortune. Somewhere along the way, though, he hit some bumps in the road.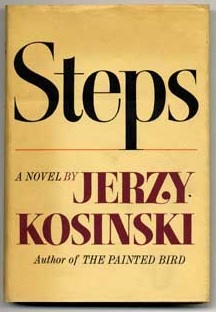 Indeed, Kosinski's fame was not without considerable controversy. He first came under fire with the publication of his third novel, The Painted Bird. Houghton Mifflin editor Dorothy de Santillana accepted the book for publication in 1965 after attending a dinner party in which Kosinski had fascinated guests with stories of his own youth in Poland. He told her he had a manuscript based on his own experiences during the war. The novel focuses on an unnamed boy wandering Eastern Europe to avoid persecution during the Holocaust. The novel details a broad spectrum of violence and hatred faced by many Jewish people at the time and was hailed as an important and beautiful work. Santillana is known for having said that while the book appeared to be fiction, it was her understanding that the majority of it was autobiographical. At the time, Kosinski neither confirmed or denied her statement.
Shortly after The Painted Bird's translation into Polish, the controversy began. Plagiarism allegations were made, saying Kosinski was not fluent in English at the time he claimed the manuscript was written and that editors wrote the book for him, seeing an opportunity for monetizing his upbringing in World War II Poland. When the ways in which Kosinski's past differed from the novel arose, the criticism and accusations only grew. While the boy in the novel was sent away by his parents for safety and wandered the countryside bearing witness to all manner of Nazi atrocities, Kosinski's family changed their name to sound more Polish, moved to the country to avoid attention, and were sheltered by Catholics in their new town, even going so far as to obtain a falsified baptismal certificate. Kosinski's credibility was shattered.
In the 1976 edition of the novel, he wrote in a forward that he had never claimed the events in the book were taken from his own life and were merely inspired by what he had seen and experienced. He said he had never wanted to be a spokesperson for Holocaust survivors and that fiction and autobiography were very different and did not converge in his book. His next book, Passion Play, did not do as well.
In 1982, more accusations were made against Kosinski. The Village Voice published a scathing expose, claiming his novel Being There was direct plagiarism of the 1932 Polish novel The Career of Nicodemus Dyzma. They said his books were all written by ghost writers and again tore into previous allegations against The Painted Bird. A defense was published in the New York Times written by John Corry. Though many in the literary community rallied around Kosinski, his reputation was sorely and irrevocably damaged. He wrote two more novels after the article, Pinball and The Hermit of 69th Street, which also did not see the commercial success of his previous novels, though he continued to receive awards for his literary achievements.
In 1991, Kosinski ingested a variety of prescription pills and vodka. He tied a plastic bag around his neck, climbed into his bathtub and died. Those who knew him attributed his suicide to failing health and the still mounting criticism against his work, which had been his life. In 1996, biographer James Park Sloan published Jerzy Kosinski: A Biography which again recounted the author's life and the controversy surrounding his novels.
His novel Steps won the National Book Award for fiction and Being There was adapted into a major motion picture starring Shirley MacLaine and Peter Sellers. Kosinski himself appeared in the film Reds by Warren Beatty, and he appeared 12 times on The Tonight Show with Johnny Carson. Likewise, he had such illustrious fans as David Foster Wallace and Elie Wiesel praising his works as being triumphant and unique examples of writing shaped by World War II.
Whatever may be said about the degree of truth in his novels or the allegations surrounding his works, Kosinski published books that had an important impact on literature.