Ralph Ellison was born in 1914 in Oklahoma City. He was named after poet Ralph Waldo Emerson. His father was a voracious reader and often read to Ellison and his younger brother, Herbert. When Ellison was only three years old, his father was killed in a work-related accident after shards from a fallen ice block pierced his abdomen. Although his mother eventually remarried, Ellison grew up knowing how much his father loved him, and as an adult, he learned his father had wished for him to grow up to be a poet, like his namesake.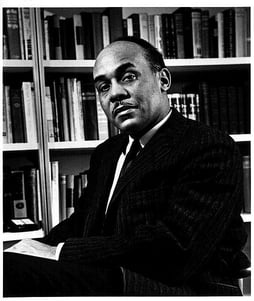 Though Ellison eventually became known for his much-lauded novel Invisible Man as well as several collections of essays, he began his career as a cornet and trumpet player. After graduating high school, he worked a variety of jobs to buy a trumpet. He worked as a musician, playing with local bands until he was able to enroll in the music program at Alabama's Tuskegee Institute on a music scholarship. While his goal was to compose symphonies, he eventually became drawn to sculpture and photography and left school to pursue those new goals in New York City.
There, he became acquainted with Richard Wright and at his suggestion, turned to writing fiction. Ellison worked for the New York Federal Writers Program and was mentored by Langston Hughes, among others. With their guidance, he was hired as managing editor of Negro Quarterly and began publishing his own essays. He supported himself by writing book reviews and with the help of his second wife's photography business, but his sole focus became his work on the manuscript that became Invisible Man. The book was eventually published in 1952. Invisible Man's protagonist, rendered invisible not by fantastical means, is instead made figuratively invisible by the constraints of society and alienation that is the result of racism. Much of the book was inspired by Ellison's disenchantment with the Communist Party—which he had previously been supportive of—as well as his experiences with the differences between racism in the North and South.

The novel was a huge success making it onto numerous "best novel" lists and earning Ellison the National Book Award for Fiction. It launched Ellison's literary career, and he used the success of Invisible Man as a springboard to discuss the issues that were most important to him. Namely, he addressed morality in literature and the breakdown of the Communist party as he saw it, and the Civil Rights Movement. He traveled around the world and lived abroad. He wrote and published numerous essays and reviews. He published his second book, a collection of essays titled Shadow and Act in 1964.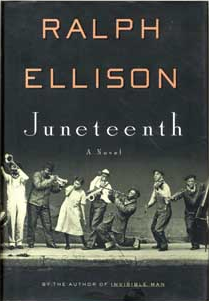 Ellison was widely lauded throughout the rest of his career, receiving the National Medal of Arts, a Langston Hughes Medal, the Presidential Medal of Freedom, and more, yet he was never satisfied. He lost much of his second novel in a house fire and as a self-proclaimed perfectionist, he was never able to complete it. Ellison even admitted that he viewed Invisible Man more as a good attempt than as a real, successful novel. He published one more collection of essays, Going to the Territory, in 1986. Ellison died of pancreatic cancer in 1994.
Since his death, the writings he left behind have been collected into two additional collections of essays, a collection of letters, an edited version of his second novel, Juneteenth, and the complete two thousand pages that composed the entirety of the manuscript of his second novel titled Three Days Before the Shooting. While Ellison himself may never have been satisfied with his work, the enduring legacy of his essays, fiction, sculpture, photography, music, and academic career prove that he is an invaluable part of the landscape of American arts and letters.