Hillary Clinton engenders strong emotions from many people. Some love her. Some love to hate her. No matter where you fall, it's difficult to argue that she's not a very accomplished, very smart, woman of a certain age. Rather than descending into political debate, we'd like to offer an overview of Clinton's accomplishments and some of her notable written works, and leave it at that.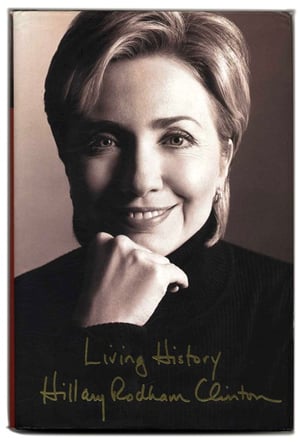 Hillary Clinton is described as an American politician, diplomat, lawyer, writer, and public speaker. She has been the First Lady of the United States, a United States senator, Secretary of State, and the first female presidential nominee in a major political party in the U.S.
When she graduated from Wellesley College she was the first student in the college's history to speak at a commencement ceremony, and she got an extended ovation.
Life in Arkansas (1974-1992)
When she moved to Fayetteville, Arkansas, she joined the faculty at the School of Law at the University of Arkansas, Fayetteville. She was the first director of a new legal aid clinic at the school, and she obtained the support of the local legal community and also secured federal funding for the clinic. While living in Fayetteville, she was one of several women who founded the city's first rape crisis center.
When Bill Clinton became Arkansas Attorney General the couple moved to Little Rock. Hillary joined the Rose Law Firm which is described as a bastion of Arkansan political and economic influence. She practiced intellectual property law and worked pro bono in child advocacy. She was the firm's first female full partner.
President Jimmy Carter appointed her to the board of directors of the Legal Services Corporation in 1977, and she was the first woman to hold the job of chair of that board. In 1983 she was chosen as Arkansas Woman of the Year and in 1984 was named Arkansas Mother of the Year.
She also chaired the American Bar Association's Commission on Women in the Profession which was created to address gender bias in the legal profession. She was named by The National Law Journal as one of the 100 most influential lawyers in America twice between 1987 and 1991.
Clinton's Time as First Lady (1993-2001)
Hillary was the first woman to have a postgraduate degree and a professional career before moving into the White House as the first lady. She was also the first to have an office in the West Wing in addition to the usual East Wing offices of the first lady. Next to Eleanor Roosevelt, she was considered the most empowered presidential wife in American history.
She worked for the passage of the State Children's Health Insurance Program and conducted outreach efforts to enroll children in the program, in addition to promoting nationwide immunization against childhood diseases. She also promoted mammograms for older women with coverage provided by Medicare. She worked to increase funding for prostate cancer and childhood asthma at the National Institutes of Health. Together with Attorney General Janet Reno, she helped create the Office on Violence Against Women at the Department of Justice. She regarded the passage of the Adoption and Safe Families Act as her greatest accomplishment while the first lady.
During this time, she traveled to 79 countries, breaking the record for the most-traveled first lady. She helped create Vital Voices, an initiative sponsored by the United States to encourage the participation of women in their countries' political processes. She was the founding chair of a nationwide effort matching federal funds with private donations to preserve and restore historic items and sites, Save America's Treasures.
Clinton was the first, first lady to be a candidate for elected office when she ran for the U.S. Senate from New York in 2000. She served in that capacity from 2001-2009.
Presidential Candidate, Round One (2007-2008)
When Hillary Clinton announced the formation of a presidential exploratory committee in 2007 no woman had been nominated by a major party and no first lady had ever run for president. She was the first woman to run in the primary or caucus of every state. She eclipsed, by a wide margin, the number of votes and delegates won by a prior female candidate, Congresswoman Shirley Chisholm, in 1972.
Secretary of State Tenure (2009-2013)
Barack Obama won the presidency, and Hillary Clinton was nominated to be Secretary of State, resigning from the Senate the same day she was confirmed. She was the first former first lady to serve in the Cabinet.
She was the first secretary of state to implement a smart power approach for asserting U.S. leadership and values. This strategy combined military hard power and diplomacy with American soft power capacities in economics, development aid, technology, creativity, and human rights advocacy. She also greatly expanded the State Department's use of social media to help empower foreign citizens in confronting their governments to press for change.
What became known as the Hillary Doctrine linked women's rights and levels of violence against women with the gender inequality within a state and the instability and challenge to international security of that state.
Clinton was the most widely traveled secretary of state, visiting 112 countries during her tenure. She also worked on organizing diplomatic isolation and international sanctions against Iran in an effort to force curtailment of their nuclear program. This eventually led to the multinational Joint Comprehensive Plan of Action agreement in 2015.
2016 Presidential Election
In the initial contest of the 2016 primary season, Clinton became the first woman to win the Iowa Democratic caucuses in a narrow victory over Bernie Sanders. She was formally nominated at the July convention and became the first woman nominated for president by a major political party.
After winning the popular vote but losing in the Electoral College to Donald Trump, she wrote her third memoir, What Happened, and launched Onward Together, a political action organization dedicated to fundraising for progressive political groups.
During 2016, Hillary Clinton acknowledged this about herself: "I'm not a natural politician, in case you haven't noticed."
If you're interested in reading more by and about Hillary Clinton, she's written a number of books including Living History and Hard Choices. We wrote a whole article on them, and you can find it here.
In Conclusion
When you step back and assess the list of the posts she has held and the advocacies she has undertaken you cannot deny the depth and breadth of all Hillary Clinton brings to the table, regardless of what she decides to do now that running for office has been taken off that table. This is one incredibly smart and powerful woman, and maybe you don't agree with her political stances, but you have to respect and admire her abilities and accomplishments,