Even the task of summing up Stephen King's career and body of work is daunting. The New England-based literary giant has published more than 50 books, including acclaimed works of sci-fi, fantasy, suspense, horror, supernatural fiction, literary fiction, and, no doubt, other genres as well. He is so famous that even his pseudonyms are household names, and his works have been adapted for the screen more times than it would be in any way reasonable to recount in this space.
If summing up the man's life's work is a daunting enough task by itself, you can imagine how daunting it must be to become a collector of his works. And yet, such a varied and broad career as King's almost insists upon that type of interest and devotion, inspiring it in many of his rabid readers and fans across the world. If you find yourself in danger of numbering amongst those devoted readers, fear not! Building a Stephen King collection may be an intimidating task, but you don't have to do it without a roadmap.
Dark Tower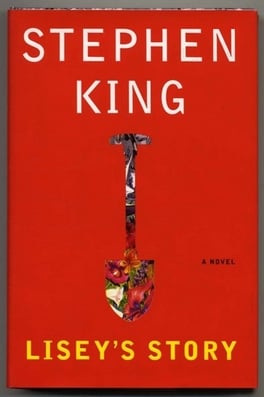 The question of where to begin with a Stephen King collection is actually shockingly straightforward. The Dark Tower series of books, beginning with 1982's The Gunslinger and continuing with another seven novels over the course of the next three decades, represent the cornerstone of any King collection for two reasons: they've become increasingly central to King fandom since the series' inception; and their publication history has often been extremely varied.
When King initially conceived of the series, which is essentially half The Lord of the Rings (1954) half The Good, The Bad and The Ugly (1967), he assumed that most of his fans would be less interested in a Spaghetti-Western-fantasy-epic than they had been in the horror fare for which he had been best known up to that point. As a result, after King published his Gunslinger material in five parts in The Magazine of Fantasy & Science Fiction (the 1977-1981 issues of which have become collector's items in their own right because of King's stories), he authorized a print run of only 10,000 copies with sci-fi small press publisher Donald M. Grant. Audiences clamored for copies of the book, and a second of run of 10,000 was quickly authorized.
Bowing to overwhelming demand, King would arrange for larger trade runs of each of the subsequent books. At the same time, Grant continued publishing first editions of the series, resulting in runs of numbered and lettered copies, in addition to proof copies, artist editions, etc. According to David A. Williamson, acquiring a complete same-number or same-letter set of signed Dark Tower novels is the "Holy Grail" of Stephen King Collecting.
What's in a Name?
While Gunslinger and its sequels are a must for any serious Stephen King collector, the choice of where to go from there can often be a matter of personal preference. Some will strive for the entire collected works, but you may find that you want to focus on a particular segment of King's oeuvre—either focusing on a particular genre, a particular era, film and TV adaptations, or whatever other grouping comes to mind. To that end, it might be useful to get to know King's various noms de plume. The most famous of these is Richard Bachman (named for Canadian classic rock outfit Bachman-Turner Overdrive), whose moniker King used for seven books from 1977 to 2007, including Rage (1977), Thinner (1984), and The Regulators (1996).
What began as an attempt on King's part to see how much of his fame was just luck quickly took on a life of its own (so much so that when the 1982 Bachman novel The Running Man was adapted for film the screenplay was credited to Bachman). While King would be outed as the author of the Bachman novels fairly quickly, their initial print runs were much smaller than a typical King release from that era. As a result, they are often rarer and more valuable than many works published under his own name.
Greatly Exaggerated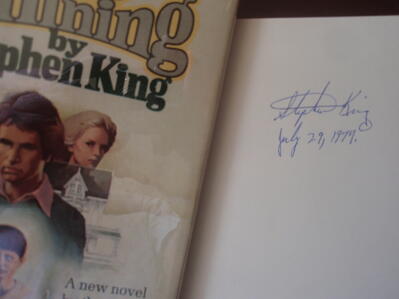 Despite what Google seemed to think for a day or two, Stephen King is still alive (and he is still not Haruki Murakami). This has real implications for collectors. On the one hand, it could easily come to pass that your Dark Tower complete set becomes one shy—on the other hand, anyone who needs a signature of King's to complete a signed, lettered set (or simply just to enhance the value of a standalone volume like Carrie (1974) or Misery (1987)) can make that happen with a little bit of travel and a willingness to stand in line.
In fact, Stephen King's signature has been the subject of some controversy over the years, owing to the fact that, a) it is frequently forged, and b) it has apparently changed a lot over the course of four decades. As a result, ascertaining the authenticity of a Stephen King signature can be a tricky business. Much more straightforward (and still feasible) to just get one in person.