As a genre of literature, few forms are as likely to be neglected as musical theatre. Musicals are meant to be seen live. Or, if you are barred from that option, you may listen to the cast recording. But who reads the libretto of a musical? It contains neither performance nor music, none of the elements we are drawn to the theatre for. It's a common dismissal, and it's one often made unconsciously. It's one that also ignores the contribution musical theatre makes to the grand scope of literature. Among the greatest writers in this important tradition is English author, W.S. Gilbert.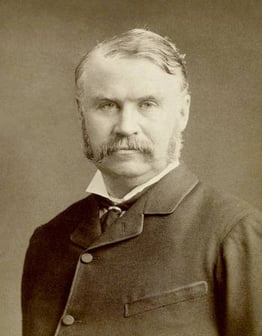 Perhaps you will recognize his name better as one half of the famed musical theatre duo, Gilbert and Sullivan. Together, the pair penned classical musicals like The Mikado and The Pirates of Penzance, and went on to influence the form in England and America for the coming century.

W.S. Gilbert began his career in law as a barrister, but supplemented his income by writing for magazines. He produced light verse, reviewed drama, and was even hired as a correspondent in 1870 to report on the Franco-Prussian War. However, his dramatic career began in 1866, when a playwright suggested that Gilbert could create a pleasant, comic Christmas story in two weeks. The play, composed by Gilbert in only ten days, was a commercial success.

Over the coming years, Gilbert honed his particular and influential humor. He was a pioneer of what is today a widespread rule of comedy, which is to take an absurd concept and play it through a story, no matter how improbable it may be. He is rightly associated with the topsy-turvy style, for in his work the expected order of things is often turned on its head. The boorish become refined, the sophisticate marries the dimwit, and so on. This subversion of order was conducive to Gilbert's powers as a formidable satirist. In his light, palatable plays, Gilbert nonetheless challenged the culture and politics of his own Victorian England.
Gilbert subjected British heads of state, sexual attitudes, and more to his parodic gaze. His play The Happy Land (1873) was banned for a time for its clear satire of Prime Minister Gladstone. The 1870s proved to be a fine period of productivity for the writer. It saw the release of his play, Engaged (1877), his most famous non-musical, which literally set the stage for comic dramatists like Oscar Wilde to follow. This period also saw the beginning of his collaboration with Sir Arthur Sullivan, including H.M.S. Pinafore (1878) and The Pirates of Penzance (1879).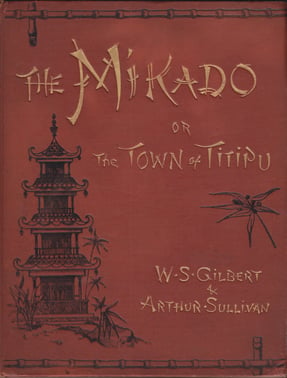 Over the next seventeen years, Gilbert and Sullivan would produce the rest of their oeuvre. There was a brief break-up in the early 1890s, and their collaboration was generally marked by differences established between the the pair's two strong personalities. Gilbert's talent as a satirist was often challenged by Sullivan, who desired their plays be more realistic and was averse to lampooning the establishment that he rather liked to be part of.
W.S. Gilbert died in 1911, from a heart attack he had while diving after a drowning girl on his country estate. He had since announced his retirement from the theatre, never finding the same success he had in his late nineteenth century heyday. Gilbert's output may have dwindled, but his successors carried the torch along, as they do to this day. His work directly influenced comic writers like Oscar Wilde, P.G. Wodehouse, and even Mark Twain. One can locate his criticism of authority and his parodic lens in the contemporary work of Monty Python and Stephen Colbert. As a satirist, W.S. Gilbert belongs among the best. He makes for some heartily good reading, too.