"Good things take time" is an old adage that has been issued to almost everyone at one point or another in their lifetime. It flows from the mouths of professors as they warn their students not to wait until the night before to start their 15-page research paper, from coaches of disgruntled beginner athletes, and from parents attempting to convince their child to be more diligent in practicing their piano notes. With the boom of technology and the drive for convenience, it seems being patient grows more difficult with each passing day. Waiting for the Wi-Fi connection at a local coffee shop feels like eternity, and we suffer extreme indignation when the pizza delivery man takes more than 30 minutes to arrive. While the art of efficiency and the drive for productivity is not without its benefits in the world today, it is often best ignored by the creative mind. Good books—like many things in life—take time. In the case of Nobel Prize winner Mikhail Sholokhov, it took fourteen years.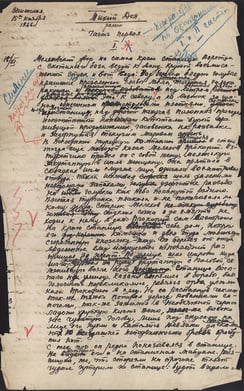 Tikhi Don [And Quiet Flows the Don] by Mikhail Sholokhov is a Russian war-time novel encapsulated in four volumes. The first three were written in relatively quick succession (1925-1932) and the fourth followed approximately eight years later. Sholokhov penned an epic tale of the hardships of the Melekhov family of Tatarsk, who were part of the Don Cossacks in 20th century Russia. Familial scandal, romance, and the violence of war come together into a brilliant saga of struggle and hope.
In addition to the engaging plot line and unique collection of characters, Sholokhov masterfully preserves the landscape and era in which the novel is set. He was awarded the Stalin Prize in 1941, and the Nobel Prize in Literature in 1965. The Nobel foundation cited the the presentation of the award as recognition "for the artistic power and integrity with which, in his epic of the Don, he has given expression to a historic phase in the life of the Russian people."
As is often the case with success, Sholokhov's work was met with both praise and scrutiny. There are some members of the literary community who doubt that Sholokhov was the sole writer of the Tikhi Don, and accusations of plagiarism have been made on more than one occasion. Although there is no strong evidence to support this claim, it remains a shadow on Mikhail Sholokhov life's work.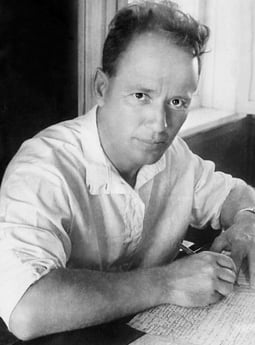 In addition to his literary accomplishments, Mikhail Sholokhov also played a role in social reform. Originally meeting Joseph Stalin in 1930, Sholokhov had the rare opportunity to freely express concerns to the soviet leader. Citing harsh conditions along the Don, Sholokhov's perspective inspired positive changes for a struggling people. For his strong voice both on and off the page, Mikhail Sholovhov will forever be remembered.
Image source.