American writer Margaret Fuller is well known for her roles as a journalist, novelist, critic, and feminist. Her untimely death in 1850 resulted in the loss of the manuscript that by all accounts would have been her masterpiece, but the legacies she left behind in women's history, feminism, and transcendentalism are more than enough to cement her place as one of the most important writers of the early 19th century.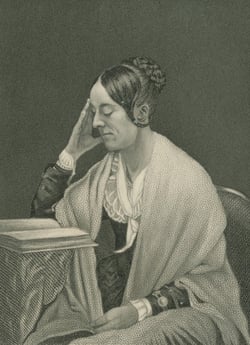 Born Sarah Margaret Fuller in 1810, Fuller was educated in her home by her father, a lawyer who served on both the Massachusetts State Senate and House of Representatives. He poured himself into her education, teaching her to read and write at the age of three and introducing her to Latin shortly after. His goal was to give her a "boy's education", keeping her away from poetry and novels he felt sentimental and instead building her education upon the humanities.
She attended school while her father served his government office but left when she was sixteen years old. She did, however, further her education independently, mastering several languages and continuing her studies in philosophy and history. For a time, she even worked as a private tutor before working in several schools. Though her desire to write eventually pulled her away from teaching, it was during this time in her early twenties that she began hosting what she called 'conversations' for local women. These conversations were meant to give women an opportunity to learn and discuss the subjects denied them by a traditional women's education. She sought to debate the important questions for women and to educate them in the classics, languages, and fine arts. She would continue to host these conversations in some capacity or another for the remainder of her life.
In 1839, Fuller began her career as a journalist when her friend and fellow writer, Ralph Waldo Emerson, offered her a position at The Dial, his transcendentalist journal. She worked for the journal for two years, in spite of the fact that she was never actually paid her agreed-upon salary. Still, the work afforded her the time and reputation to pursue her own interests.
During her time at the journal she traveled the Great Lakes area and through New York to speak with different Native American tribes, learning about their cultures and the struggles that plagued them in a post-Revolutionary War America. These interviews culminated in her book Summer on the Lakes, which she published in 1844. The book was widely acclaimed and earned her such a shining reputation that she became the first woman permitted to use the Harvard Library. In addition to Summer on the Lakes, she also serially published her work "The Great Lawsuit" in The Dial. These pieces were eventually published again in 1845 under the title Woman in the Nineteenth Century. Focusing on women's role within the shaping of and the politics of the United States, it was the first feminist book published in America.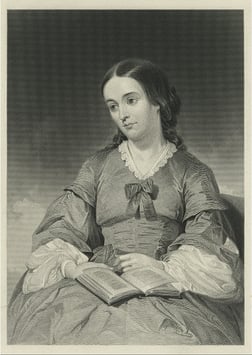 After two years she left Emerson's publication to work for the New York Tribune as the nation's first full time book critic, a position that actually delivered on its promised wages. So impressive was her work that she soon became a full time editor, earning herself yet another distinction in the field of journalism as the first female editor to work for the paper. However, her reputation at this time was somewhat tarnished by a feud with Edgar Allan Poe. He considered her a meddler, a gossip, and a busy-body due to her her participation in a disagreement he had with poet Elizabeth F. Ellet. Nevertheless, her career remained unharmed and she was eventually sent to England by the Tribune as their first ever female correspondent. It was in England that she met Giovanni Angelo Ossoli.
Fuller and Ossoli, an Italian revolutionist, had one child together, though it is unclear whether or not they ever married. Letters from Fuller's mother about the child indicate that they were at least unmarried at the time their son was born, though this did not seem to negatively impact Fuller's relationship to her family in any way. While the couple lived in Italy, Fuller began working on a manuscript meant to become a history of the Roman Republic. Her own letters and letters of other writers with whom she shared her drafts of this book indicate that this book would have been a true accomplishment. Fuller herself believed that it was shaping up to be her greatest work. Unfortunately, the manuscript would never see publication.
In 1850 Fuller, Ossoli, and their son traveled back to America to introduce the boy to her family. But only 100 yards away from the shore of Fire Island, New York, their boat hit a sandbar. The boat caught fire and began to sink. Though the people of Fire Island flocked to the beaches, they sought to salvage the cargo rather than the passengers, and a great many people lost their lives Their son Angelino's body later washed to shore, and he was able to be buried. Ossoli's body was never found and neither was Fuller's. Adding to the tragedy, her great manuscript on the history of the Roman Republic was never found either.