Stevie Smith was a strange poet. She did not abide by any recognizable standard of seriousness in her writing. In fact, her work could be considered rather silly. Her verses veered into nonsense, and her language aptly imitated infantile speech. She drew cartoons for her poems, and fought her publishers hard to be able to keep them in her books. At readings, Smith doubled down on her whimsy. Some of her poems, she believed, were just meant to be sung. And sing them she did, performing them wildly to the tune of hymns and folk songs. Because of Smith's artistic peculiarity, opinions about her work have long varied. This confused reception, it seems, is the price she has paid her veritable originality.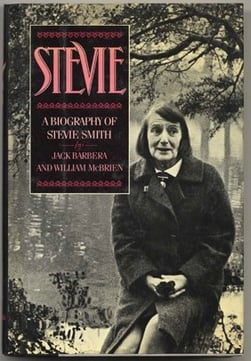 Of course, Stevie Smith is not some frivolous poet. Where form is concerned, she balances her childlike lyricism with heroic couplets and clever meter. Also, her silliness is only the outer layer of a composition far more profound. Smith herself compared her poetry to the sea: sunny on the surface, but miles below, one is to find great darkness and cold. Death and loneliness are major themes of her work, and she treated these morose subjects with her whimsical verse and playful delivery.
The contrasts at the heart of Smith's poetry make for some truly unusual art. It is as if Smith engaged herself in an experiment that no one knew what to make of. Nobel laureate Seamus Heaney, who admired some of her work, still found her eccentricity jarring. Her poetry, wrote Heaney, retreated from lasting "resonance, as if the spirit of A.A. Milne successfully vied with the spirit of Emily Dickinson." All the while, Philip Larkin called her "a true original," and Clive James noted her "a rare bird." It appears as if Smith's strangeness was the only thing that her peers felt truly comfortable pointing out.
She could be hostile to other poets (playfully, of course): "Let all the little poets be gathered together in classes / And let prizes be given to them by the Prize Asses." Stevie Smith also distanced herself from convention. She never married or had children (although she did break off an engagement). She worked for thirty years as a personal secretary for the son of a publishing magnate, a job which offered the laxity and boredom necessary for her writing. Smith herself apparently had much of the zaniness and sadness that one finds in her poetry. When she was dying in the hospital of a brain tumor, Smith performed her poem, "Come Death," ("Come Death. / Do not be Slow") to the amusement of visitors and staff. Her wardrobe was characteristically eccentric, as well.
Her dark side also manifested itself dramatically. Her three-decade tenure as a secretary ended with a suicide attempt, as she began to cut her wrist at work. That was 1953, but the theme of suicide and despair punctuates her entire body of poetry. In one poem, she writes, "Harold, I remember your leap, / It may have killed you / But it was a brave thing to do." Smith's astute sensitivity to death and alienation informed the creation of her masterpiece, "Not Waving but Drowning." She writes:
Nobody heard him, the dead man,

But still he lay moaning:

I was much further out than you thought

And not waving but drowning.
This poem exhibits much of what is typical of her work. There is the fanciful (a moaning dead man) and the tragi-comic (the act of dying mistaken for a greeting). But these elements also mirror Smith's own anxieties, not only about death, but about being misinterpreted. For indeed, Smith knew that her reception was frequently unfair and unqualified. She has a character say,
I am much condescended to, said the poet Hin, By my inferiors.

And, said the poet Hin,

On my tombstone I will have inscribed:

'He was much condescended to by his inferiors.'

Then, said the poet Hin,

I shall be properly remembered.
Stevie Smith felt her own legacy being botched by her stuffy contemporaries. And still today, as the author's work falls out of print, and as readers and poets dismiss her work as too airy, we ought to keep in mind her warning. Stevie Smith has been underestimated, and it is up to us as readers and collectors to make sure that she is not forgotten.