Picture this: two feuding men standing back-to-back, pistols at the ready, taking ten paces and then whipping around in the hopes of being the first to unload a bullet into his opponent. Sound familiar? Something straight out of a Western, right? You've read about duels in the novels of Zane Grey and Larry McMurtry. You've seen them on the big screen in films starring John Wayne and Rock Hudson. You've watched them help define a man's honor and legacy on television in Gunsmoke and Maverick. But what about authors who've actually participated in duels? They are our focus today.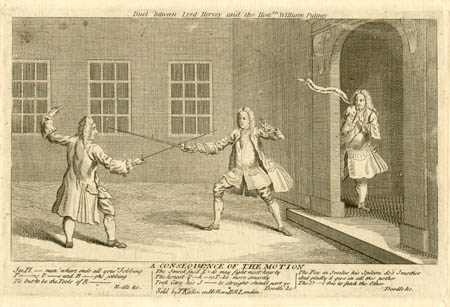 Stylized though these written, televised, and filmed depictions often are, duels were at one time a common way for two men to settle their differences, and being historically known as something of a surly bunch, writers were not immune to this archaic method of evening the score.
While fiction the world over is rife with stories of epic, heroic duels, a number of famous authors found themselves smack-dab in the middle of this chaotic ritual, and sadly, several didn't live to tell the tale of their adventures in dueling.
Here are the stories behind three famous literary duels, and the world-renowned authors who probably should have let cooler heads prevail.
Ben Jonson vs. Gabriel Spenser
The bookish and literary-inclined probably know Ben Jonson: English poet and playwright, rival to William Shakespeare, founder of the comedy of humors—an early incarnation of the dramatic comedy, or a comedy with highly exaggerated characters—and a well-read literary critic and journalist. Widely-regarded as the second most important English dramatist behind Shakespeare, Jonson was known for his acid tongue, acerbic wit, and ability to rile up both the nobility and commoner.
Gabriel Spenser, on the other hand, might be something of a mystery, even to those in the know. An Elizabethan actor and acquaintance of Jonson, Spenser didn't have a reputation for being outspoken, blunt, or a hothead, but for reasons scholars still can't pin down, a feud broke out between Jonson and Spenser in late 1598, a conflict that resulted in a sword-duel on September 22, 1598 at Hogsden Fields in England where Jonson killed Spenser with a six inch stab wound to the chest.
Jonson himself was wounded during the duel and was briefly imprisoned on manslaughter charges for Spenser's murder, but he managed to escape a capital punishment sentence by pleading benefit of the clergy, a loophole in English law where those accused of violent crimes claim they can only be officially punished by the Church of England under Canon Law.
Alexander Pushkin vs. Georges-Charles d'Anthès
Born in Moscow into the luxury of Russian nobility in 1799, Romantic poet Alexander Pushkin began publishing subversive, radical poetry at the tender age of 15, much to the chagrin of the Russian royal court and government. A voice for the people and a political activist, Pushkin's most famous play, entitled Boris Godunov, was composed in the early 1830s while Pushkin was under the strict supervision of the Tsar's political police, which forbid him from publishing.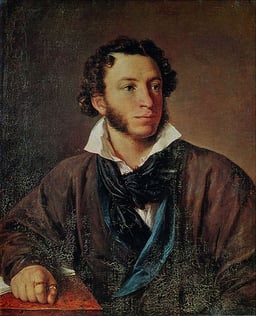 Pushkin possessed a hot temper by disposition, especially about his honor and chivalry. He took part in roughly 29 duels throughout this lifetime. But during the suppression of his work, Pushkin found himself slipping more deeply into debt, which put significant strain on his marriage to Natalya Pushkina.
Enter Georges-Charles d'Anthès, a man who Pushkin suspected was having an affair with Natalya. The two men exchanged a war of words that resulted in a duel of pistols in 1837. The duel saw Pushkin wounded in the right lower abdomen. The famed poet would die two days later from the gunshot wounds, and rumors of his wife's affair with d'Anthès have still yet to be confirmed as truth.
In the canon of literary dueling, Pushkin v. d'Anthès reigns supreme as the most iconic and commonly referenced.
Mikhail Yuryevich Lermontov vs. Nikolai Martynov
A brash and bombastic braggart, Russian Romantic poet Mikhail Yuryevich Lermontov was widely-regarded as Russia's second most popular and influential poet of his day behind Alexander Pushkin. The problem was, this was an attribute Lermontov was all too aware of and one that would ultimately lead to his downfall.
Born in 1814, Lermontov's literary career lasted just six years and included a single collection of poems, a handful of stage dramas, and the 1839 novel, A Hero of Our Time, a book which scholars and critics credit with helping define Russian prose and the psychological Russian novel.
Lermontov was also a military man, enrolling in cadet school in the early 1830s where he met friend and fellow cadet Nikolai Martynov, a man who a few years later would be Lermontov's killer in a duel following Lermontov's days-long bout of partying and self-congratulatory behavior.
According to scholars, Lermontov and Martynov rendezvoused in the Russian town of Pyatigorsk where a conflict soon broke out between them. A duel was proposed for July 25, 1841 at the foot of Mashuk Mountain where Lermontov sustained a single gunshot wound to the heart, killing him instantly.
Accounts of the duel have Lermontov realizing the futility of the confrontation and making it known to his opponent he intended on firing his pistol into the air rather than at Martynov, but historians differ on whether Martynov knew this when he fired the fatal shot.