As the long-time host of Meet the Press and commentator on presidential elections, Timothy Russert was a household name during his lauded career at NBC. Russert is credited with popularizing the terms "red and blue states" to refer to states that primarily tend to vote Republican or Democrat, respectively. During his time as a journalist with NBC, he covered numerous presidential elections and the Iraq war. Let's take a closer look at the career and books by this legend of televised political journalism.
Journalist and author Tim Russert was born in Buffalo, New York, in 1950. Russert received his BA in journalism from John Carroll University and his JD from Cleveland State University. After graduation, he worked as a lawyer in Senator Daniel Moynihan's offices, then as a top aid for former New York governor Mario Cuomo. He moved onto a position at NBC News Washington's news bureau in 1983 and was promoted to bureau chief.
In 1991, he began hosting the established Sunday morning news program, Meet the Press. By the following year, he was so popular as host that the title was changed to Meet the Press with Tim Russert and, at his suggestion, was expanded to a one hour format. His show served as a major platform in the 2000, 2004, and 2008 presidential elections, where he was at varying times both praised and criticized for his handling of interviews with candidates. He also reported in depth on the Iraq War, conducting a well-received interview with Vice President Dick Cheney. Russert hosted Meet the Press for sixteen years until his death of a heart attack in 2008 at the age of fifty-eight. He is the longest-running host in the history of the show
During his career, he received forty-eight honorary doctorates. He was given numerous awards including but not limited to the Congressional Medal of Honor Society Journalism Award, the American Legion Journalism Award, the Veterans of Foreign Wars News Media Award, the Allen H. Neuharth Award for Excellence in Journalism, the John Peter Zenger Freedom of the Press Award, and the David Brinkley Award for Excellence in Communication. Russert also received an Emmy Award in 2005. He was posthumously given the Paul White Award from the Radio-Television News Directors Association in 2009.
Russert published two books during his life, notable for their focus on family rather than the political news on which he based his career:
Big Russ & Me: Father & Son: Lessons of Life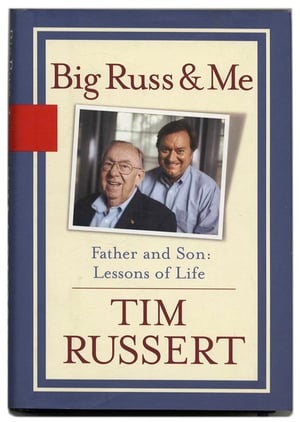 Russert released his first book, the memoir Big Russ & Me: Father and Son: Lessons of Life in 2004. The memoir details his experiences growing up in a working-class, predominately Irish Catholic neighborhood in Buffalo, New York. The memoir paints his hometown in a days-gone-by, idyllic light, describing it as the type of place where everyone knew everyone, and nobody felt the need to lock their doors at night.
He attributes his upbringing in this place and his own father, Timothy Joseph Russert, also known as "Big Russ" to his longstanding success in field of journalism. He describes his father as man of kindness and steadfast character whose guidance helped shape the man he grew up to be. The book quickly became a New York Times Bestseller.
The tenth anniversary of edition of Big Russ & Me includes an introduction and retrospective written by Russert's son, Luke Russert, who had just graduated from college days before Russert's untimely passing. He details how he followed in his father's footsteps by pursuing a career as a journalist and continues to live by the lessons imparted from Big Russ, continuing the legacy of faith, hard work, and family values his father describes in the memoir.
Wisdom of Our Fathers: Lessons and Letters from Daughters and Sons
After the publication of his 2004 memoir, Big Russ & Me: Father and Son: Lessons of Life, Russert received over 60,000 letters from people who were so moved by the story of father and son that they had to write and tell him about the lessons their own fathers imparted on them. Russert compiled some of the best letters into his 2005 book, Wisdom of Our Fathers: Lessons and Letters from Daughters and Sons. Like its predecessor, this book rose to the top of the New York Times Bestseller list for nonfiction.