William Shakespeare is arguably the most influential playwright in the English canon. Born in 1564 in Stratford-upon-Avon, he moved to London sometime in the 1580s, where he began a career as an actor and eventual playwright. Most of his works were performed between 1590 and 1630, after which he returned home and passed away at forty-nine. Shakespeare's career spanned histories, comedies, tragedies, and poems that not only captured the imagination of the common folk but also two different monarchs: Queen Elizabeth I and King James I. His works have inspired generations of writers not just in theme, but that's not the only impact of his work. Shakespeare is credited with coining hundreds of phrases still part of the English language today. Join us as we take a look at the origin of some of the common Shakespeare phrases you've likely heard or even used recently:
Fallstaff:
Faith, and I'll send him packing. – Henry IV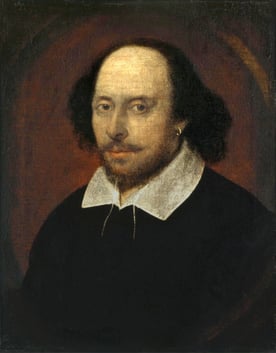 Iago:
Were I the Moor I would not be Iago.
In following him I follow but myself;
Heaven is my judge, not I for love and duty,
But seeming so for my peculiar end.
For when my outward action doth demonstrate
The native act and figure of my heart
In compliment extern, 'tis not long after
But I will wear my heart upon my sleeve
For daws to peck at. I am not what I am. – Othello
Sir Hugh Evans:
Pray you let us not be
laughing-stocks to other men's humours; I desire you
in friendship, and I will one way or other make you amends.
I will knog your urinals about your knave's cockscomb
for missing your meetings and appointments. – The Merry Wives of Windsor
Mercutio:
Nay, if our wits run the wild-goose chase, I am done; for
thou hast more of the wild goose in one of thy wits than, I am
sure, I have in my whole five. – Romeo and Juliet
Rosalind:
But are you so much in love as your rhymes speak?
Orlando:
Neither rhyme nor reason can express how much. – As You Like It
Hamlet:
I do repent: but heaven hath pleased it so,
To punish me with this and this with me,
That I must be their scourge and minister.
I will bestow him, and will answer well
The death I gave him. So, again, good night.
I must be cruel, only to be kind:
Thus bad begins and worse remains behind.
One word more, good lady. – Hamlet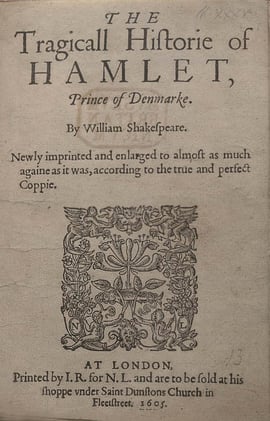 Prince of Morocco:
All that glitters is not gold;
Often have you heard that told:
Many a man his life hath sold
But my outside to behold:
Gilded tombs do worms enfold.
Had you been as wise as bold,
Young in limbs, in judgment old,
Your answer had not been inscroll'd:
Fare you well; your suit is cold.
Cold, indeed; and labour lost:
Then, farewell, heat, and welcome, frost!
Portia, adieu. I have too grieved a heart
To take a tedious leave: thus losers part. – Merchant of Venice
Orlando:
Speak you so gently? Pardon me, I pray you:
I thought that all things had been savage here;
And therefore put I on the countenance
Of stern commandment. But whate'er you are
That in this desert inaccessible,
Under the shade of melancholy boughs,
Lose and neglect the creeping hours of time
If ever you have look'd on better days,
If ever been where bells have knoll'd to church,
If ever sat at any good man's feast,
If ever from your eyelids wiped a tear
And know what 'tis to pity and be pitied,
Let gentleness my strong enforcement be:
In the which hope I blush, and hide my sword.
Duke Senior:
True is it that we have seen better days,
And have with holy bell been knoll'd to church
And sat at good men's feasts and wiped our eyes
Of drops that sacred pity hath engender'd:
And therefore sit you down in gentleness
And take upon command what help we have
That to your wanting may be minister'd. – As You Like It
Miranda:
Yes, for a score of kingdoms you should wrangle,
and I would call it fair play. – The Tempest
Jessica:
Here, catch this casket; it is worth the pains.
I am glad 'tis night, you do not look on me,
For I am much ashamed of my exchange.
But love is blind, and lovers cannot see
The pretty follies that themselves commit,
For if they could Cupid himself would blush
To see me thus transformèd to a boy. – The Merchant of Venice