Today we are continuing our Top Books by State series by taking a closer look at Delaware. Known for being the first of the Thirteen Colonies to ratify the new United States Constitution, Delaware earned its its nickname, "The First State." Delaware is a state that embodies contradictions. While it is the second smallest state in the country, it is one of the most densely populated. While it has beautiful seaside vistas and picturesque coastal villages, it is also home to bustling metropolitan centers. The books we've selected to represent Delaware take place in different time periods and are vastly different in style. But, like the state itself, they each represent some of the best writing of this varied New England state.

The Saint of Lost Things by Christopher Castellani
Christopher Castellani's The Saint of Lost Things focuses on Maddalena and her family, recent immigrants from Italy who have settled in an Italian American community and are trying to make for themselves a place that feels like home. In this passage, she experiences for the first time happiness in her location, finding joy in the setting of Delaware in spite of how it differs from her home country.
Wilmington, Delaware is home to its own Little Italy neighborhood and Castellani's book depicts some of the struggles these immigrants might have faced as they settled into their new American lives.
"Until now Maddalena had not found much beauty in America. But this evening, on the 5:55 back to Wilmington, everything charms her. The streets jammed with cars, the smoke gushing from windshields—it is all a symphony composed for her pleasure. Rows of brake lights fade from bright to pale to red as the traffic lurches forward, She opens her window halfway, for air, and welcomes the spray of cool rain on her face. The men below stare straight ahead over their steering wheels then—like the deer—suddenly turn and look up at her as if to catch her watching them. They smile and tick their heads. She wants to know each of them, these hardworking men, and their wives, and their children. She wants to walk across their green lawns. She wants to sit with them at a picnic table under the trees at Lums Pond, bouncing her baby on her lap as they trade stories and jokes and memories of years gone by."
Fight Club by Chuck Palahniuk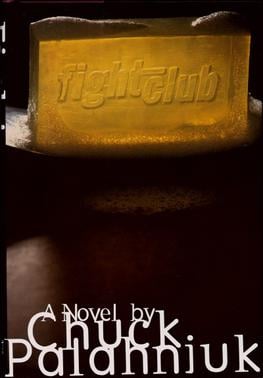 Drastically different in plot, style, and tone from our first selection, the other book representing Delaware on our list today is the iconic Fight Club by Chuck Palahniulk. This is Palahniuk's best-known novel thanks to the film adaptation starring Edward Norton, Brad Pitt, and Helena Bonham Carter.
The novel focuses on modern consumerism culture and violence, a drastic difference from the Delaware shown in Castellani's book. But the gritty, filthy city showcased in its pages is Delaware nonetheless.
"Where we are this Saturday night is the front seat of a 1968 Impala sitting on two flats in the front row of a used-car lot. Tyler and me, we're talking, drinking beer out of cans, and the front seat of this Impala is bigger than most people's sofas. The car lots up and down this part of the boulevard, in the industry they call these lots the Pot Lots where the cars all cost around two hundred dollars and during the day, the gypsy guys who run these lots stand around in their plywood offices smoking long, thin cigars.

The cars are the beater first cars kids drive in high school: Gremlins and Pacers, Mavericks and Hornets, Pintos, International Harvester pickup trucks, lowered Camaros and Dusters and Impalas. Cars that people loved and then dumped. Animals at the pound. Bridesmaid dresses at the Goodwill. With dents and gray or red or black primer quarter panels and rocker panels and lumps of body putty that nobody ever got around to sanding. Plastic wood and plastic leather and plastic chrome interiors. At night, the gypsy guys don't even lock the car doors. The headlights on the boulevard go by behind the price painted on the Impala-big wraparound Cinemascope windshield. See the U.S.A. The price is ninety-eight dollars. From the inside, this looks like eighty-nine cents. Zero, zero, decimal point, eight, nine. America is asking you to call."
Stay tuned next month as we explore some of the best books from the state of Florida!