As one of the thirteen original colonies, Maryland's history is as old as America itself. Know primarily around the country for mining Annapolis, and The Chesapeake Bay, Maryland is a beautiful state with much to offer both in the way of tourism and literature. In today's continuation of our Top Books by State series, we take a look at two books both set in Maryland but that explore two very different sides of the state. Set respectively in a fishing village in World War II or an antebellum plantation, both of these Maryland books belong on everyone's must-read list.
Jacob Have I Loved by Katherine Paterson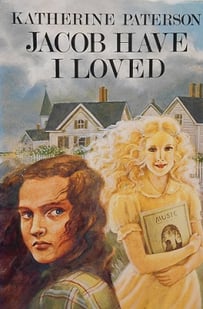 Newbery winner Katherine Paterson's 1980 young adult novel Jacob Have I Loved tells the story of the complicated relationship between the older twin. Sarah Louise Bradshaw, and her younger twin, Caroline. Throughout the course of the story, set on a island in the Chesapeake Bay in the 1940's, Sarah Louise struggles prove herself worthy while living under the shadow of the beautiful and talented Caroline. Sarah Louise provides for herself and her family by working catching oysters, a difficult job but one that she loves for the independence it grants her and for the way it helps her feel connected to her community. The following passages show the importance of fishing to her home and how she takes her place within its long history:
I love Rass Island, although for much of my life, I did not think I did, and it is a pure sorrow to me that, once my mother leaves, there will be no one left there with the name of Bradshaw. But there were only the two of us, my sister, Caroline, and me, and neither of us could stay.
And:
We tongers stood perched on the washboards of our tiny boats, and, just as our fathers and grandfathers had before us, used our fir wood tongs, three or four times taller than our own bodies, to reach down gently to the oyster bed, feel the bottom until we came to a patch of market-sized oysters, and then closing the rakes over the catch, bring it up to the culling board. Of course, we could not help but bring up some spat, as every oyster clings to its bed until the culling hammer forces a separation, but compared to the dredge, we left the precious bottom virtually undisturbed to provide a bed for the oysters that would be harvested by our children's children.
Kindred by Octavia Butler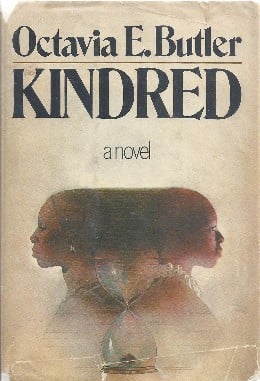 Hugo and Nebula winner Octavia Butler's novel Kindred was published in 1979. The novel was a best seller and continues to be widely read today. The novel centers around Dana, a modern woman living in California. Throughout the story she finds herself moving between present time and a plantation in Maryland where the white plantation owner Rufus and one of his slaves, Alice, eventually have a child who is her direct ancestor. She appears throughout Rufus' life in times when he's in danger and must save him in order to safeguard her future while being forced to bear witness to and be subject to some of the horrific acts undertaken by Rufus. Butler describes the book as a "grim fantasy" of how a modern woman might survive slavery. The following passage details the some of Dana's struggle on the Maryland plantation:
Someday Rufus would own the plantation. Someday, he would be the slaveholder, responsible in his own right for what happened to the people who lived in those half-hidden cabins. The boy was literally growing up as I watched—growing up because I watched and because I helped to keep him safe. I was the worst possible guardian for him—a black to watch over him in a society that considered blacks subhuman, a woman to watch over him in a society that considered women perennial children. I would have all I could do to look after myself. But I would help him as best I could. And I would try to keep friendship with him, maybe plant a few ideas in his mind that would help both me and the people who would be his slaves in the years to come
Stay tuned! Next month, we'll take a look at some of the amazing books that come from the great state of Massachusetts!