Minnesota is one of the northernmost states that make up the American Midwest. Known for its cold winters, beautiful landscapes, industry, and art scene, Minnesota is is the setting for a variety of novels. Today we take a closer look at two very different novels set in two very different literary versions of Minnesota. While both feature children as the primary protagonist, one features Minnesota in the late 1800's, depicting a life made both beautiful and difficult by nature. Set nearly one hundred years later, the second novel depicts a town torn apart my tragedy, lies and violence. We continue our Top Books by State series by looking at On the Banks of Plum Creek by Laura Ingalls Wilder and Ordinary Grace by William Kent Krueger, two vastly different books that portray very different versions of the Minnesota:
On the Banks of Plum Creek by Laura Ingalls Wilder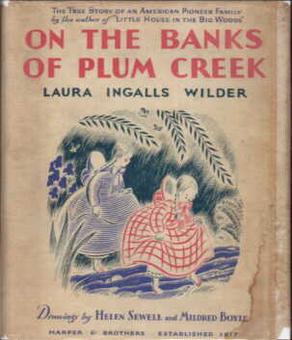 Laura Ingalls Wilder is best known for her Little House on the Prairie series which follows her childhood in the Midwest in the late 1800s. While most often associated with Kansas, the fourth book in the series, On the Banks of Plum Creek, follows the Ingalls family as the move from Wisconsin, to Kansas, then to Minnesota. The book offers an excellent look at life in rural Minnesota as well as detailing Laura's first experiences going to school in town. The book is also notable for serving as the introduction to the character of Nellie Oleson. The following passages depict the quiet beauty of Minnesota:
Now plums were ripening in the wild-plum thickets all along Plum Creek. Plum trees were low trees. They grow close together, with many little scraggly branches all strung with thin-skinned, juicy plums. Around them the air was sweet and sleepy, and wings hummed.
And:
One morning the whole world was delicately silvered. Every blade of grass was silvery and the path had a thin sheen…. When the sun came up, the whole prairie sparkled. Millions of tiny, tiny sparks of color blazed on the grasses.
And:
All around that door green vines were growing out of the grassy bank, and they were full of flowers. Red and blue and purple and rosy-pink and white and striped flowers all had their throats wide open as if they were singing glory to the morning. They were morning-glory flowers. Laura went under those singing flowers into the dugout. It was one room, all white. The earth walls had been smoothed and white-washed. The earth floor was smooth and hard…The ceiling was made of hay. Willow boughs had been laid across and their branches woven together, but here and there the hay that had been spread on them showed though.
Ordinary Grace by William Kent Krueger
William Kent Krueger's Edgar Award winning book Ordinary Grace tells the story of Frank, a teenage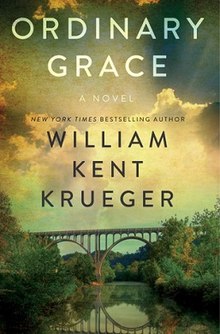 boy growing up in New Breman, Minnesota, in the summer of 1961. Frank looks back on the events of that summer forty years later, detailing how he went from a carefree teenager to a boy suddenly and acutely aware of the harsher realities of life, like how lies and violence can impact a family. The following passage details the way violence impacts the small railroad town that serves as the setting for the novel:
All the dying that summer began with the death of a child, a boy with golden hair and thick glasses, killed on the railroad tracks outside New Bremen, Minnesota, sliced into pieces by a thousand tons of steel speeding across the prairie toward South Dakota. His name was Bobby Cole. He was a sweet-looking kid and by that I mean he had eyes that seemed full of dreaming and he wore a half smile as if he was just about to understand something you'd spent an hour trying to explain. I should have known him better, been a better friend. He lived not far from my house and we were the same age. But he was two years behind me in school and might have been held back even more except for the kindness of certain teachers. He was a small kid, a simple child, no match at all for the diesel-fed drive of a Union Pacific locomotive
Stay tuned! Next time, we'll take a look at some of the amazing books that come from the great state of Mississippi!