Today we continue our literary road trip by taking a look at some of the best books set in the state of Missouri. Known for its bustling cities as well as the Ozarks, Missouri is a diverse and beautiful natural state of Missouri. St. Louis is one of the largest and most important cities in the Midwest, full of history and landmarks. The Missouri River flows into the Mississippi River here as well, which is especially notable considering the books we're focusing on today. Join us as we take a closer look at the work of Mark Twain in our Top Books by State series: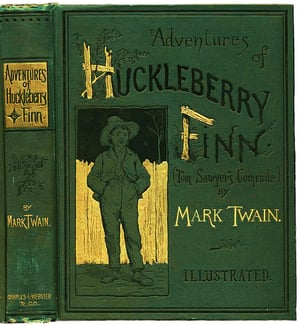 No author embodies Missouri more than one of it's most famous native sons: Mark Twain. Mark Twain was born Samuel Clemens in 1835 in Florida, Missouri. His family later moved to Hannibal where he was raised and his hometown provided the setting for his most famous novels, The Adventures of Tom Sawyer and the Great American Novel, The Adventures of Huckleberry Finn. He is widely considered to be the best humorist to ever come out of America as well as one of the best novelists. He worked as a newspaper printer and then later as a riverboat captain, which both inspired The Adventures of Huckleberry Finn as well as his pen name. He later left the job to work for his brother who was at the time Secretary of the Nevada Territory. His first publishing success came when he published a humorous short story. He went on to work as a reporter where he became known for his travel pieces and lectures. He gained even more accolades when he turned to novels, which included The Prince and the Pauper, Pudd'nhead Wilson, and A Connecticut Yankee in King Arthur's Court. Twain passed away in 1910. Take a look at the following quotes from his two most beloved novels, both set in Missouri:
The Adventures of Tom Sawyer.
Published in 1876 to an initial lackluster response, The Adventures of Tom Sawyer follows the precocious Tom and his best friend Huck Finn as they witness a grave robbery, a murder, and hunt for stolen treasure. Though the book was a flop at first, it went on to be his best selling work during his lifetime. Eventually, the book was overshadowed by its sequel, but it does offer an engaging look at boyhood in Missouri in the 1800s.
Saturday morning was come, and all the summer world was bright and fresh, and brimming with life. There was a song in every heart; and if the heart was young, the music issued at the lips. There was cheer in every face and a spring in every step. The locust-trees were in bloom, and the fragrance of the blossoms filled the air. Cardiff Hill, beyond the village and above, it was green with vegetation, and it lay just far enough away to seem a Delectable Land, dreamy, reposeful, and inviting.
The Adventures of Huckleberry Finn
Twain's most famous work, often considered the best novel in the entire canon of American fiction, The Adventures of Huckleberry Finn, was published first in 1885. Told from the point of view of Tom's friend and sidekick, Huckleberry, the book was widely praised for its use of dialect. While still a fun adventures story, the novel continues the precedent set in its predecessor for shrewd social commentary, in this case, often on slavery and poverty.
It's lovely to live on a raft. We had the sky, up there, all speckled with stars, and we used to lay on our backs and look up at them, and discuss about whether they was made, or only just happened- Jim he allowed they was made, but I allowed they happened; I judged it would have took too long to make so many.
Stay tuned! Next month, we'll take a look at some of the amazing books that come from the great state of Montana!