Since the 17th century, horror has been one of the most popular fiction genres. With roots in religion and folklore, horror has grown to encompass all manner of subgenres from gothic stories to supernatural fiction to psychological horror. This subgenre of speculative fiction is designed to terrify, unsettle, and provoke thought as it serves as a metaphor for the fears that plague society. Today we take a look at some of the most beloved classics of horror.
Dracula by Bram Stoker
Oh, the terrible struggle that I have had against sleep so often of late; the pain of the sleeplessness, or the pain of the fear of sleep, and with such unknown horror as it has for me! How blessed are some people whose lives have no fears, no dreads, to whom sleep is a blessing that comes nightly and brings nothing but sweet dreams.
Bram Stoker's 1897 novel Dracula was not the first book to focus on the vampire, but it is definitely the most influential. This epistolary novel tells the story of Jonathan Harker, a solicitor who goes to the Carpathian Mountains to help Count Dracula secure a property in London. There he becomes entangled in Dracula's terrifying world as the vampiric count feeds upon him. His fiancé, Mina, is threatened when Dracula finally arrives in England and terrorizes her friends and acquaintances. Now in the public domain, this haunting gothic tale has become a permanent part of the zeitgeist, inspiring hundreds of works of literature, art, music, film, and television. This fusion of literature and folklore set the stage for so many other works that revisiting this classic is a must.
The Haunting of Hill House by Shirley Jackson
No live organism can continue for long to exist sanely under conditions of absolute reality; even larks and katydids are supposed, by some, to dream. Hill House, not sane, stood by itself against its hills, holding darkness within; it had stood so for eighty years and might stand for eighty more. Within, walls continued upright, bricks met neatly, floors were firm, and doors were sensibly shut; silence lay steadily against the wood and stone of Hill House, and whatever walked there walked alone.
Shirley Jackson's 1959 novel The Haunting of Hill House is considered one of the best literary horror novels written in the 20th century. It even won the National Book Award for its depiction of chilling hauntings and their impact on the people there to investigate the mysterious Hill House. The Haunting of Hill House has been adapted twice to film, one as a play and most recently as a Netflix limited series.
Frankenstein by Mary Shelley
There is love in me, the likes of which you've never seen. There is rage in me, the likes of which should never escape. If I am not satisfied in the one, I will indulge the other.
Mary Shelley's 1818 novel Frankenstein is often considered the first science fiction novel. It was written when she was only eighteen years old and published when she was twenty. Famously, she wrote it as part of a contest with her husband, Percy Bysshe Shelley, and Lord Byron to see who could tell the scariest tale. Shelley, of course, won, and her creation of the humane monster continues to be widely read and loved today. Her monster, whose most famous depiction was popularized by Boris Karloff, has become one of the most famous scary images associated with Halloween in America, along with Dracula. This take of moral responsibility and creation has inspired numerous adaptations.
The Turn of the Screw by Henry James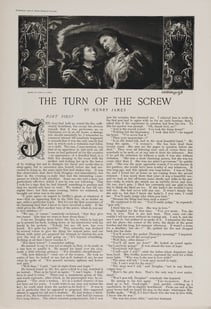 I seemed to float not into clearness, but into a darker obscure, and within a minute, there had come to me out of my very pity the appalling alarm of his perhaps being innocent. It was for the instant confounding and bottomless, for if he were innocent, what then on earth was I?
Henry James' 1898 novella, The Turn of the Screw, was initially serialized in Collier's Weekly. This gothic horror novella focuses on the suspicious and haunting activities at a manor house in Bly, England to a governess and her two young charges. While at the time of publication, it was considered a straightforward ghost story, scholarship surrounding the novella has shifted. It is now commonly believed that the terrifying events plaguing the house were actually the imaginings of the governess, Flora. Whichever interpretation you believe, this frightening story is definitely worth a read. Like many of the horror books on this list, it has been adapted numerous times, most recently as a Netflix miniseries called The Haunting of Bly Manor by the same director as The Haunting of Hill House.
Something Wicked This Way Comes by Ray Bradbury
For some, autumn comes early and stays late through life, where October follows September and November touches October, and then instead of December and Christ's birth, there is no Bethlehem Star, no rejoicing, but September comes again and old October and so on down the years, with no winter, spring, or revivifying summer. For these beings, fall is the ever-normal season, the only weather; there be no choice beyond. Where do they come from? The dust. Where do they go? The grave. Does blood stir their veins? No: the night wind. What ticks in their head? The worm. What speaks from their mouth? The toad. What sees from their eye? The snake. What hears with their ear? The abyss between the stars. They sift the human storm for souls, eat flesh of reason, fill tombs with sinners. They frenzy forth. In gusts, they beetle-scurry, creep, thread, filter, motion, make all moons sullen, and surely cloud all clear-run waters. The spider-web hears them, trembles—and breaks. Such are the autumn people. Beware of them.
Ray Bradbury's 1962 novel Something Wicked This Way Comes is technically a fantasy, but its themes of age, mortality, and power make this Halloween-focused novel imbue it with elements of the horror genre, effectively blending the two genres. The novel follows thirteen-year-old best friends Will Holloway, Jim Nightshade, and Will's father as they come face-to-face with the sinister leader of a traveling carnival who gives people their heart's desire and feeds on their fear. Bradbury himself wrote the screenplay for the 1983 Disney adaptation.