In February of 2016, one of the greatest thinkers and writers of this era died. Indeed, Umberto Eco was a rare and notable writer. Not only did he publish over twenty books of academic nonfiction in the field of semiotics—the study of signs and symbols—but he also wrote novels that achieved the type of blockbuster success many authors only dream of having. His fictive work married his interest in his academic pursuits with a love of mystery and pop culture that captivated readers, many of which had no clue what semiotics are and were simply drawn to the captivating plots and heroes populating his novels. Both Eco's nonfiction and popular work left an indelible mark, cementing him as one of the most important writers of our time.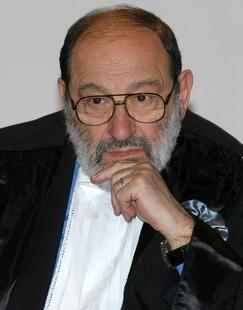 Umberto Eco was born in 1932 in Alessandria, Italy. His family name was given to his grandfather by a city official upon his discovery as a foundling. "E-c-o" stands for ex caelis oblatu, which means "gift from heaven" in Latin. His father served in three wars, but before that, he worked as an accountant.
His parents sent Eco to receive a Salesian education, an order he refers to again and again in his writings. Though his parents urged him to become a lawyer, Eco pursued a degree in medieval literature at the University of Turin. He focused his studies on the life and philosophy of Thomas Aquinas. He began his career as the cultural editor for the station Radiotelevisione Italiana and became friends with a group of avant garde writers and artists who had a great influence on his work. In 1956, he wrote his first academic book, Il problema estetico in San Tommaso. It was based on his graduate thesis.
He began lecturing at his alma mater, taking the first steps to becoming the academic powerhouse he remained for the rest of his life. He continued to publish on medieval literature, but expanded his interests to cover semiotics, literary criticism, anthropology, and media culture. He once said* that while he knew there was a difference in Homer and Walt Disney, Mickey Mouse could, in a way, be as perfect as a Japanese haiku. It was this respect and understanding for so-called "low culture" that allowed him to move so seamlessly into the world of popular fiction.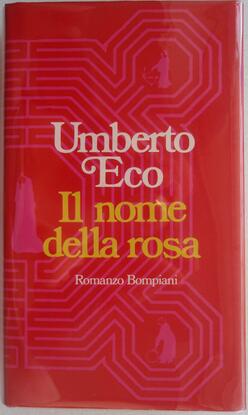 In 1980, Eco published The Name of the Rose. The novel incorporated his academic interests, semiotics and medieval studies, as well as his love of crime shows and detective stories. The novel focuses on a Franciscan friar, William of Baskerville (a nod to Sherlock Holmes) and his assistant, Adso, who are investigating a rash of murders taking place during a series of important religious debates that a monastery is hosting. The novel was a hit and was adapted into a film staring Sean Connery and Christian Slater. The film also saw huge success, though it notably cut out the novel's semiotic story lines, focusing instead on the crime. Eco followed up the success of this novel with more fiction, including Foucault's Pendulum, The Island of the Day Before, and Prague Cemetery. He also wrote numerous nonfiction books and even some children's books.
In addition to writing, Eco served as a visiting professor at Columbia University, served as the Norton professor at Harvard University, and worked for over fifteen years in collaboration with Indiana University and its Research Center for Language and Semiotic Studies. He received honorary doctorates from Rutgers University and the University of Belgrade. At the time of his death he was professor emeritus at the University of Bologna. He compiled two massive libraries during his life. His home library contained somewhere near 30,000 books while the library in his vacation home was made of at least 20,000 volumes.
His last novel was published in 2015. Numero Zero was a commentary on his native Italy, focusing on a journalist working at a newspaper in Milan. In addition to exploring Italy's Fascist History, it also explores the history of bribery in Italy and the field of journalism. Like nearly everything Eco wrote, it was successful not just for the story, but for the light in shed on the world he so astutely described.
*Source here.