Are you interested in learning more about the natural spaces that inspired Jack London? Were you under the impression that you'd need to travel to the Yukon Territory in Canada to connect with the author? If you happen to find yourself in Northern California and can make your way to Glen Ellen, you can visit the Jack London State Historic Park, also known as the Jack London Home and Ranch. There's not exactly a house to tour, but you can visit the remnants of London's dream house, which was destroyed during a fire and never rebuilt. And this is also the site of the author's grave, which you can visit on your own or through a guided tour. The wilds of Northern California are not quite those of the Yukon Territory, but you can nonetheless get a sense of how wilderness and solitude helped to define the writer.
Beauty Ranch and the Wolf House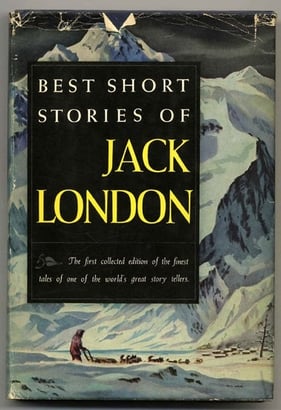 London grew up around the San Francisco Bay area, but he took his first trip to the Yukon Territory in winter of 1897. It was there that he began developing ideas for his fiction, and ultimately the material for The Call of the Wild (1903). However, London spent a great deal of time in many different parts of the world, including trips across the South Pacific and northward to China and Japan. Such trips led to publications including Tales of the Pacific, Stories of Hawaii, and South Sea Tales. He decided to settle back in Northern California, where his love of agriculture led him to buy land for a ranch in Glen Ellen. London's "Beauty Ranch" still stands as evidence of the writer's deep interest in the land and its possibilities for regeneration.
As the Jack London State Historic Park website* explains, after London purchased the ranch land, he wrote: "I am rebuilding worn-out hillside lands that were worked out and destroyed by our wasteful California pioneer farmers. I believe that soil is our one indestructible asset, and by green manures, nitrogen-gathering cover crops, animal manure, rotation of crops, proper tillage and draining, I am getting results which the Chinese have demonstrated for forty centuries."
In 1911, London began building his dream house, known as the "Wolf House," a name derived from the writer's love of wolves. The house was constructed with materials from the surrounding area. However, London never got a chance to live in the house. In August of 1913, a spontaneous combustion fire started within it and destroyed the home. At the time, Jack and his wife had been sleeping in their cottage, which was located about a mile and a half away. London insisted he would rebuild the Wolf House, but he died only a few years later and never got the chance.
Visiting the Ranch Today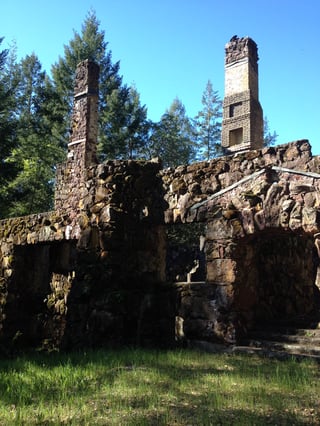 Today, the Wolf House remains in the state park as a glorious ruin that visitors can see. If you visit, you can recall the words Jack London used to describe the property as it was nearing completion: "All I wanted was a quiet place in the country to write and loaf in, and get out of nature that something which we all need, only the most of us don't know it. This is to be no summer-residence proposition, but a home all year round. I am anchoring good and solid, and anchoring for keeps."
It's a short hike from the entrance to the park out to the Wolf House, and it's well worth it. The ruins of London's dream home are stunning, depicting the design of the space with the numerous interior and exterior walls still standing. At the same time, the ruins are a testament to the wild expanses that London loved: for over one hundred years now, nature has been overtaking the Wolf House, tying the property inextricably to the land.
If you want to visit, the park has a total of about 1400 acres and around 20 miles of trails. It's located about an hour and a half north of San Francisco. The cost of entry is more than reasonable: $10 for a vehicle, and $5 if you enter on foot or on your bicycle. There's an additional cost of $4 for adults if you'd like to visit the cottage, which we highly recommend. There, you can visit London's sleeping quarters, as well as his office. It was in this cottage that London wrote a number of his later works.
In the meantime, if you can't make your way out to Northern California, why not pick up a copy of one of London's novels or short-story collections? Or, if you're feeling more political these days, London also wrote a number of essays on turn-of-the-century politics. Either way, we invite you to revisit the works of London and to start planning your visit to Beauty Ranch.
*View the full website here.