Are you interested in learning more about the life and literary work of Ralph Ellison? If you find yourself in Washington, D.C., there are many reasons to plan a visit to the Library of Congress. One of those reasons, though, should certainly be to explore the Ralph Ellison papers, which include materials from 1890-2005. There are a total of 74,800 items in the collection, such as correspondence, drafts for essays, short stories, novels, lectures given by and about Ellison, a wide variety of resources documenting his literary career, and Ellison's final unfinished novel, Juneteenth.
Learning More About Ralph Ellison's Life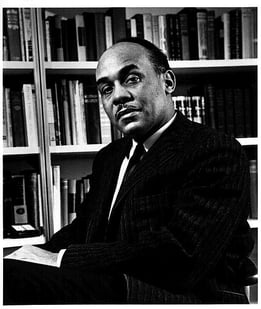 Before you visit the papers, you'll probably want to do some more reading in Ellison's fiction and learn a bit more about his life. As you may know, he was the grandson of slaves, and he was born in Oklahoma City in 1914. During his childhood, he and his younger brother were raised by their mother. In his late teens, Ellison went to study music at the Tuskegee Institute before moving permanently to New York City in 1936. In New York, Ellison met the African American novelist Richard Wright, and he began earning a living through writing work. For instance, he did research for the New York Federal Writers Program, and he wrote essays and short fiction for such publications as the "New Masses," "The Negro Quarterly," and "The New Republic."
Ellison joined the Merchant Marines and served in World War II. After the war, he began writing Invisible Man (1952), which won the National Book Award in 1953. In a 1955 interview in The Paris Review, Ellison discussed the importance of writing universal fiction—if such a thing might exist:
"Too many books by Negro writers are addressed to a white audience. By doing this the authors run the risk of limiting themselves to the audience's presumptions of what a Negro is or should be; the tendency is to become involved in polemics, to plead the negro's humanity. You know, many white people question that humanity, but I don't think that Negroes can afford to indulge in such a false issue. For us, the question should be, what are the specific forms of that humanity, and what in our background is worth preserving or abandoning."
Researching in the Ralph Ellison Papers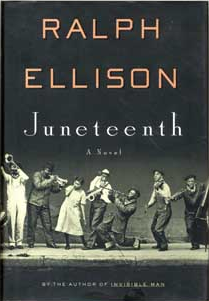 If you're intrigued by Ellison's language, you should be very excited about the expansiveness of the papers at the Library of Congress. You might be wondering why the collection begins in 1890 since Ellison wasn't born until 1914. In brief, the collection contains a section of "Family Papers," which includes materials related to Ellison's relatives, as well as those of his wife Fanny McConnell Ellison. The papers, then, are divided into two parts.
In both parts, there are "Family Papers" materials, as well as "General Correspondence," a "Writings File," a "Reference File," and "Miscellany." With whom did Ellison and his wife correspond? If you visit the papers, you can see original letters exchanged between Ellison and other writers such as Saul Bellow, Langston Hughes, Paul Engle, Shirley Jackson, and Richard Wright. Part I also contains a large collection for Ellison's "Speeches, Lectures, and Interviews," which, as the finding aid explains, "demonstrates Ellison's popularity as a speaker at special events, club meetings, and university seminars." This section of the papers also contains materials related to Ellison's work as a visiting professor for courses in both contemporary American fiction and Russian literature.
The next time you're in Washington, D.C., we highly recommend planning a visit to the Ellison papers at the Library of Congress. In the meantime, why not reacquaint yourself with Invisible Man?