The Double Helix, James D. Watson's account how he and Francis Crick discovered the structure of DNA, is both highly acclaimed and controversial. Listed as number seven on the Modern Library's list of the "100 Best Nonfiction Books of the 20th Century", and one of the Library of Congress' 88 "Books that Shaped America," the work nearly remained unpublished due to the strong objections of Watson's former colleagues.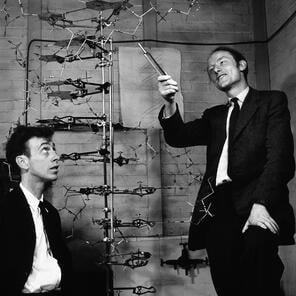 Crick and Maurice Wilkins won the Nobel Prize jointly with Watson for their work on DNA, and the two men adamantly opposed the publication of Watson's book. Indeed, their criticisms were so strong that the work's initial publisher, Harvard University Press, dropped the book entirely. Ultimately, Atheneum Press published the title in the United States and once published, The Double Helix went on to become an enormous success. It spent 18 weeks on The New York Times bestseller list and sold over a million copies.
Written in a candid, gossipy style, Watson eviscerated many of his fellow scientists in the pages of his book. He described Rosalind Franklin, the biophysicist who nearly beat him in the race to discover DNA's structure, in a sexist and dismissive light.
"By choice she did not emphasize her feminine qualities. Though her features were strong, she was not unattractive and might have been quite stunning had she taken even a mild interest in clothes. This she did not. There was never lipstick to contrast with her straight black hair, while at the age of thirty-one her dresses showed all the imagination of English blue-stocking adolescents."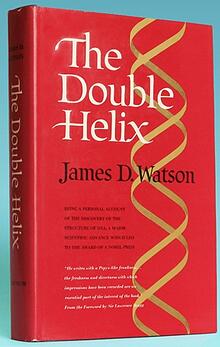 Watson was unsparing in his criticism and even picked a fight with Crick in the book's first sentence: "I have never seen Francis Crick in a modest mood." Watson and Crick were good friends after working together so intensively on DNA, yet their relationship underwent a severe test after Crick read the first draft of Watson's book.
Crick wrote Watson a long letter detailing his objections to the book. These ranged from the way he, personally, was depicted, to the general accuracy of the text. He wrote, "My objection, in short, is to the widespread dissemination of a book which grossly invades my privacy, and I have yet to hear an argument which adequately excuses such a violation of friendship." Crick went on to argue, "Absolutely no attempt is made to document your assertions, many of which are not completely accurate because of your faulty memory. You have not troubled to consult documents which you could easily lay your hands on, nor have you made available to others the documents you yourself have."
Crick's vociferous opposition nearly prevented Watson from finding a publisher for the book. Watson later said, "It could have been that he'd never have spoken to me again, but the thought never occurred to me that it was irreversible." In the end, the two friends reconciled. Crick said, "I came out of the book quite well, apart from the first sentence. As Peter Medawar said, the person who comes out worst is Jim [Watson]."
Watson tested the Crick's patience again in Genes, Girls, and Gamow, his sequel to The Double Helix. In this later book, Watson asserts that he and his Harvard laboratory were solely responsible for the discovery of messenger RNA. According to Crick, however, "He has got to the stage of misremembering things."