Tonight, as soon as the torch is lit at the Rio Summer Olympics, the world will have its eyes fixed on television screens across the globe. Watching the events of the Games has been an international tradition since we've had TVs in our homes. Yet what's less common is to get into the Olympics spirit not by watching, but by reading. They may not be as immediate as a live stream broadcast of the high-dive, but good Olympics books can do you a lot of good.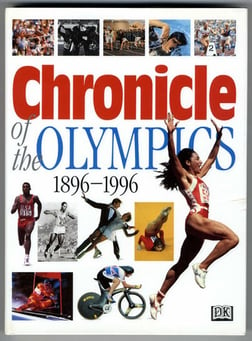 If you're looking for an Olympics read, a natural choice is the memoir. One of the most compelling is Paula Radcliffe's Paula: My Story So Far. Radcliffe holds the women's world record for marathon-running. Her book makes for an engaging take on one of the most dedicated and inspiring runners in athletic history. There's also Debbie Phelps' memoir A Mother for All Seasons, a book about raising and supporting Michael Phelps, the most decorated medalist in Olympics history.
And if you're looking for a good coffee-table book or an entertaining primer for the Olympic Games, this Chronicle (pictured at right) will guide you through a century of the world's best athletes, all the way from Athens to Atlanta. This photo-rich volume is great for children and curious sports-lovers alike.
Rome 1960 by Pulitzer Prize winner David Maraniss is an interesting study of the first commercially televised Olympic Games. Among the event's top athletes was Cassius Clay, at the age of 18, before he named himself Muhammed Ali. In his book, Morannis makes the case that the Rome Summer Games saw the birth of the way international politics uses the Olympics as an event for generating publicity and nationalism.
For other takes on historical Olympic Events, we recommend Hitler's Olympics by Christopher Hilton, a study of the 1936 Summer Games, as well as The Boys in the Boat by Daniel James Brown, a recent bestseller about the same event. For another momentous Olympics read, you can also look at Striking Back by Aaron J. Klein, which recalls the infamous Munich terrorist attacks of 1972.
It also pays to consider the significant literary contributions of this year's host country: Brazil. Ever since the late nineteenth century, Brazil has produced some of the most remarkable books in the Western canon.
Machado de Assis (1839-1908)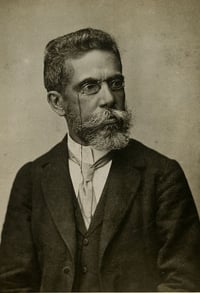 Often considered the greatest writer in Brazil's history, Assis is arguably still waiting for his moment in the sun, despite being lauded by readers as diverse as Carlos Fuentes, Susan Sontag, and Woody Allen. His 1881 novel
The
Posthumous Memoirs of Brás Cubas
(translated by Farrar, Straus & Giroux as
Epitaph of a Small Winner
) is considered his masterpiece, and is told by the compelling and erratic voice of its dead narrator. Critic Harold Bloom selected Assis as one of 100 "geniuses" in his 2002 study of the canon's greatest thinkers.
Jorge Amado (1912-2001)
With his novels being translated into nearly fifty languages, Amado did well to invigorate the literary culture of Brazil, a place which author Mona Hatoum described as a "country where people don't read much … although there are great writers." Amado garnered a huge readership in his time, in both Brazil and abroad. His most famous novel is The Violent Land (1943), which betrays Amado's concern for the poor and the marginalized.
Clarice Lispector (1920-1977)
To the world outside of Brazil, Lispector is an under-read master. Her reputation abroad is catching up to her talent, however, in the wake of a 2009 biography and the translation of her Complete Stories, published for English readers last year. In her own time, Lispector achieved enviable fame and acclaim, becoming famous at the age of 23 with her novel Near to the Wild Heart and having written brilliant stories up until her very last years.