If, in the words of James Barron Hope, "Tis after death that we measure men," William Blake is fortunate indeed. Now a paragon of the Romantic Age whose poems and engravings are among the most famous of his time, Blake's contemporaries dismissed his work and largely considered him insane. William Wordsworth wrote, "There was no doubt that this poor man was mad" and John Ruskin called him "diseased and wild." Although his work was not understood during his lifetime, Blake has become one of the most important poets, engravers, and artists of the Romantic Age.
Special Gifts at a Young Age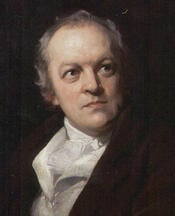 Born November 28, 1757 in London, England, Blake was the son of a hosier—a middle class merchant. Unique from a young age, Blake had his first mystical vision at the age of four. Later as a ten-year-old boy, he saw the prophet Ezekiel and a tree full of angels. Because of his many supernatural experiences, Blake's parents were concerned that he would not do well in a traditional school. Instead, his mother educated him almost entirely at home. At the age of ten, his parents enrolled him in drawing classes.
To defray the cost of his artistic training, his parents apprenticed Blake to a master engraver, James Basire, when he turned fourteen years old. Blake's lifelong love of Gothic art was founded during this apprenticeship, when Basire sent the boy to Westminster Abbey to draw the tombs and monuments. Blake completed his apprenticeship when he was twenty-one and became a journeyman engraver and member of the Royal Academy. He supported himself by illustrating publications for booksellers throughout London.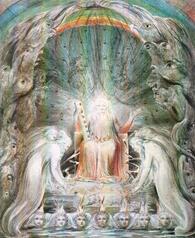 Blake published his first collection of poems, Poetical Sketches, in 1783. Just forty copies were printed, which Blake distributed among his friends; the volume went entirely unnoticed by the public. Blake drew upon Elizabethan poetry, Shakespeare, and John Milton; the subject matter reflected Blake's sympathy for the American Revolution. It was certainly not Blake's best work, and it is questionable whether he even proofread the poems prior to printing.
An Unheralded Genius
In 1789, Blake published his most popular poetry collection, Songs of Innocence. Written apparently for children, Blake employed simple language and rhyme schemes to discuss seemingly uncomplicated subjects, for example The Lamb, The Blossom, and Nurse's Song. In his verses, Blake contrasted the innocence of children with the corruption of the world. Blake followed up this volume with Songs of Experience in 1794. This collection included some of his most famous poems, particularly The Tyger and A Poison Tree. In both Songs volumes, copperplate engravings accompanied each poem. This became Blake's hallmark style, what he referred to as "illuminated painting."
Blake's anticlerical attitude first became apparent in Songs of Experience but he continued the theme in his later works. A spiritual man, Blake believed that true faith was incompatible with institutionalized religion. Blake also advocated sexual freedom and criticized traditional marriage. In Visions of the Daughters of Albion (1793), Blake argues against love bound by laws.
Blake's later poetry became more obscure, relying on a private mythology and complicated symbolism. Increasingly frustrated by the poor and often non-existent critical reception of his work, Blake withdrew more and more from the world. Blake spent his final years in extreme poverty alleviated somewhat by his friendship with a group of admiring young artists called "The Ancients." Blake suffered from an undiagnosed disease and finally died on August 12, 1827.
William Blake's Continued Influence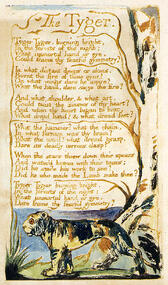 Since his death, Blake gained the recognition he lacked during his lifetime, becoming one of the most influential poets in English literature. His illustrated books, particularly Songs of Innocence and Experience, The Book of Job, and Jerusalem are some of the most valuable and important ever made. The genre of the graphic novel even has its roots in Blake's work.
Bob Dylan and poet Allen Ginsberg collaborated to put two Blake poems to music. Ginsberg also turned several Blake poems into songs on his own, saying that Blake's spirit had communicated the musical settings of several poems to him. Ginsberg claimed that in 1948, he'd had an auditory hallucination in which he communicated with Blake.
Blake found his way into twentieth-century children's literature with Nancy Willard's A Visit to William Blake's Inn: Poems for Innocent and Experienced Travelers. The book, which features verse illustrated in gouache by Alice and Martin Provensen, won the Newbery Medal in 1982.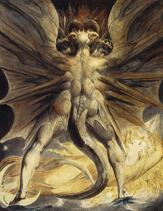 Blake's works feature prominently in the novels of Thomas Harris. In Red Dragon (1981), killer Francis Dolarhyde is obsessed with Blake's painting The Great Red Dragon and the Woman Clothed in the Sun (pictured at right), wishing to transform himself into the image of in the painting. And in Hannibal, Mason Verger owns a copy of Blake's painting The Ancient of Days.
Philip Pullman cites William Blake as a major influence on the His Dark Materials (1995-2000) trilogy. Pullman says that he sought to invert Milton's battle between heaven and hell in Paradise Lost, in the context of Blake's comment that Milton was "of the Devil's party without knowing it."
How did you first encounter William Blake? And where is the most unexpected place you've discovered his influence in contemporary culture?