Writer and activist James Baldwin was born on August 29, 1924 in Manhattan. His plays, essays, novels, poems, and short stories embodied issues of race, class, and sexuality that were common in the mid-20th century and in many cases still exist today. After becoming disillusioned with the way African Americans were treated in his home country, he moved to France where he could be seen as more than just his race.
His experiences abroad informed his work and allowed him to produce much more nuanced critiques of Western society. His works exist as artful critiques of the flaws in a society which often marginalizes and brutalizes two major parts of his identity. His thoughtful essays, debates, and themes were timely based on the way his work addressed the struggle of African Americans and LGBTQ+ individuals. His body of work retains its relevance today as many people living in the U.S. still face many of the issues about which he wrote. He is best known for his works Go Tell it on the Mountain and Notes of a Native Son. On Baldwin's birthday, let's take a look at some of his most enduring and important works:
If Beale Street Could Talk
Published in 1974, If Beale Street Could Talk focuses on couple, Tish and Fonny. Though her family does not approve of the relationship, after Fonny is falsely accused and incarcerated for rape, Tish's family provides emotional and financial support for both her and her baby.
The novel is a striking depiction of familial love, racism, and the struggles faced by families of those falsely incarcerated. It stands out from the rest of Baldwin's work in that it is his only novel written primarily from the point of view of a woman.
In 2018, If Beale Street Could Talk was adapted into a film starring Kiki Lang and Steven James
Notes of a Native Son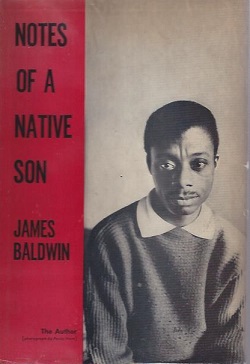 Baldwin's first collection of essays, Notes of a Native Son, was published in 1955. The collection is composed of three parts. Part One focuses on criticism of Harriet Beecher Stowe's famous novel Uncle Tom's Cabin, his close friend Richard Wright's novel Native Son, and Carmen Jones, an all-black film adaptation of the opera Carmen. The essays are tied thematically in that they all focus on works that claimed to depict the lives of black Americans but that, per his arguments, failed to do so.
Part Two recounts a variety of experiences both he and others faced with racism in the U.S., including institutionalized racism within New York and national politics.
Part Three examines the difference between how race is viewed in France versus America. The collection was released to great critical acclaim, and it recently placed 19th on Modern Library's list of the 100 best nonfiction books of the 20th century. It remains one of the most important critical works of the Civil Rights Movement.
Giovanni's Room
While Baldwin's 1956 novel Giovanni's Room was well-received critically, at the time of publication, it created somewhat of a scandal. While nearly all of Baldwin's works focus on the race, this novel features only white characters. Baldwin said that, at the time, he did not feel confident enough in his ability as a writer to approach both the subject of race and of homosexuality so he chose what he felt he had the skill and room for in the novel.
Baldwin was warned that, in choosing to depict only white characters and only homosexual characters, he would alienate his core audience of black Americans, but Baldwin refused to back down and sought publication anyway. The result is a novel that separates the two most important of Baldwin's issues in spite of his statements that for him, race and sexuality are always intersectional issues. In any case, Giovanni's Room is considered to be one of the most important gay novels of its time.