This July, legendary golfer Tom Watson told reporters the British Senior Open would be his final senior open, ending a career of big-stage performances, chock full of personal triumphs and exciting victories. Throughout the golf community, fans and other professionals have voiced their immense respect and gratitude for what Watson has brought to the timeless game. Though golf enthusiasts will no longer be able to enjoy watching Watson's signature play style on the senior open stage, we are still able to take many lessons from the famous pro's career thanks to his large body of work in his other career: that of author. Let's take the look at the life and career of this amazing player, as well as some of the excellent books on golf he has written along the way.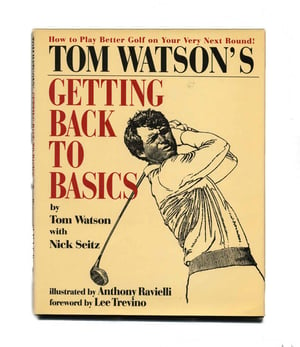 Watson was born in 1949 in Kansas City, Missouri, a city that has always been a major part of his identity as a golfer. He began golfing with his father as a child and was on the golf team at his high school where he won numerous championships. He went on to golf at the Kansas City Country Club where he has retained membership for much of his life, barring a brief separation with the club after they denied membership to a Jewish applicant and Watson left due to his beliefs in equality and out of loyalty to his wife at the time and their children, who are Jewish.
After graduating high school, he went on to golf at Stanford where he continued showcasing an impressive amount of skill, earning many trophies along the way.
In 1971, Watson's career took off when he joined the PGA Tour. During his early years in the PGA, he formed two relationships that would impact the rest of his career. First, he hired his caddy, Bruce Edwards in 1973. Edwards worked as a caddy and close friend to Watson for years before succumbing to ALS. During this time, Watson also met golf legend and announcer Byron Nelson. After a particularly crushing defeat in 1974, Nelson offered advice and words of wisdom and volunteered to work with Watson to help him improve his already excellent game. The assistance of these two men culminated in Watson's first pro victory when he won the 1977 Masters Tournament, defeating reigning champion Jack Nicklaus, with whom he would go on to have a friendly rivalry for many years. It was also during this time that Watson began an instruction column in Golf Digest, which he continues today.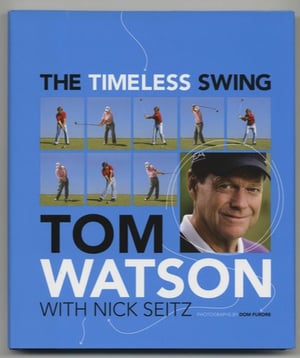 In the coming years, Watson was able to secure numerous PGA Tour victories including eight major championships, which include two Masters Championships and five Open Championships. He has been named PGA Player of the Year six times, the second most only to Tiger Woods.
In 1987, he was awarded the Bob Jones Award by popular vote by the members of the United States Golf Association for distinguished sportsmanship, which is their highest honor. He was inducted into the Stanford Athletic Hall of Fame as well as the World Golf Hall of Fame. He is widely considered to be one of the greatest golfers of all time. Watson has even designed golf courses with his company, Tom Watson Design.
If fans miss seeing Watson on the big-stage, they can console themselves by catching his column in Golf Digest or by reading one of his numerous instructive golf books.
One of Watson's most popular books is his Getting Back to Basics, published in 1992 and co-written with Nick Seitz. Ideal for anyone who is looking to get into the sport or who wants to brush up on some of the fundamentals, this book covers basics such as stance and how to select the best equipment for any given situation.
More experienced golfers may benefit from his 2011 book The Timeless Swing, which offers more advanced tips on improving the overall game by focusing on the importance of the swing.