If you've been reading our blog for any length of time, you know that we have a strong appreciation for Saul Bellow. Bellow was an extremely prolific writer in his lifetime, and his works have become prized collectibles. He is perhaps best known for the titles The Adventures of Augie March, Herzog, and Henderson the Rain King. Bellow was also the recipient of numerous awards and accolades including the Nobel Prize in Literature and the Pulitzer Prize (in the same year!). We've written about him at length, so in honor of his birthday, we've rounded up several of our favorite Saul Bellow posts for you to enjoy.
This week we celebrate the life of author Saul Bellow, winner of the Nobel Prize, the Pulitzer Prize, and three National Book Awards. He is most famous for his novels, The Adventures of Augie March, Herzog, and Henderson the Rain King. How well do you know this classic American writer? Test your knowledge against these ten facts.
1. Bellow's actual birthdate is unknown
Bellow was born in Quebec on either June 10, 1915 or July 10, 1915. Shortly before his birth, his Jewish parents had immigrated to Canada from Russia where they had fallen upon hard times. In those days, immigrant Jews often disregarded dates on the Christian calendar, and the birth records left by Bellow's parents were unclear. Moreover, Bellow's original birth certificate was lost when the city hall containing it burned down. Bellow, himself, celebrated his birthday in June.
2. Bellow had two near-death experiences
At the age of eight, Bellow contracted a severe respiratory infection and was hospitalized for six months. It was during his prolonged convalescence that Bellow's lifelong love for reading crystalized. He read books such as Black Beauty and Raggedy Ann, as well as a host of comic books and the New Testament. Much later, in 1995, Bellow was hospitalized after eating toxic fish while vacationing in the Caribbean. Bacteria attacked his nervous system and he suffered from near-fatal pneumonia. He spent five weeks in intensive care and over a year in recovery. Read more >>
During his long writing career, Saul Bellow wrote 17 books that were reviewed in The New York Times over a period of six decades. Many of those reviews were written by prominent writers in their own right, such as Cynthia Ozick, Irving Howe, and Alfred Kazin. Even earlier, Bellow himself was writing articles for the newspaper on other authors' works and questions about his own texts. And that's not all. He also wrote a play, and he was interviewed hundreds of times over the years in which he wrote. He also began editing a literary magazine, News from the Republic of Letters, when he was 81 years old. During his lifetime, he was awarded the Nobel Prize in Literature in 1976, the Pulitzer Prize for Fiction the same year, and the National Book Award on three separate occasions. All of this to say that Bellow not only was extremely well-reviewed and prolific over the course of his career, but that it's not really a surprise that his books have become so collectible. Bellow was born in Quebec in 1915, spent most of his adult life in Chicago, and died in 2005 in Brookline, Massachusetts. We want to give you some advice for building a collection of Bellow's work.
Dangling Man

(1944) and
The Victim

(1947)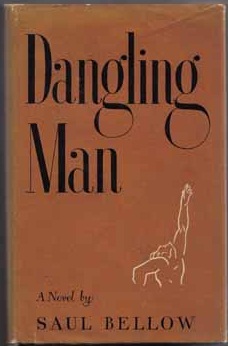 Bellow's first two novels, Dangling Man (1944) and The Victim (1947) have become extremely collectible. While these certainly weren't the books that put him on the literary map, so to speak, they did earn much critical acclaim. These novels also began Bellow's long spatial fixation with his adopted city of Chicago. Indeed, in The New York Timesbook review of Dangling Man, the novel is described as an "imaginative journal, set against fresh and vivid scenes in Chicago."
Collectors can seek out first editions, both published by The Vanguard Press. Bellow was often willing to sign and inscribe his books for eager readers, and as such it's still possible to find one of his early books with the author's signature. Read more >>
The beginning of the twentieth century witnessed waves of immigration from across the globe, including many Jewish immigrants from Central and Eastern Europe. After World War II ended, first-generation Jewish American novelists like Saul Bellow, Bernard Malamud, and Chaim Potok rose to prominence, with Bellow even winning the Nobel Prize in Literature. In the decades that followed, graphic novelists like Art Spiegelman depicted Holocaust narratives in print, while second-generation authors such as Philip Roth and Jonathan Safran Foer became enormously popular. Are you trying to build your collection of Jewish fiction? We have some ideas for you.
Many Jewish American writers, from novelists to playwrights to poets, have garnered critical attention and acclaim in the post-1945 years. We're just hitting on some of the key authors who deserve consideration from collectors. We'll start by introducing you to some novelists whose parents immigrated to the U.S. in the early 20th century.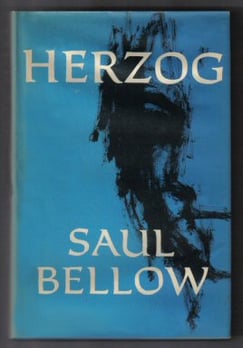 Saul Bellow and the Chicago Scene
Saul Bellow's first novel, Dangling Man (1944), appeared in the waning days of WWII and was published by Vanguard Press. It wasn't until Bellow's third novel was published, however, that he became a famous name in fiction. In 1953, Viking published The Adventures of Augie March, which won the National Book Award for Fiction. Like many of Bellow's other novels, the book deals with a Chicago protagonist—like Bellow himself—striving to find his place.
Two additional novels, Herzog (1964) and Mr. Sammler's Planet (1970), also won accolades. Bellow received the Pulitzer Prize for Fiction with Humboldt's Gift (1975), and shortly thereafter the Nobel Prize in Literature. First editions of any of these works would make excellent pieces for any collection. Read more >>
Likely born on September 29, 1547, Miguel de Cervantes worked as both a chamber assistant to a cardinal and as a tax collector before making his "literary break" with Don Quixote de la Mancha. The first part of the novel, published in 1605, established Cervantes as a formidable man of letters. Don Quixote is considered the first modern European novel and a stellar example of the picaresque novel.
"Picaresque" derives from the Spanish word "picaresca," which comes from "picaro" ("rogue" or "rascal"). Usually satirical, a picaresque novel follows the exploits of a hero, usually low born, who must survive by his wits as he travels about on various (usually unlooked-for) adventures. The roots of the genre can be traced all the way back to Rome, with works like Petronius' Satyricon and Apuleius' The Golden Ass. Although influential writers like Chaucer and Boccaccio certainly included elements of the picaresque in their writing, the first modern picaresque novel is Lazarillo de Tormes. It was published anonymously in Spain and Antwerp in 1554.
Cervantes undoubtedly popularized the genre, which blossomed in the next two centuries all over Europe. Sterling examples Voltaire's hilarious Candide and Henry Fielding's The History of Tom Jones, a Foundling. Here's a look at other great authors who have contributed to the genre of the picaresque. Read more >>