When thinking of illustrator and author Hilary Knight, most first turn to Eloise, his best known work. What few realize is the shear magnitude of Knight's body of work outside of his work on Eloise. Over the course of his career, Knight illustrated and wrote over 50 books, becoming one of the most recognizable illustrators of the twentieth and twenty-first centuries.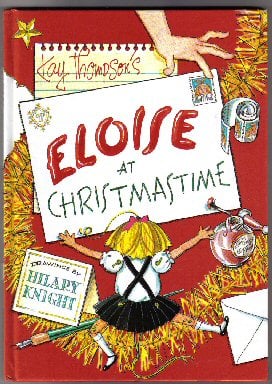 1926: Knight is born on November 1st, in Hempstead, Long Island, New York.
1944-1946: Knight works as a ship painter while serving in the navy.
1947: The Circus is Coming and Mrs. Piggle-Wiggle are published.
1949: Mrs. Piggle-Wiggle's Magic is published.
1954: Knight meats Kay Thompson, who he collaborates with to create Eloise.
1955: Eloise and Hello, Mrs. Piggle-Wiggle are published.
1958: Eloise in Paris, Eloise at Christmastime, and The Wonderful World of Aunt Tuddy are published.
1959: Eloise in Moscow is published.
1960: I Hate to Cook Book: More than 180 Quick and Easy Recipes, Peg Bracken's Appendix to the I Hate to Cook Book, Tortoise and Turtle, and Beginning with Mrs. McBee are published.
1962: Speaking of Mrs. McCluskie and Beloved Tales are published.
1963: Angels and Berries and Candy Canes, Christmas Stocking Story, A Firefly in a Fir Tree, Christmas in a Nutshell Library, The Night Before Christmas, and The I Hate to Housekeep Book are published.
1964: Where's Wallace? and Captain Boldheart, and The Magic Fishbone: Two Comedies are published.
1965: When I Have a Little Girl is published.
1966: I Try to Behave Myself: Peg Bracken's Etiquette Book is published.
1967: When I Have a Little Boy is published.
1968: Sunday Morning is published.
1969: Sylvia the Sloth…A Round-About Story and The Jeremy Mouse Book are published.
1971: Angie and Feldman Fieldmouse: A Fable are published.
1972: Animal Garden is published.
1974: Hilary Knight's Mother Goose and Most-of-the-time Maxie: A Story are published.
1975: I'm a Monkey is published.
1976: Matt's Mitt, That Makes Me Mad!, and The Golden Picture Dictionary are published.
1977: Pettifur: A Story and Mon premier dictionnaire are published.
1978: Hilary Knight's Cinderella and The Circus is Coming are published.
1980: Algonquin Cat is published.
1981: The Twelve Days of Christmas is published.
1982: Warren Weasel's Worse Than Measles is published.
1983: The Owl and the Pussy-Cat is published.
1986: Telephone Time is published.
1987: The Best Little Monkeys in the World and Free to Be…a Family: A Book About All Kinds of Belonging are published.
1988: Side by Side: Poems To Read Together is published.
1989: Midnight Cat and Pumpkin Magic are published.
1990: Beauty and the Beast is published.
1991: Happy Birthday and Ten Tall Stories are published
1993: Happy Birthday is published.
1995: The Mrs. Piggle-Wiggle Treasury is published.
2000: Eloise's Guide to Life is published.
2002: Eloise Takes. Bawth is published.
2003: A Christmas Stocking Story, Eloise Dresses Up, Here Comes Eloise! A Lift-the-Flap Book, Love & Kisses, Eloise, Eloise Has a Lesson, Eloise Breaks Some Eggs, and Eloise's What I Absolutely Love Love Love are published.
2005: Eloise: The Absolutely Essential and Eloise in Hollywood are published.
2006: Merry Christmas, Eloise! A Lift-the-Flap Book, Eloise and the Snowman, Eloise and the Very Secret Room, and Eloise at the Wedding are published
2007: Eloise's New Bonnet, Eloise and the Dinosaurs, Eloise's Christmas Trinkles, Eloise's Pirate Adventure, Eloise Goes to the Beach, Eloise's Summer Vacation, Eloise Takes a Trip, and Eloise Decorates for Christmas are published.
2008: Eloise Skates!, Eloise Throws a Party!, and Eloise at the Ball Game are published.
2009: Eloise Visits the Zoo and Eloise's Mother's Day Surprise are published.
2011: Nina in That Makes Me Mad! is published.
2014: All about Me Me Me: A Top-Secret Personalized Scribble Book and Eloise's Suitcase are published.
2015: 365 Days of Eloise, Eloise at the Plaza, and Eloise and Friends are published. The HBO documentary It's Me, Hilary: The Man Who Drew Eloise is released.
2018: Hilary Knight: Drawn from Life is published
2019: Olive & Oliver: The Formative Years is published.
Further reading: