The Last Stop on Market Street, published in 2015 by Penguin, was written by Matt de la Peña and illustrated by Christian Robinson. The book tells the story of CJ who is taking a bus ride with his grandmother after church, as they do every Sunday. While riding the bus, CJ glimpses one of his friends riding in a car with his family and asks why their family doesn't have a car, thus beginning a series of questions CJ asks his grandma based on the things and people he observes on their ride. Why do we love this book so much? Why should you add it to your collection? Read on.
Plot Synopsis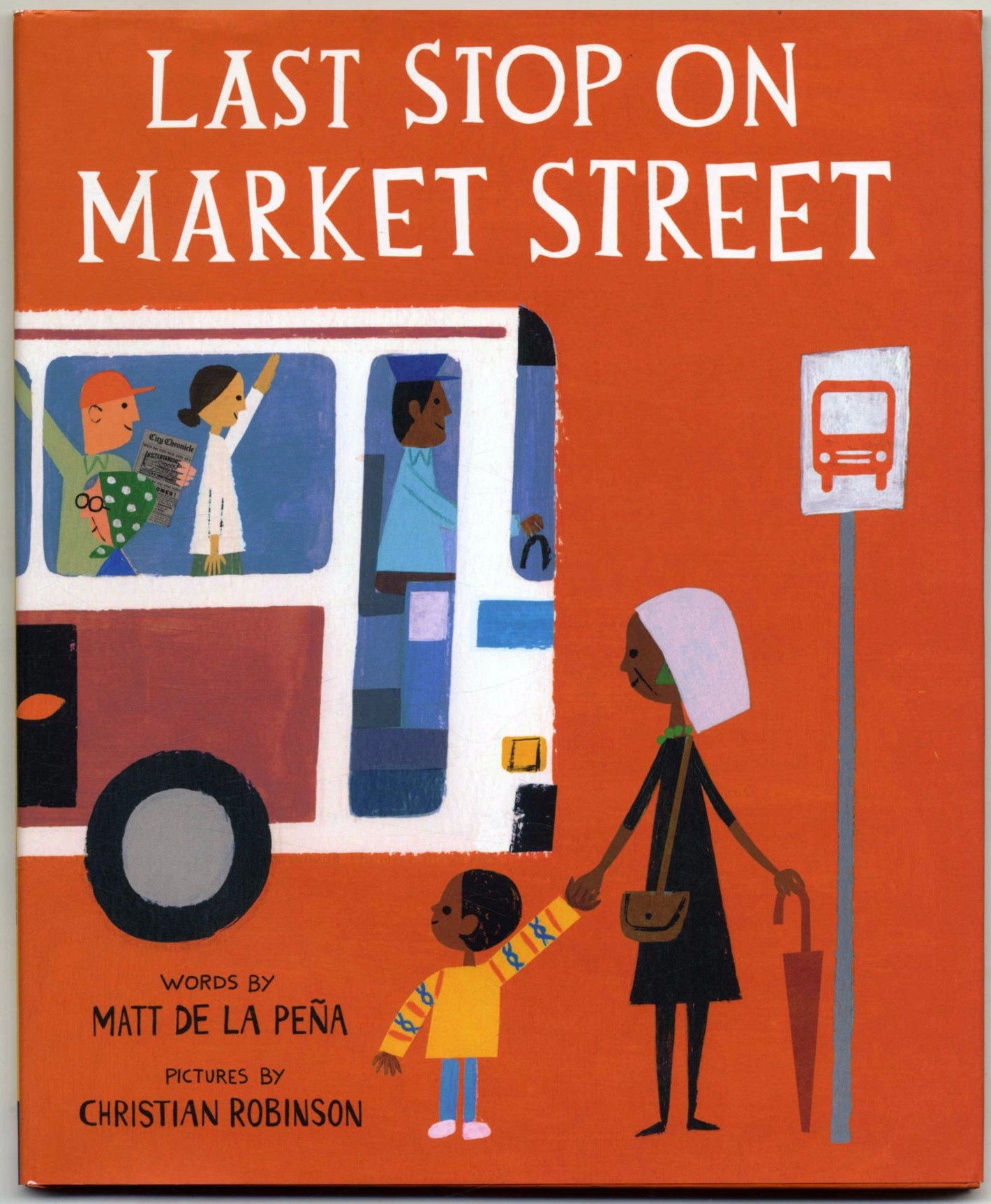 During his ride with his grandmother, CJ asks questions like why their neighborhood isn't as nice as some of the neighborhoods they pass through, why he doesn't have an iPod like some of his friends, and so on. CJ's grandmother gives him answers that help him see the beauty in the world around him, and when they get off the bus and make their way through the neighborhood that is dirty but full of life and music, it turns out that the last stop on Market Street is a soup kitchen, where they volunteer weekly.
About the Author and Illustrator
Young adult writer Matt de la Peña was born in San Diego, California and received his MFA in Creative Writing from San Diego University. He currently resides in Brooklyn where he teaches writing at New York University. He released his first book, Ball Don't Lie, in 2005, which was adapted into a film starring Ludacris, Emilie de Ravin, and Harold Perrineau. His other books include Mexican Whiteboy and We Were Here.
Though he typically writes young adult fiction, his most recent book, The Last Stop on Market Street, is a picture book for children.
Illustrator Christian Robinson brings his unique artistic sensibilities to the book. Robinson is a San Francisco artist and animator with ties to Sesame Street Workshop and Pixar Animation Studios. The Last Stop on Market Street is only his third children's book. Robinson utilizes a combination of paint and collage to create a world that is vibrant, detailed, and full of life.
Reactions to the Text, Awards, and Accolades
Children and adults quickly warmed to the The Last Stop on Market Street, making it an immediate success. It was a New York Times Book Review Notable Children's Book of 2015 in addition to being named the Wall Street Journal Best Children's Book of 2015. Thanks to Robinson's colorful illustrations, the book was one of four runners up for the Caldecott Medal, the most prestigious award for American picture books. Besides the great honor of being named a Caldecott Honor Book, The Last Stop on Market Street was also named a winner of the Newbery Medal in 2016, making it only the second time the prestigious award has been given to a picture book.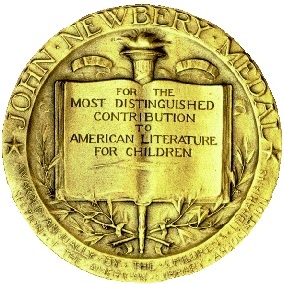 The Last Stop on Market Street is the perfect addition to any picture book collection, whether that collection be a child's personal library or that of an adult collector of picture books or award-winning books. Besides being visually striking and imparting a strong message of finding beauty in the every day, being grateful for the things you have, and always giving back, the book is notable for its portrayal of diversity.
CJ and his parents are African American and the people they encounter on the bus, the sidewalk, and in the soup kitchen are all racially diverse. Matt de la Peña is only the second Latino author to win the Newbery Award (some articles misidentified him as the first Latino author to win immediately after he was awarded the prize, but Paula Fox, who lived part of her childhood in Cuba and who had a Cuban mother, won in 1974 for her book The Slave Dancer.). Illustrator Christian Robinson is African American and said that, like CJ, he remembers riding the bus with his grandmother as a child. In 2016, The Last Stop on Market Street was also given a Coretta Scott King Illustrator Honor due to it's distinguished portrayal of the African American experience.
Together Matt de la Peña and Christian Robinson created a book that is thoughtful, beautiful, and diverse, presenting in one small package some of the best things about children's literature. If the welcoming cover and important message are not enough to convince you, the three medals emblazoned on newer editions of the book speak to its value. In spite of being a relatively new book on the scene, The Last Stop on Market Street is already being taught in schools and heralded as an instant classic.