For their outstanding artistic contributions to children's literature, authors Lindsay Mattick and Matt de la Peña received the honor of having their books named the 2016 Caldecott Medal and Newbery Medal award winners, respectively, yesterday. Mattick's Finding Winnie: The True Story of the World's Most Famous Bear, illustrated by Sophie Blackall, and de la Peña's Last Stop on Market Street, illustrated by Christian Robinson, may on the surface appear diametrically opposed in their aim and ambition, but both books hit on a fundamental truth about why we read, write, tell, and consume stories: the quest for a truth greater than ourselves that gives us a sense of who we are and what we value in our lives.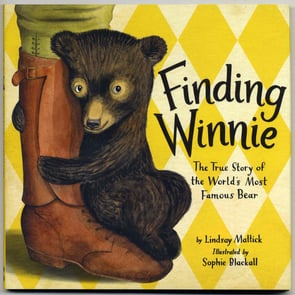 Mattick's book tells the real-life story behind the creation of one of the most beloved characters in children's literature, and de la Peña's story concerns a grandson-grandmother relationship told during a series of bus rides after Sunday morning church.
Whether Winnie the Pooh or CJ and his grandmother, both of these books offer stunning glimpses into the human condition while at the same time capturing a sense of wonder and magic that manages to delight, entertain, and educate children—and perhaps even adult readers as well.
In celebration of Mattick and de la Peña's achievement, here's a brief look at each of these award-winning books, and some interesting facts about how they were written and the people behind the stories.
Finding Winnie: The True Story of the World's Most Famous Bear
According to an interview* on WBUR's radio program Here and Now, Mattick wrote the book after finding out she was pregnant with her first child, Cole. Mattick told Here and Now: "And so when I found out I was pregnant a few years ago, I basically had this nine month kind of deadline to take my first crack at writing a picture book."
Mattick's book tells the story of how a Canadian veterinarian and solider Captain Harry Colebourn purchased a bear cub from a hunter in 1914 on his way to join his regiment prior to World War I.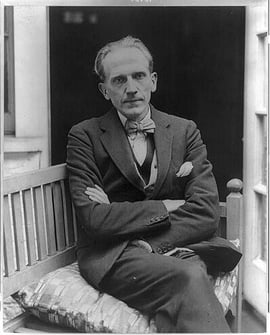 The bear, which Colebourn named Winnie in honor of the Canadian city of Winnipeg, became something of a mascot for Colebourn's regiment before Colebourn gave Winnie to the London Zoo as he prepared to deploy for France. At the zoo, a young boy named Christopher Robin, son of Pooh author A.A. Milne, became instantly attached to the bear, which served as an inspiration for Milne's stories.
If it seems like odd subject matter for a first-time author, it may help to know Mattick is the great-granddaughter of Colebourn. The story of her great-grandfather and Winnie was passed down throughout her family, and Mattick said it became something of an inspiration to her growing up. She originally wrote the book for her son Cole—and dedicated it to him as well—to help preserve the story and capture its significance in the creation of one of the most famed and loved children's book characters of all time.
In addition to the story itself, many of the book's illustrations, completed by artist Sophie Blackall, were inspired by actual photos of Winnie and Colebourn from Mattick's family archive. Blackall's illustrations are, at once, warm and whimsical, and her art depicts the story of Winnie in the most perfect way.
The Last Stop on Market Street
Whereas Mattick might be a relative newcomer to the children's book scene, de la Peña is something of a veteran. The author of six young adult and children's books, de la Peña received his MFA in creative writing from San Diego State University and teaches at New York University. Raised in a working-class neighborhood in San Diego, de la Peña's work often centers on the rough and tumble world of adolescence—particularly ethnically diverse or varied adolescences—and the ways young people come of age in today's world.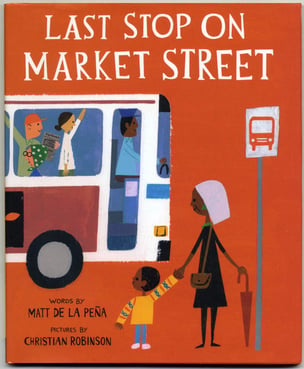 His stories and novels are heavily informed by his own upbringing, as he told NPR** in a 2015 interview: "My big takeaway from my childhood was: I saw my dad get up every day, 5 o'clock in the morning. ... I saw my mom hustle, do every different job she could to provide for us. We never had quite enough, but we made it work. And I think my goal with everything I write ... is to kind of show the grace and dignity on the 'wrong side of the tracks.' "
Much like Mattick's book, it makes perfect sense to see why de la Peña would be uniquely qualified to write something like The Last Stop on Market Street, a beautifully illustrated story about CJ and his grandmother Nana as they encounter all different kinds of ethnicities, cultures, and traditions while riding the bus across town after Sunday church services. It's through Nana's eyes that CJ begins to understand more and more the complexities of the world around him, and how each different culture brings its own unique set of values and traditions to the table.
While de la Peña hoped the book opens a window for his readers, he told NPR he doesn't want the book to be viewed as a doctrine or manifesto about diversity in this country: "I don't think every book has to be about the Underground Railroad for it to be an African-American title."
Artist Christian Robinson provides mural-like, almost impressionistic illustrations for the story that highlight the narrative's depiction of the vast ethnic canvas that is the backdrop for CJ and Nana's world.
For tips on collecting first editions of Caldecott Award winners, see our post here, browse our full collection of past winners here, and download a free Caldecott collector's guide here.
For tips on collecting first editions of Newbery Award winners, see our post here, browse our full collection of past winners here, and download a free Newbery collector's guide here.
*For more on WBUR's interview, click here.
**For more on NPR's interview, click here.