On March 31, 1836, Chapman and Hall published the first installment of Charles Dickens' Pickwick Papers. The story bore little resemblance to what the publishers thought they were going to print--to the advantage of the young Dickens, who was quickly vaunted to literary fame. The Pickwick Papers was certainly not the first serial novel, but it did make an indelible mark on the publishing world.
Dickens Hijacks Seymour's Project
Established artist Robert Seymour made a proposal to publishers Chapman and Hall: he wanted to create a series of engravings about Cockney sporting life, with some light text to accompany the illustrations. His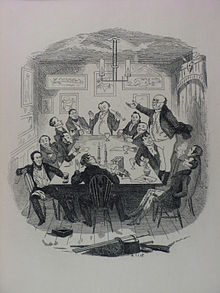 publishers enthusiastically accepted the idea and began searching for a writer. They settled on Charles Dickens, then only 24 years old. Dickens had yet to make a name for himself and was still primarily a parliamentary reporter.
The young author already had a talent for marketing himself; he soon steered Seymour's project in an entirely different direction. Dickens argued that the text take precedence, with supporting illustrations. Unfortunately for Seymour, Chapman and Hall acquiesced. Dickens had effectively stolen Seymour's show.
Dickens didn't stop there. He unabashedly suggested changes to Seymour's illustrations. Ultimately Dickens' eclipsing Seymour was too much for the artist to bear. Seymour suffered from mental health problems, and he finally succumbed, committing suicide after completing the engravings for the second monthly installment of Pickwick Papers. Before shooting himself, Seymour burned all his papers that were connected with the project. Seymour's widow blamed Dickens for her husband's death. The author's role in Seymour's demise remains a touchy subject among Dickens scholars.
Sweeping Changes to Pickwick
By this time it was already evident that Pickwick Papers would make Dickens' career--and make a pretty penny for his publishers. They frantically worked to replace Seymour. First they hired RW Buss, but his work didn't meet their standards. Perhaps emboldened by the success of a relatively unknown author,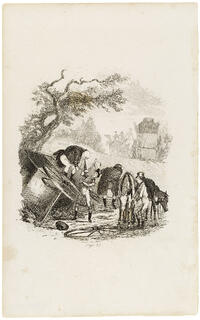 they hired the relatively unknown, twenty-year-old Hablot Knight Browne. He took the nickname "Phiz" to echo Dickens' nickname "Boz." Browne would illustrate Dickens' works for the next 23 years.
Now Dickens could make even more sweeping changes to Pickwick Papers. He started by abandoning the "sporting" theme because he wasn't much of a sportsman. He also changed the format from 24 pages with four illustrations, to 32 pages with two illustrations, a format he reused with subsequent serial novels. And finally, Dickens began tying together the sketches into a more cohesive novel. As his career progressed, Dickens would become more adept at writing serially, keeping in mind both his serial readers and those who would eventually read the novel in one volume.
Pickwick Papers was a smashing success; Chapman and Hall had published only 1,000 copies of the first installment, but they printed 100 times as many of the final installment. Charles Dickens was a household name. And though plenty of novels had been serialized in the past, the incredible popularity of Pickwick Papers made publishers think about serial novels in new way.
A Boon for Publishers
Each installment of Pickwick Papers was sold for a shilling. The flimsy copies were issued in green wrappers, and there were usually a few pages of advertisements included. Prior to 1725, novels were rarely published this way. But starting about 1732, serial publication in weekly or monthly installments was hardly uncommon. More expensive books, such as Samuel Johnson's dictionary or Smollett's History of England, were published in fascicles. Wealthy buyers would take the fascicles to their own book binders and have the volumes bound for their private libraries.
For less affluent readers, there were cheap part reprints; newspapers and magazines; installment fiction; and serials. Publishers didn't squander these marketing opportunities. They placed enticing advertisements everywhere they could and used eye-catching typography. In some cases, they'd even produce a complete prospectus for distribution. Supposedly Smollett's History of England sold over 20,000 copies because the publishers tipped every parish clerk in the kingdom a hall-crown to scatter copies of the prospectus in the pews.
"If I were to live a hundred years, and write three novels in each, I should not be so proud of them as I am of Pickwick, feeling as I do, that it has made its own way."

-Charles Dickens, to Chapman and Hall, November 1836
Thus the ground was fertile for a publishing phenomenon like Pickwick Papers. But where this serial stood out was with its seemingly universal popularity. It truly had a democratizing impact on literature and reading in Victorian England, promoting a veritable explosion of book-reading and -buying. It awakened publishers' almost manic interest in serial fiction.
And readers were equally enthralled; in at least two cases, serial fiction sparked riots. In 1841, a riot erupted in New York as avid readers awaited the fate of little Nell in Dickens' The Old Curiosity Shoppe. And the following year, Parisian readers rioted to find out the ending of a particularly suspenseful episode of Eugene Sue's The Mysteries of Paris.
Collecting Serial Fiction
Dickens found the serial form so salable, he used it for virtually all his other works. And other authors followed suit. Serial fiction remained strong for the rest of the nineteenth century and into th beginning of the twentieth. But as printing techniques improved, and the cost of printing entire books was reduced, the format was no longer the only viable means for producing cheap copies. Paperbacks eventually supplanted serials as the preferred format for inexpensive books. Today the genre survives in the world of comics, where episodic tales with a longer story arc are quite common.
Rare book collectors often love serial fiction because it can be quite a challenge to collect. The cheap materials with which most serial publications were produced easily degrade over time, making fine copies all the more rare. It's especially unusual to find this serial fiction in its original wrappers with the advertisement pages.
Related Reading:
The Short-Lived Friendship of Irving and Dickens
Did Charles Dickens Want a Different Ending to Great Expectations?
The Influence of Charles Dickens on Christmas Traditions