L. Frank Baum created one of the most enduring settings in all of literature—Oz—not to mention some of our most beloved characters. What's more, his collected works established a brand of American fairy tale that had never before been seen and has since been the inspiration and influence for countless other writers as well as for children of all ages who are looking to find their place and purpose in the world. L. Frank Baum was a master, and it's not surprising that his works are some of the most sought-after by book collectors. What follows is a brief discussion of collecting points and ideas for the L. Frank Baum collector.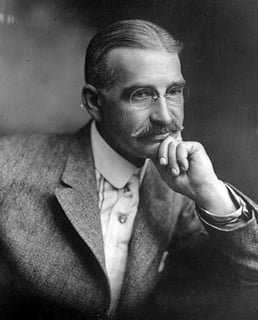 If you're looking for more information about the legendary author himself, we'd recommend reading our tribute to the 75th anniversary of the movie adaptation of his masterpiece, The Wonderful Wizard of Oz. Or you can take a look at our feature piece on the influence of L. Frank Baum.
Collecting Oziana
As with all of our book collecting posts, we highly recommend consulting a reputable bibliography to ensure the accuracy of your collecting endeavors. In this case, we like Bibliographia Oziana. It's serves as a complete Oz reference work, detailing the complexities of each edition in full while also providing concise summaries of the 40 books that make up the Oziana canon (14 from Baum himself and 26 from other, specially selected authors chosen to carry on the Oz tradition after Baum's death).
The Wonderful Wizard of Oz
It makes sense that the book that started the Oz series and thus spurred the entire phenomenon that Oz has become would be one of the most prized L. Frank Baum collectibles. Published in 1889-1900 by Geo M. Hill Co. in Chicago, The Wonderful Wizard of Oz is the pinnacle of the Baum collector's experience. First edition copies of The Wonderful Wizard of Oz can be found in two states, A and B. State A is attributed to a small group of first editions that Baum had printed for his close friends. State B contains the following points according to Bibliographia Oziana:
24 color plates including the rare color plate found between page 14 and 15
There isn't a box around the publisher's advertisement on page 2
The first line on page 14 reads, "low wail of"
On page 81, the fourth line from bottom spells "pieces" correctly
On page 100 and page 186, the type is imperfect on the last lines ("broken type")
On page 34 and page 92, the color plates are perfect
The first line on page 227 reads "While the Woodman"
The last page is pasted to back boards and has 13 lines with no box
The title page has the year 1900
The copyright is 1899 with the "R"'s having tails that are on a line with the rest of the printing
Collectors will notice that some book sellers will list The Wonderful Wizard of Oz as being in State B, but then they'll go on to declare that the book in question has all State B points except one or two. Read the fine print of the bibliography and ask for specific information about the collectible to ensure you understand what you're getting. Books without the collector's points are worth less, though still valuable collectibles.
The first edition book has red- and green-colored title text and an image of a stately lion on the front board. Pictures were completed by W.W. Denslow. Copies exist that include Baum's signature. First edition copies of The Wonderful Wizard of Oz signed by the author and in fine or near fine condition can sell for around $50,000. Prices range depending on the condition and points.
Interestingly, Denslow only illustrated four books in total for Baum. The two had a falling out over royalties for the 1902 stage adaptation of The Wizard of Oz, and Baum cut ties. Later Baum and Oz works are remembered for being illustrated by John R. Neill.
John R. Neill's Illustrations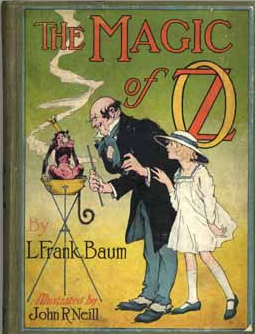 Many L. Frank Baum collectors may be interested in acquiring Baum's work that include John R. Neill's illustrations. Neill illustrated several of Baum's sequels including The Magic of Oz which was published in 1919 by The Reilly & Lee Company in Chicago. In its first edition, The Magic of Oz has green cloth with a very bright color pictorial label on front board. Collectible first editions can range in cost from near $1,000 up to and over $3,000.
Other Neill illustrated editions of note include: The Marvelous Land of Oz (1904), The Road to Oz (1909), and Glinda of Oz (1920), all published by the Reilly & Britton Company in Chicago.
Neill is also an interesting player in Oziana history because he went on to write several Oz tales that are part of the 40 stories considered true Oz lore. Neill's original Oz titles are The Wonder City of Oz (1940), The Scalawagons of Oz (1941), and Lucky Bucky in Oz (1942). He also wrote The Runaway in Oz, but he did not finish the illustrations to the story before his death in 1943. As a result, the Reilly & Lee publishing house decided not to print it, but in 1995, Books of Wonder did with illustrations by Eric Shanower.
Signed, first editions of Neill's Oz classics sell for a couple thousand dollars. While clean first edition copies in fine or near fine condition without signatures will fetch less of a premium, they are still valuable, and depending on the book can cost around $500. Watch for first edition points (again, we'd recommend referencing Bibliographia Oziana) such as 16 page gatherings in The Wonder City of Oz (later editions had 32), "Scala-wagons" hyphenated on the spine of The Scalawagons of Oz, and a message for Bucky to buy war bonds on the rear flap of Lucky Bucky in Oz.
The 1995 edition of The Runaway in Oz was limited to 350 numbered copies along with copies bearing roman numerals up I-XLV signed by the illustrator. Fine first editions sell for around $300.
Other Prime Baum Collectibles
In this space, it would be impossible to spotlight each and every Baum title that merits a collector's attention. So, we'll leave you with a couple more good ones to look into. The Marvelous Land of Oz—Baum's follow-up tale to The Wonderful Wizard of Oz—was published in 1904. It is a supremely valuable addition to a Baum collection, selling for around $10,000 in its first edition state (without a month listed on the copyright page).
Beyond Oz, we'd recommend looking for copies of Father Goose: His Book, written by Baum with color illustrations by Denslow. It was published in September 25, 1899 by Geo. M. Hill Co, and the reception was so fantastic that by October 16, they printed 10,000 more copies. The trend continued. As a result, it's especially important to look for true first edition points. For example, a true first edition won't have anything written about the edition on the copyright page. Such a copy will cost collectors around $8,000.
What's your favorite L. Frank Baum collectible? We've only scratched the surface here, but we'd love to hear about your collection in the comments below.